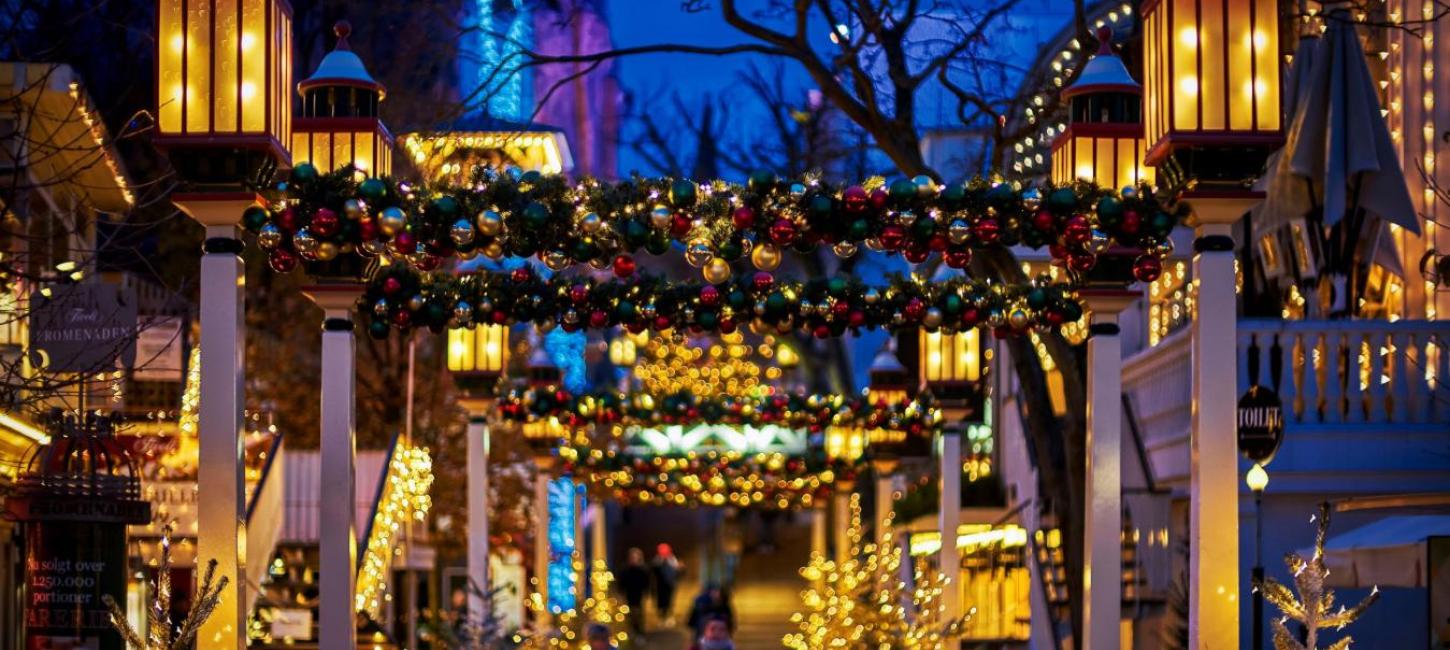 Christmas in Copenhagen
21.11.2023
Christmas marks the darkest time of year, but Copenhagen is covered in bright lights and filled with joyful activities, craftsmanship and design, and lots of delicious food and beverages to keep you warm. In other words: plenty of the famous Danish hygge.
Christmas in Copenhagen offers a Nordic mix of Christmas past and present with an eye on the future. The Danish capital keeps the Christmas spirit high, as it conquers the darkness and slowly, but steadily, moves towards lighter times.
So, whether you are looking for outdoor activities for the whole family, great food or want to go shopping for that little, handcrafted present for that special someone, Christmas in Copenhagen comes with a capital C. Or as explained by Kristina Junge Jørgensen, an experienced guide in Copenhagen:
"Christmas in Copenhagen is special because of the lights all over the city, the cold weather, the smell of fir/pine and gløgg, and the sound of Christmas carols."
Christmas activities in Copenhagen
Even though Christmas is at the darkest time of year and makes you want to curl up inside with lit candles and home-baked goodies, Copenhagen offers plenty of possibilities of taking the Danish hygge outside. You can visit museums, and other attractions, which offer Christmas-themed events or do something more active to make room for a bit more of the city's delicious Christmas treats.
Copenhagen is an ancient merchant city, and it offers Christmas activities deeply rooted in tradition. You can have a taste of Christmas as it was several hundred years ago, as traditions are kept alive and vibrant throughout the Christmas season. Read more about different Christmas activities in Copenhagen here.
Danish Christmas Traditions
Christmas is all about traditions, and just like any other place, the festive season in Denmark is particularly rich in traditions. Danish Christmas, or Jul, is all about family, friends, food and lots of traditions many Danes cherish highly. Learn more about some of the best known Danish Christmas traditions here.
Where to try traditional and innovative Christmas food in Copenhagen
In Copenhagen, we care about traditions, but we are also always seeking new ways to refine the old. Find a list of the best places to try out Christmas food experiences in Copenhagen here.
Hotels taking Christmas to the next level
Every year, some of the hotels in town make a grand effort to celebrate the beginning of the festive season, capturing the joy of Christmas with colourful decorations and twinkling lights. Read more about these hotels that will most certainly get you in the Christmas spirit here.
Copenhagen's Christmas markets and shopping
Although it is not a typical Danish tradition, in the past few years Copenhagen has been seeing all kinds of Christmas markets popping up around the city's neighbourhoods in the weeks running up to Christmas Eve. Read more about cool pop-up design markets to the more traditional markets serving gløgg and æbleskiver throughout November and December here.
Press Photos
Christmas in Copenhagen - press photos. The photographers must be credited. 
Other related press material
About Wonderful Copenhagen
Wonderful Copenhagen © 2023