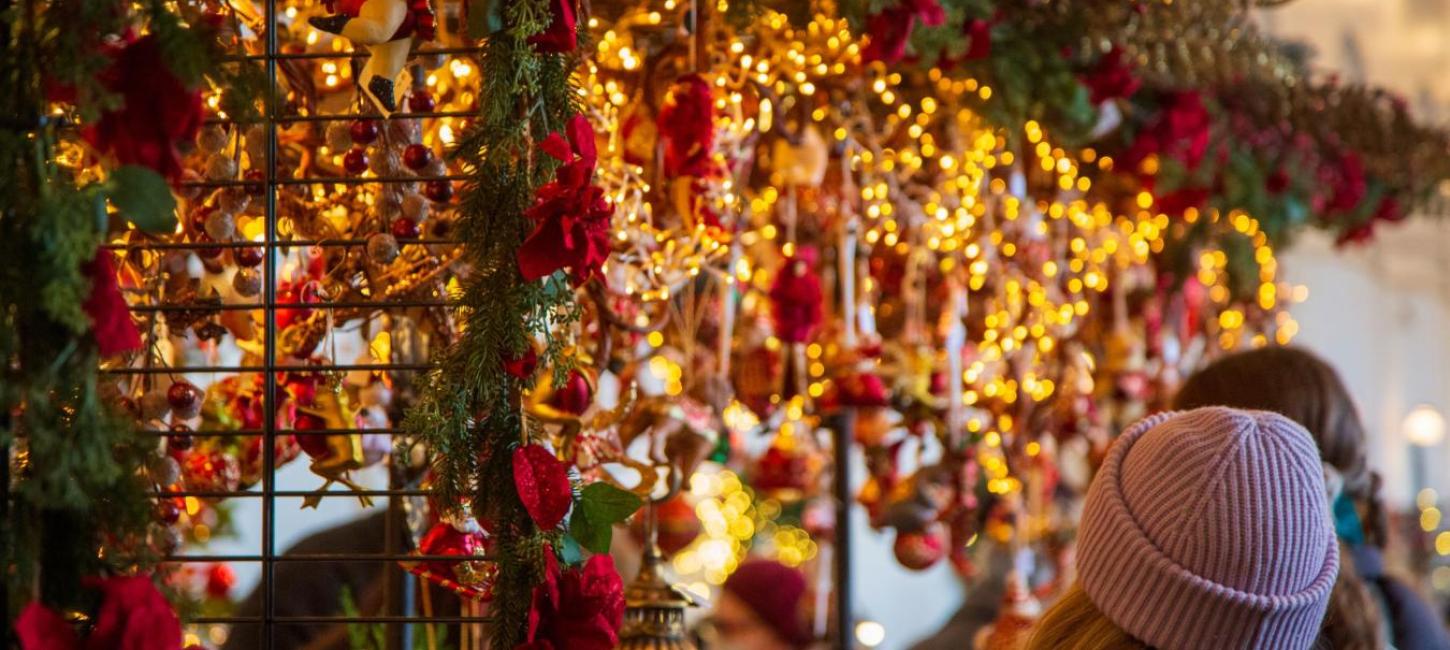 Christmas markets in Copenhagen
Photo:
Marc Skafte-Vaabengaard
There are many cosy Christmas markets spread around Copenhagen during the festive season, of which the below are just a selection.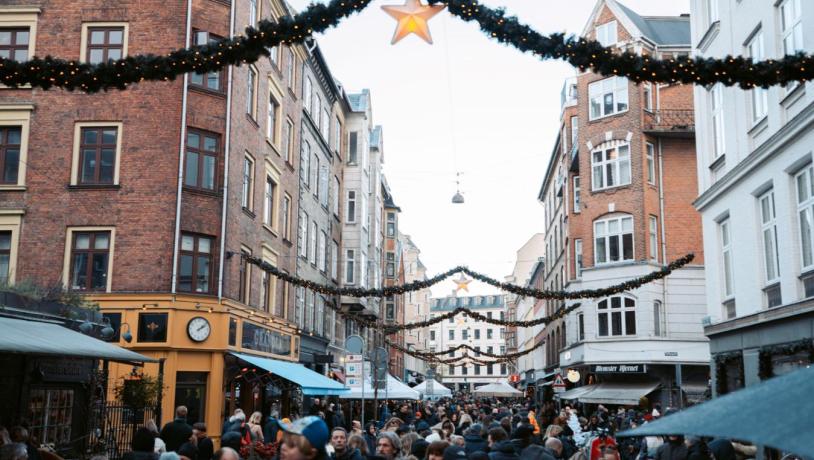 Photo:Malthe Zimakoff
Værnedamsvej & Tullinsgade - Cosy Christmas market in Frederiksberg
Værnedamsvej, 1619 Copenhagen V - Website/Press photos

Christmas is slowly approaching, and Værnedamsvej and Tullinsgade once again welcome Christmas with a festive Christmas market. On the 7th of December, the local shops, cafés, and speciality shops take to the streets with stalls selling anything from delicious specialities, craftsmanship, design, clothes, and antics. It is the perfect place to enjoy the beginning of the festive season as you can explore the many lovely products or simply take in the cosy Christmas atmosphere surrounding the streets.
Photo:Marc Skafte-Vaabengaard
Christmas market in Haveselskabets Have
Frederiksberg Runddel 1, 2000 Frederiksberg - Website/Press photos

The beautiful Christmas market located at the entrance of The Frederiksberg Gardens is visited yearly by thousands of guests and is most definitely worth a visit. As the night gloom sets in, the market turns into a magical Christmas fairy tale with lanterns and candles, lighting up the Christmassy setting. The market is held both inside and outside with lots of different stalls decorated with twinkling lights and colourful decorations, creating a wonderful atmosphere. Here you can buy anything from delicious Christmas specialities, unique craftsmanship and materials to create your own Christmas decorations.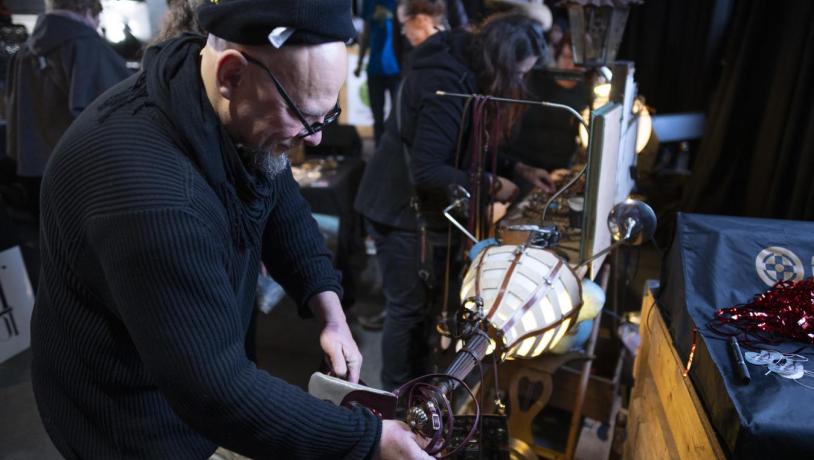 Photo:Dag Stinus
RAW Christmas market – Unique craftsmanship
Tietgensgade 65, 1704 Copenhagen V - Website/Press photos

On Saturday the 12 of November between 11 am-17 pm, Vesterbro RAW invites the annual artisan Christmas market to DGI-byen near Hovedbanegården. Here you will meet 56 different artisans and foodies, selling very unique and creative products such as assemblage and other offbeat art, Danish licorice, handmade jewelry, clothing, and much more - fun and quirky products, ready to be wrapped up and gifted to friends and family this Christmas. It is a great place to combine gift shopping with a cultural experience in cosy and Christmassy surroundings.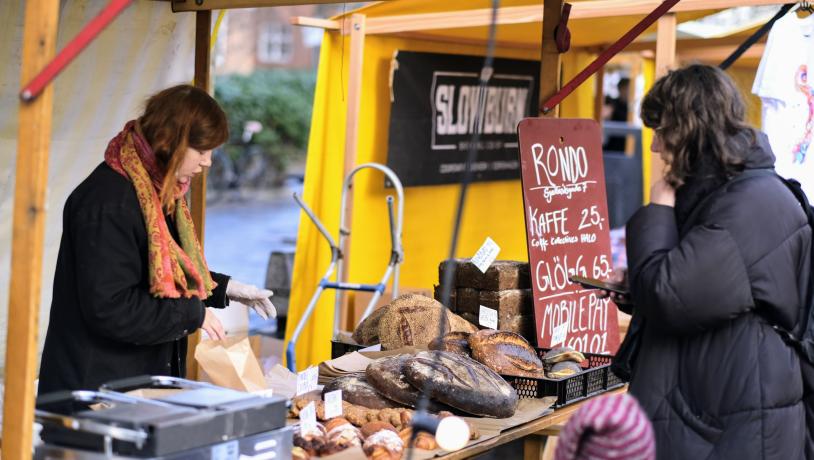 Photo:Grønt Marked
Grønt Marked Christmas - Seasonal and locally produced
Guldberg Byplads, Sjællandsgade 10, 2200 København N - Website
At the Grønt Marked Christmas Markets, there will be 20 local farmers and food producers, who will be selling delicious seasonal vegetables, cheese, cider, honey, jam, meat from responsibly raised animals, and much more, all made with local ingredients. As a special element of the Christmas markets, Grønt Marked will also have local artisans and craft producers, who will bring products like sheep skins, wool, woodcraft, infused oils and soaps, baskets, and other items produced locally in Denmark by natural resourcers. The markets will also organize Christmas carols, bonfires, hot spiced apple juice from local farmers, and workshops for children.
This year, Grønt Marked hosts three markets that each do something special at in December to create a nice Christmas atmosphere. The markets are held on the 4th of Dec. at Refshaleøen by Lille Bakery, the 11th of Dec. in Nørrebro by Rondo Bakery on Guldberg Byplads, and on the 18th of Dec. in Vesterbro on Litauens Plads.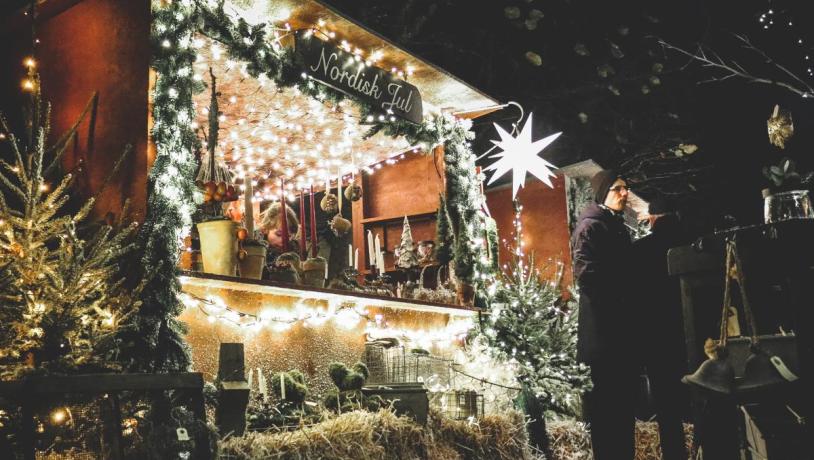 Photo:Dragør Julemarked
Christmas in Dragør - An authentic Christmas market
Badstuevælen, 2791 Dragør - Website/Press photos

Every year as we enter the month of December, Dragør transforms into a Christmas fairy tale for both adults and children. A Christmas market fills the streets selling anything the heart desires, creating a festive atmosphere with lovely Christmas decorations, twinkling lights and the smell of Christmas. The market originates from a children's Christmas program called "Tidsrejsen", which first aired a few years back and has since remained the primary inspiration for the annual Christmas market. The opening hours are from 12 am -17 pm on all weekends beginning from the 27th of November.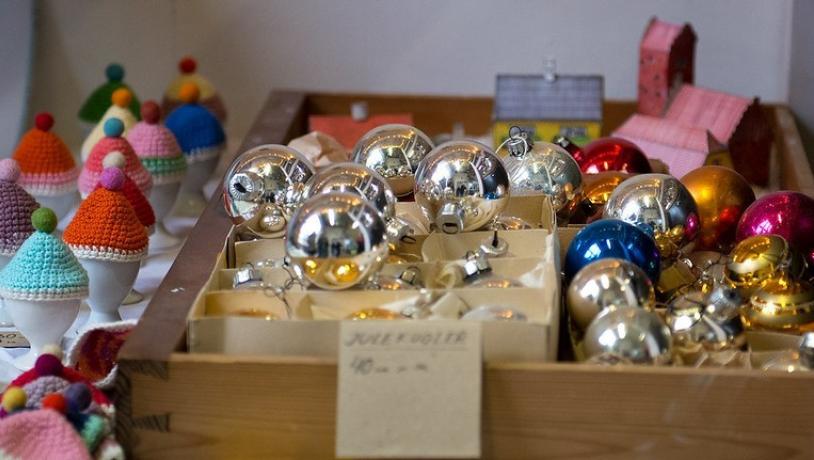 Photo:Klaus Brodersen
Raadvad Fabriks traditional Christmas Market
Raadvad 40, Lyngby 2800 – Website/Press photos

Every year the old knife factory on the outskirts of Copenhagen has a Christmas market with art, ceramics, design, and much more interesting stuff. This year it will be held during the first two weekends of December from 11 am-16 pm.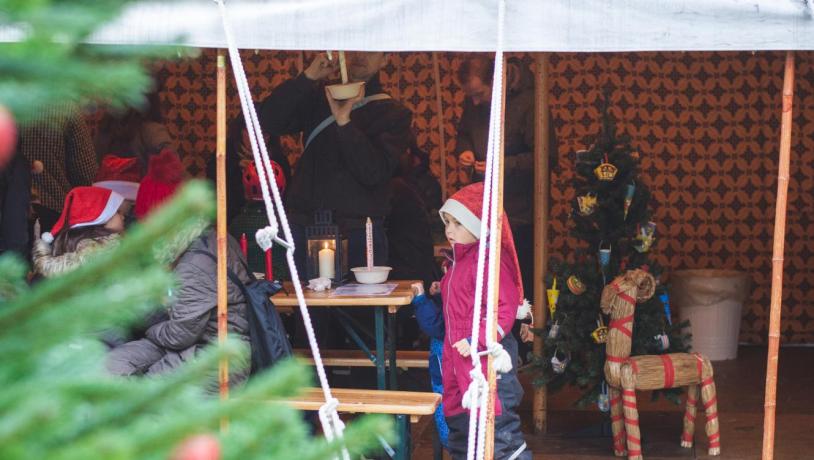 Photo:Bakkehuset
Christmas at Bakkehuset
Rahbeks Allé 23, 1801 Frederiksberg – Website/Press photos

There is an endless list of cozy Christmas activities at Bakkehuset every Christmas season. Open workshop on the 27th of November from 11-17, inspired by 19th-century Christmas traditions. Sing Christmas carols in the yard and taste the holiday treats from Orangeriet. This year, Christmas is celebrated with a modern twist, where you may cut paper decorations, tie wreaths, and cast candles. In the historical and cozy living rooms, visitors may experience a fascinating Christmas landscape made by Shane Brox. Shane has created the landscape by recycled materials and during the afternoon, he will tell stories about the people who live in the landscape and how they prepare for Christmas Eve.
City walk in 19th-century Copenhagen

FOF is hosting city walks in Copenhagen with a route focused on Christmas in the 19th century and Danish Christmas traditions. Learn about significant historical figures such as H.C. Andersen, Peter Faber, Grundtvig, and many more. There will be short stops on the way and a Christmas quiz to participate in.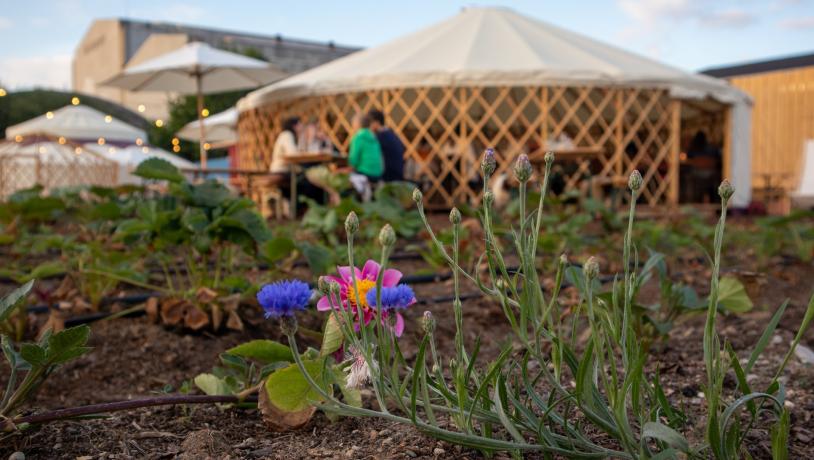 Photo:Giuseppe Liverino
Øens Have Christmas Market
Refshalevej 157, 1432 København - Website
Grønt Marked invites guests to visit their special Christmas Farmers Market at Refshaleøen on the 12th of December 10-15, where we move in at the urban farm Øens Have and Bygaard. As always it is possible to find the locals' favorite producers and loads of Christmas treats and to fill baskets with lovely goods such as honey, mead, cider, eggs, cheeses, veggies, etc. Øens Have will light the bonfires and the chickens will greet the kids in the chicken coop. In the warm yurt tents, Øens Have will serve warm food and drinks and the little ones can join a ginger cookie decoration workshop and seed bomb lab.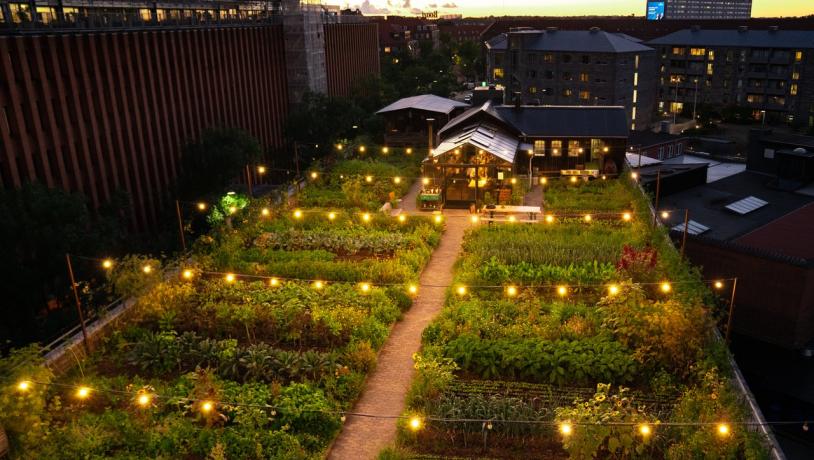 Photo:Daniel Rasmussen
ØsterGRO Christmas Market
Æbeløgade 4, 2100 København Ø - Website
The Christmas market at ØsterGRO takes place on both the rooftop farm and in the yard on the 10th-11th of December. Here, visitors can enjoy local, green, delicacies made from scratch or harvested directly from the soil. The market offers a workshop for children, and it is possible to pet hens and rabbits, as well as to get warm by the fire and explore literature and local craftsmanship. ØsterGRO invites visitors to explore the stalls in the yard, and take the spiral staircase or the elevator up to the rooftop, where it is possible to enjoy the green surroundings to the taste of delicious vegetarian food, a sweet Christmas treat, and homemade warm apple cider from Gro Spiseri. Guests may also take home this year's organic Christmas tree.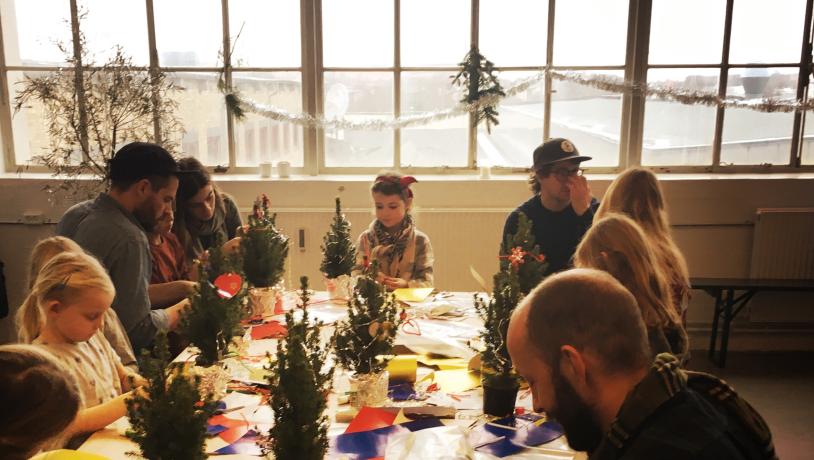 Photo:The Lab x The Lab Kitchen
The Lab x The Lab Kitchen - Local Christmas market in Østerbro
Vermundsgade 40A, 1.sal, 2100 København - Website
On the 12th of December, the Lab and the Lab Kitchen once again invite visitors to the annual Christmas market in the beautiful interior of the neighborhood of Østerbro. The setting presents more than 30 stall holders, who present materials for Christmas shopping and inspiration during the holidays. Throughout the day, the Lab Kitchen will host delicious Christmas delicacies and warm beverages. For the little ones, there will be an opportunity to create small Christmas trees in the workshop with all kinds of decorations.
Other related press material