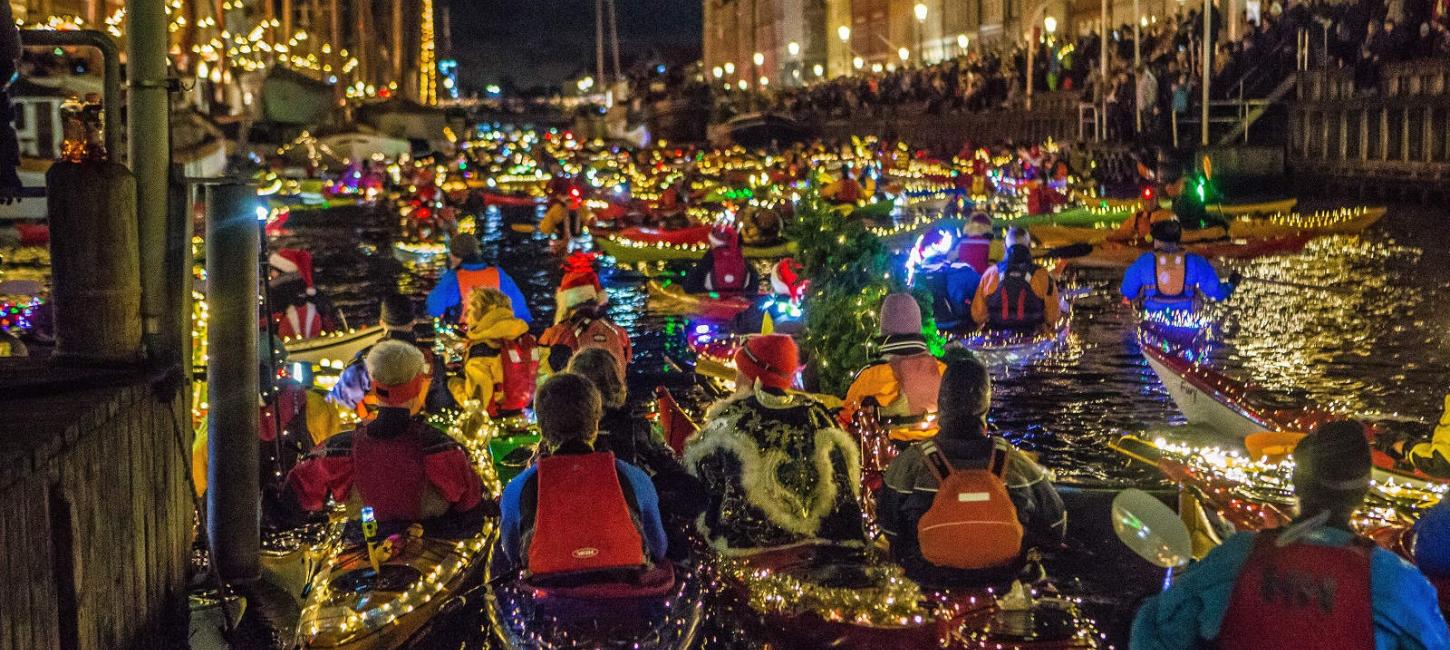 Christmas activities in Copenhagen
Photo:
Santa Lucia Kayak Bar
Museums, markets, floating lights and winter bathing, Copenhagen offers many christmas activities.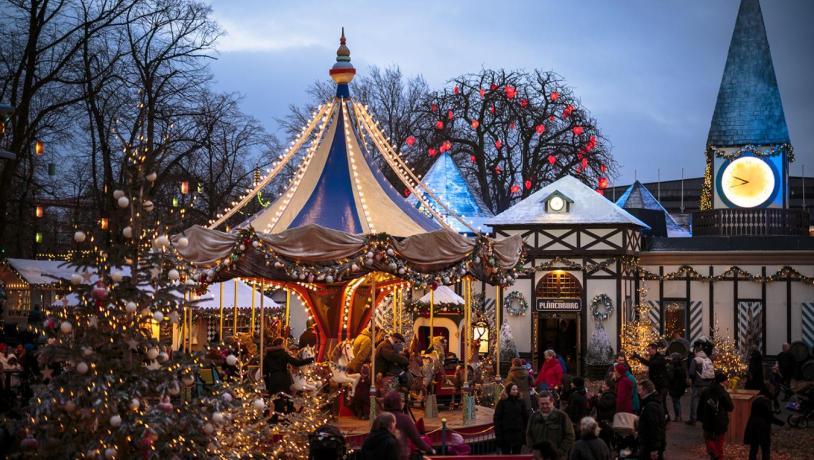 Photo:Tivoli
Christmas in Tivoli Gardens
Vesterbrogade 3, 1630 Copenhagen V – Website/Press photos
No Christmas without a stroll in the world-famous historical garden from 1843 in the city centre. Every year, the theme park is lit with lights and filled with Christmas spirit. A true fairy tale Christmas market is on display and the place is a Christmas stable for Danes of all ages.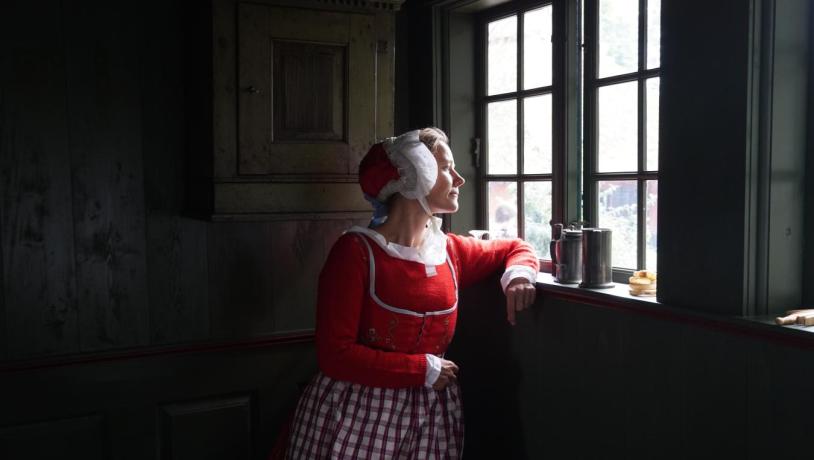 Photo:Brittany Overgaard
Frilandsmuseet – Old Denmark
Kongevejen 100, 2800 Lyngby – Website/Press photos

Situated in Lyngby, very close to Copenhagen, Frilandsmuseet offers guests a look into rural life in Denmark in old times. Every weekend from the 4th to the 19th of December the outdoor museum will offer good old fashioned Christmas spirit and nostalgia with historic cooking, animals, Christmas games, food etc.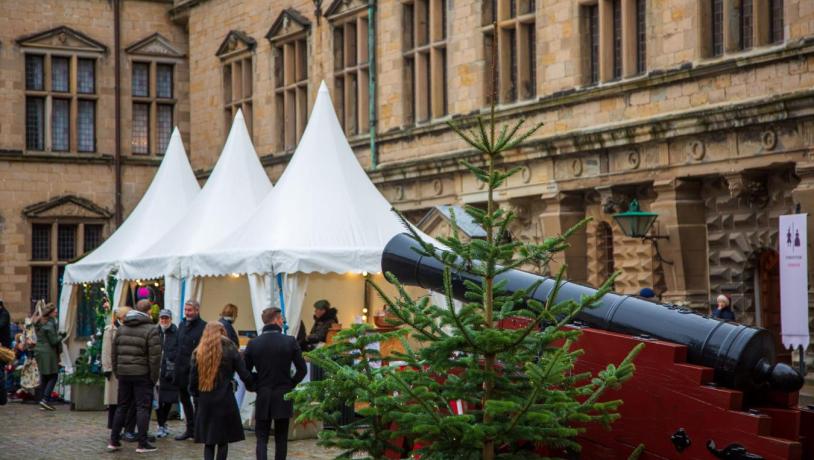 Photo:Marc Skafte-Vaabenaard
Kronborg Castle - Christmas at the home of Hamlet
Kronborg 2 C, 3000 Helsingør – Website/Press photos

Get in the Christmas spirit at Denmark's spectacular renaissance castle, Kronborg Castle. On the first two weekends of Advent, the castle yards will be decorated to the brim with Christmas trees and festive decorations, transforming the castle into a wonderful Christmas market. A selection of different stalls selling high-quality products, Christmas decorations and wonderful Christmas foods will be available, as well as a wide range of cosy Christmas activities. Children can get in the Christmas mood by joining activities such as children's workshops or enjoying Christmas plays and concerts. For the adults, Kronborg entices with, among other things, Christmas jazz and gospel concerts. The cosy atmosphere at Kronborg is, in other words, a perfect place to welcome the festive season 2021.
Unusual Christmas activities
Christmas in Copenhagen is more than just Christmas markets, and the city's creativity unfolds when it comes to Christmas activities. Hundreds of kayakers paddling through the canals with Christmas lights on their boats, floating saunas and jacuzzi's to keep yourself warm after winter bathing, disco-ice skating right by noma's co-owned street food market - Copenhagen never fails to surprise.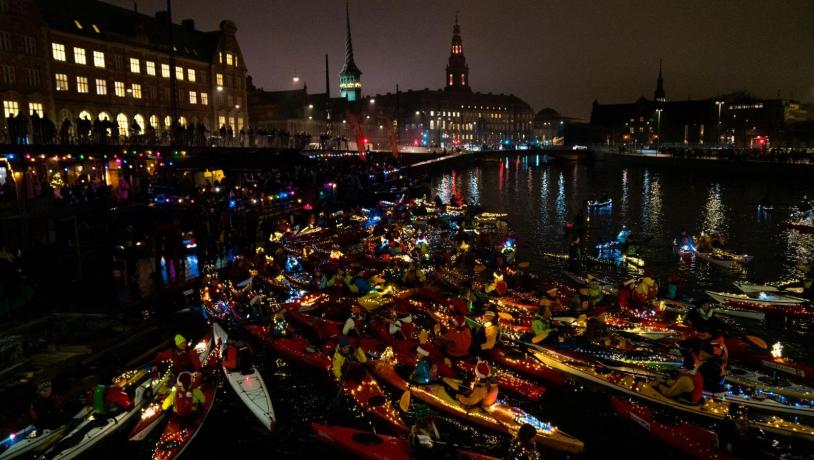 Photo:Daniel Rasmussen
Santa Lucia parade – Hundreds of kayaks bringing a festive atmosphere to Copenhagen's Canals – Press photos

Every year on the 13 of December, as soon as the night gloom sets in, the canals of Copenhagen are lit up by hundreds of kayaks with twinkling lights and Christmas decorations on, sailing through the narrow canals, honouring the Danish Santa Lucia traditions. The parade is a very alternative take on the traditional Santa Lucia, which normally takes place at Danish schools or other institutions. Here the parade participants wear white dresses while holding a lit candle in their hands as they sing the tunes of Santa Lucia. Instead, the alternative floating Santa Lucia parade is to be enjoyed from the quayside around Copenhagen. The kayakers will float peacefully along the waterway while singing Santa Lucia as they pass the most picturesque canals in Copenhagen, bringing a wonderfully festive atmosphere to Copenhagen. Have your camera ready and remember some warm clothes – as well as some gløgg to go.
How to experience it by land
The parade will cross Copenhagen's canals starting at 17:00. Try to be at your favourite spot on the route before that time. Remember to bring some warm clothes and your camera. Local tip: rent a bike to be able to experience the parade in several of the spots around the harbour.
How to experience it by water
All experienced kayakers are welcome to join the Santa Lucia parade. If you have your own kayak, you can participate for free. If not, you can rent kayaks from either Kayak Republic or Kajakhotellet. The starting point of the parade is at 17:00 from Kayak Bar, and you must sign up to join.
Link to the official event.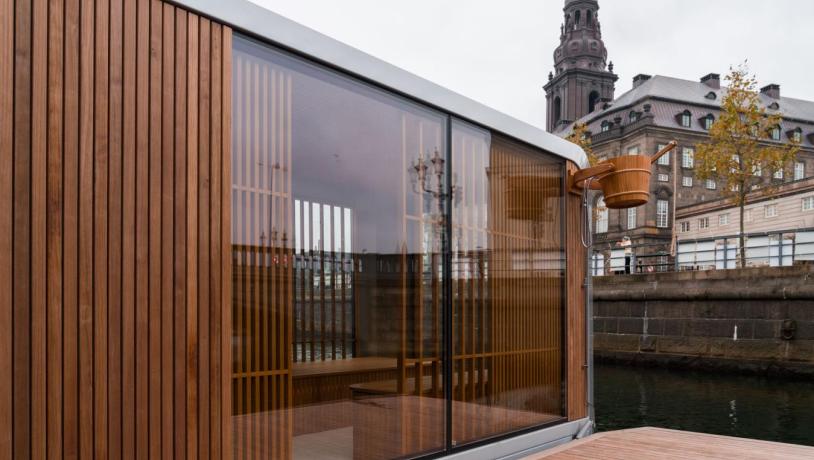 Photo:Daniel Rasmussen
Sauna by GoBoat - A full winter-spa-experience in the centre of Copenhagen
Ved Stranden 26, 1061 Copenhagen K – Website/Press photos

Sauna by GoBoat brings the hot Scandinavian tradition to the centre of Copenhagen combining the joys of the sauna's heat with the water in a safe and aesthetic setting. Copenhagen's clean harbour allows for guests to dive into the dipping zones next to the sauna regardless of the season. The social aspect is also repeated in Sauna by GoBoat, just as the sustainable aspect is thought into the entire production of the sauna, making it the perfect place to enjoy a cosy winter-spa-experience during the cold winter months.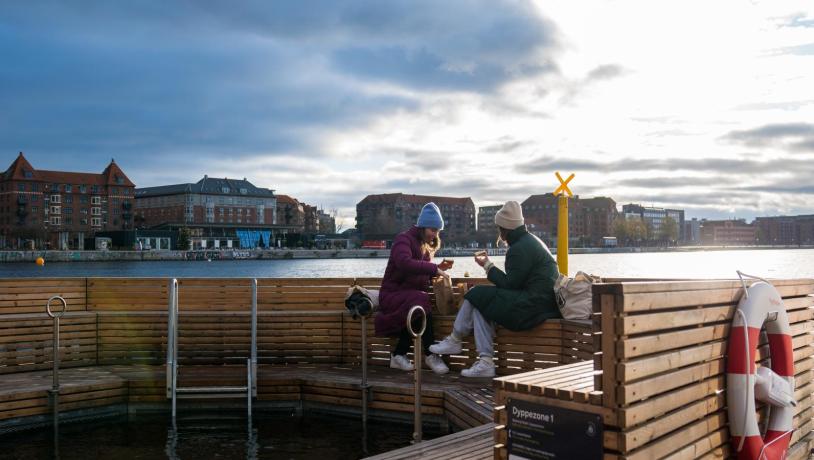 Photo:Mellanie Gandø
Take a cold winter dip in designed dipping zones in Copenhagen's harbour

Lots of locals use the Copenhagen harbour to go for a swim during the wintertime – they are free all year round. So, find your inner Viking and have a cold dip at some of the many dipping spots in Copenhagen's unusually clean harbour in dipping zones at Kalvebod Bølgen and Nordhavn. It goes especially well with a hot drink afterwards like gløgg to warm you.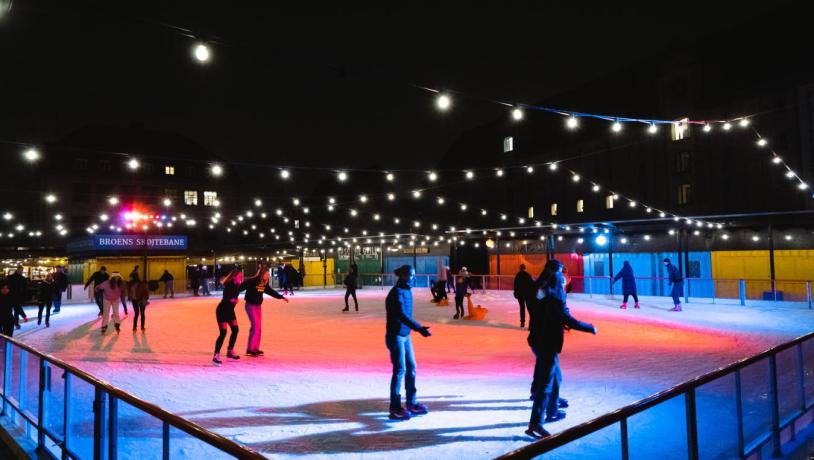 Photo:Rolands Varsbergs & Danny Samarov
Bridge Street Kitchen – Ice skating with views over the Copenhagen canals
Strandgade 95, 1401 Copenhagen K – Website/Press photos

From early November 2021 until March 2022, Broens Street Kitchen is transformed into an ice-skating rink, free to use and with skates for rent onsite. During this period, expect winter activities like ice-disco, free skating lessons, ice hockey tournaments etc. You can also enjoy a tasty street food lunch with lovely harbour views of a Christmas clad Copenhagen and the smell of homemade gløgg and Danish æbleskiver. Or participate in Christmas activities such as lighting the Christmas tree, Advent Sundays, Christmas Choir, Christmas yoga and Christmas bingo.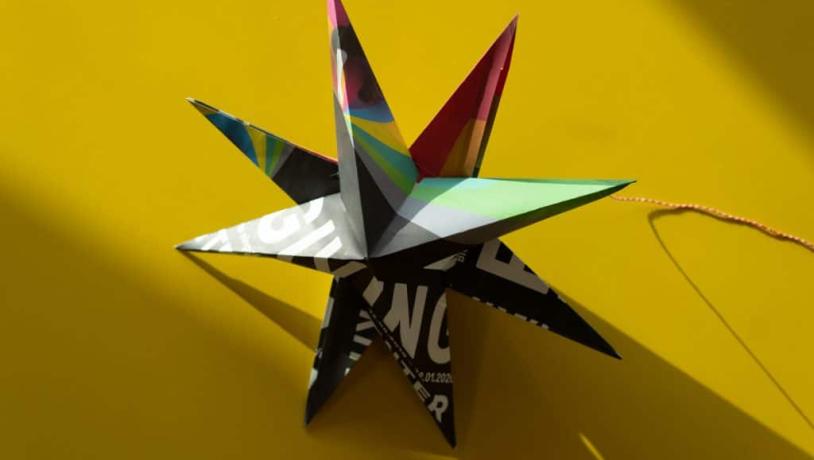 Photo:Carsten Holler
Build Christmas presents with sustainable materials at DAC
Bryghuspladsen 10, Copenhagen K – Website/Press photos

A cosy Christmas starts in the Danish Architecture Center (DAC) with lots of experiences for young people, adults, and kids with their families. Join the architecture centre and create your own Christmas gifts in sustainable materials, experience concerts, listen to Christmas fairy tales, make Christmas decorations, explore the current exhibitions, or join its exciting, guided tours in the city. There is an endless number of exhibitions in the city, in general, during the festive season, great for getting in the Christmas spirit too.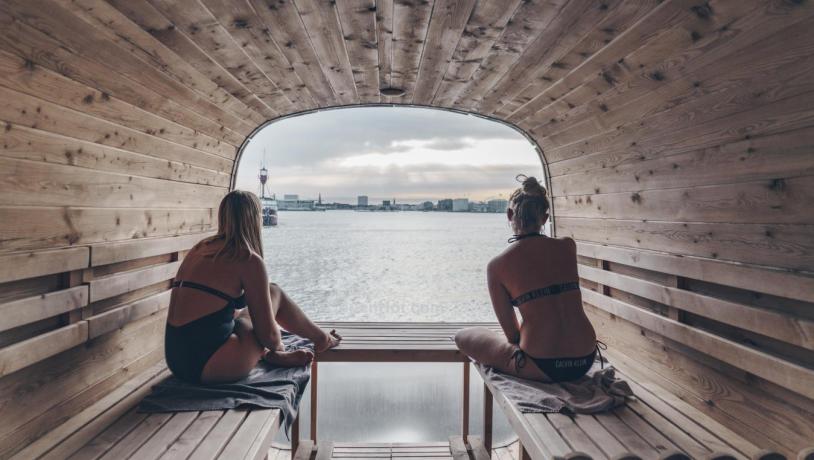 Photo:Wonderful Copenhagen
CopenHot – Christmas sauna and jacuzzi with water from Copenhagen's canals
Refshalevej 325, 1432 Copenhagen K – Website/Press photos

The hot tubs at CopenHot are a perfect break from the cold winter in Copenhagen. The Panoramic sauna will keep giving its beautiful view of the Christmas capital Copenhagen. The lights are lit throughout the dark hours to bring the festive Christmas mood to its visitors, and the staff is as warm and welcoming as always.
Other related press material