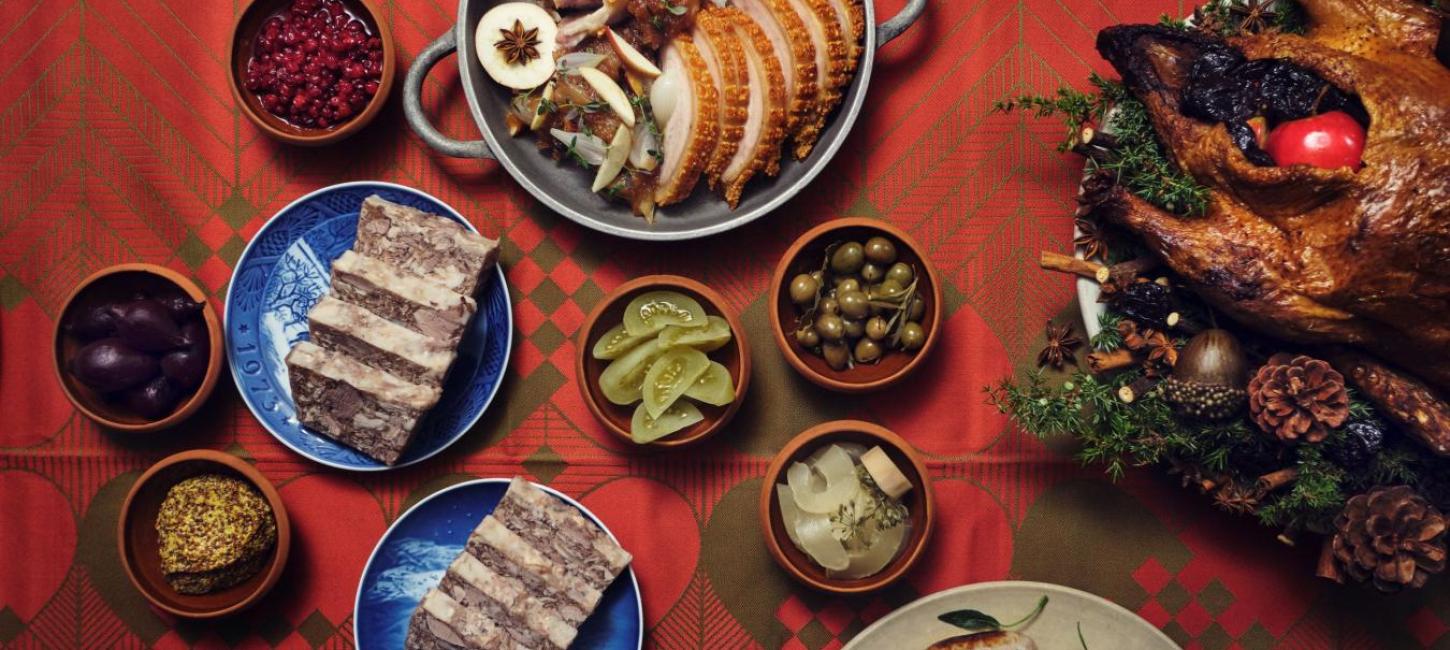 Where to try modern and traditional Christmas food in Copenhagen
In Copenhagen, we care about traditions, but we are also always seeking new ways to refine the old. A couple of places that have been successful in doing just that with the Danish tradition of food and beer are listed below.
Photo:Restaurant Barr
Christmas craft beers and a modern take on the Danish Christmas lunch
Strandgade 93, 1401 Copenhagen K – Website/Press photos

Restaurant Barr resides in noma's former, warm facilities in Christianshavn and draws inspiration from eating and drinking traditions of the North Sea, including both Scandinavia, Benelux, and the British Isles. At Barr, you will find a selection of craft beers by some of the best local breweries in Denmark, which go great with their modern take on traditional Nordic food. From November 26th and December 19th, Barr will be running the "Great BARR Christmas lunch", meeting many of the dishes from a traditional Danish Christmas table, all familiar to most Danes – such as duck, herring, fried plaice and Icelandic salmon - but with a modern touch – and Danish craft Christmas beers and akvavit, of course. Link to Barr's Christmas menu.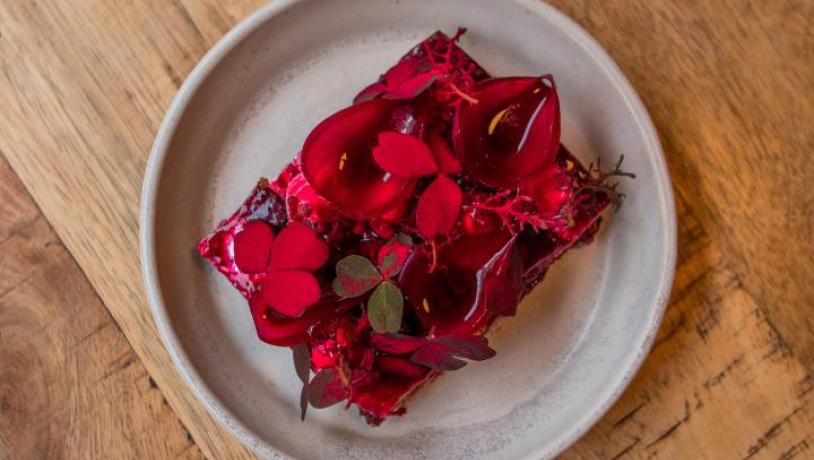 Photo:Daniel Rasmussen
Selma - A modern take on the Danish Christmas lunch
Rømersgade 20, Copenhagen K – Website/Press photos

Selma is a bib gourmand restaurant in Copenhagen and is this year's winner of the best smørrebrød in town. The restaurant has quickly made a name for itself by having a new and innovative take on the Danish lunch traditions including an incredible take on the Danish Christmas lunch. Selma is created in partnership with Mikkeller, who is, of course, responsible for a large part of the rotating beer selection on Selma's 12 beer taps, giving guests a taste of classical Danish cuisine while being able to enjoy some of the Danes favourite craft beers.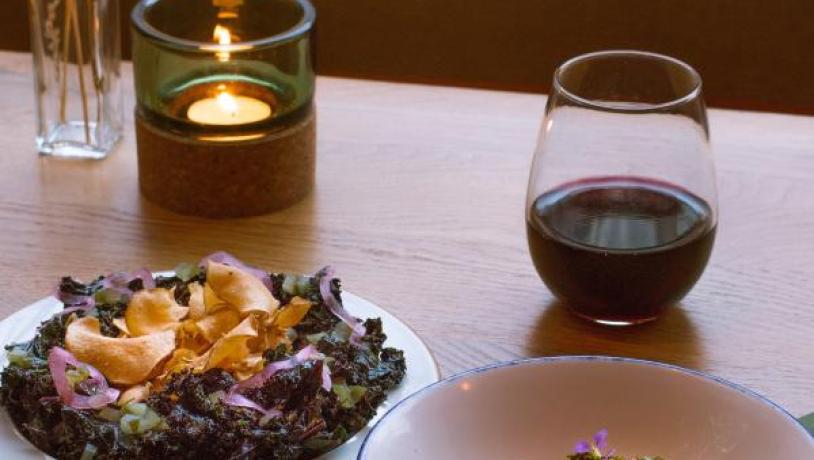 Photo:Bistro Lupa
Vegan Christmas feast with Danish favourites and Winter tasting menu
Nørre Farimagsgade 63, 1364 Copenhagen K – Website/Press photos

In 2021 Restaurant ARK became the first-ever entirely plant-based restaurant in the Nordics to be awarded a Michelin Green Star for their work in sustainable gastronomy, this accolade has recently been followed by the receipt of 3 Circles in the 360 Eat Guide – landing them in the top 8, among some hefty company. Their produce is largely made up of ingredients foraged by the keen eyes of the owner himself alongside their Head Forager, previously of Noma fame, in the Danish outback or grown at ARK's urban farm, Funga Farm. The restaurant follows a rigid zero-waste policy, a thread woven through the kitchen, bar, and even the furniture has a close connection to nature and recycled materials.
Starting from November 9, Restaurant ARK's Winter Tasting Menu offers a variety of innovative flavours and dishes that celebrate the versatility of vegetables and challenge the ideal of the meat-focused Christmas menu. The menu focuses on local and seasonal ingredients, and it is combined with winter tailored natural wine or homemade non-alcoholic beverage pairing. 
While ARK pushes the boundaries when it comes to their tasting menu, their sister restaurant – Bistro Lupa has stepped up to put a plant-based spin on the more traditional Danish favourites, while still following the same ethos as its lauded sibling, Bistro Lupa has created a Christmas Feast including Lions Mane schnitzel and, of course, the classic Ris a la Mande. Bistro Lupa's Christmas Menu is available to book now - https://www.bistrolupa.dk/lupaevents.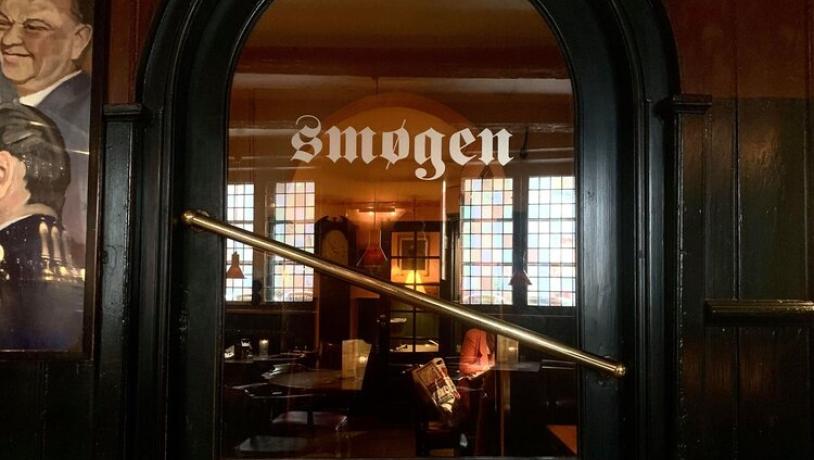 Photo:Hviids vinstue
Hviids Vinstue - Copenhagen's most legendary gløgg
Kongens Nytorv 19, 1050 Copenhagen K – Website/Press photos

There is no Danish Christmas without gløgg. The warm mulled wine with liquor, almonds and raisins is a perfect treat after a long day of Christmas shopping in the cold streets of Copenhagen. Hviids Vinstue, established in 1723, is famous for its gløgg and has used the same recipe since 1954. It is so popular, that they produce 8000 litres every festive season and it is served every year from 11th November at 11 am.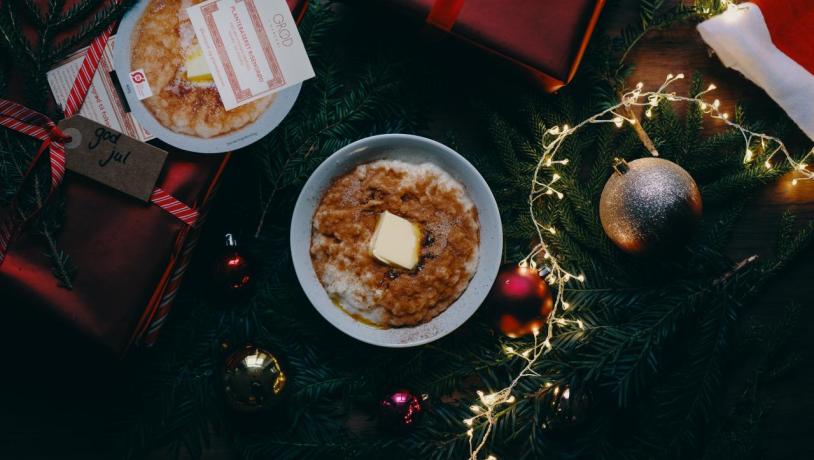 Photo:GRØD
GRØD - The restaurant which made Danish porridge a gourmet trend
Prinsessegade 23, 1422 Copenhagen K – Website/ Press photos

GRØD, porridge in Danish, is a huge part of the Danish national self-perception and culinary heritage - especially during Christmas and the winter season. Mostly because of risengrød and ris á la mande, which are two of the most traditional Christmas desserts to enjoy and keep you warm during the cold winter months of Christmas.
GRØD is kickstarting the festive season on 24 November, exactly one month before Christmas Eve. They will be serving homemade gløgg, ris á la mande (cold creamy rice porridge with chopped almonds and a cherry sauce), risengrød (warm rice porridge) both as the traditional version with cinnamon sugar and a dollop of butter, but also a vegan version and a funky new interpretation with tarragon sugar and a dollop of butter. GRØD has won Denmark's best rice porridge two years in a row. On Christmas Eve most local families have one whole almond in the dessert ris á la mande, and the person, who gets it, will win the almond present. Risengrød is also the favourite dish of Santa's elves, so the story goes.
Photo:Hahnemanns køkken
Hahnemanns Køkken - Learn how to bake Danish Christmas cookies
Sankt Kjelds Pl. 14, Copenhagen Ø - Website/Press photos

Hahnemanns Køkken in Østerbro houses both an organic bakery, patisserie, coffee bar and cooking school by the Danish food writer and chef Trine Hannemann. At Hahnemanns Køkken you can bite into Christmas favourites such as honey muffins, brownies, vanilla wreaths, and sourdough bread with dried fruit. If you are into baking yourself or need to refresh your Christmas baking skills a bit, Hahnemanns Køkken offers a course in Christmas cookies on Sunday 5 December, where you will learn how to bake four of the most popular Danish Christmas cookies – and you will be able to take them home with you.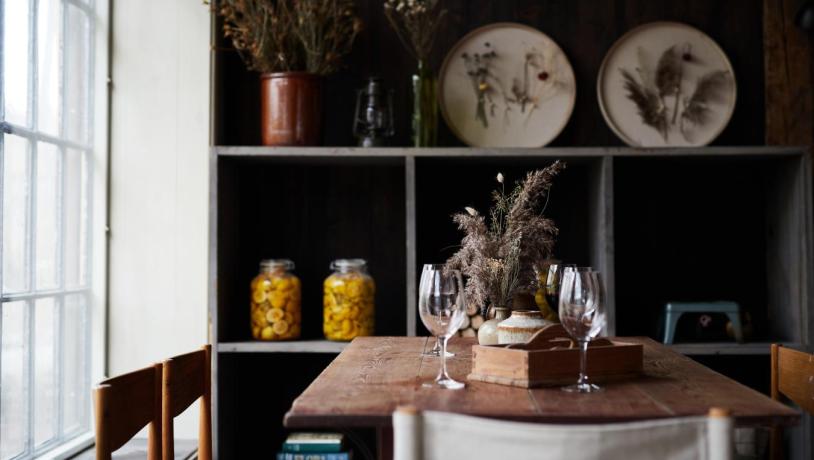 Photo:Banegaarden
A vegetarian Christmas dinner and 'julefrokost' inspired by the wild nature
Otto Busses Vej 45, 2450 Copenhagen SV - Website/Press photos
In the middle of Copenhagen, not too far away from the central station, BaneGaarden is located as a green oasis with wild nature and sustainable gastronomy as pivotal points. At BaneGaarden, Christmas has begun and is very much present in the current menu at Restaurant Lade 609. The menu features an interpretation of the traditional Danish 'julefrokost' with both a menu for lunch and dinner inspired by the wild nature, taking you on an adventurous trip into the Nordic forest. Enjoy an all-vegetarian Christmas dinner or 'julefrokost' in breathtaking, green surroundings – all in the centre of Copenhagen. 
Gløgg & æbleskiver at a floating Christmas house in Christianshavn
Overgaden Neden Vandet 29, 1414 Copenhagen K – Website

As the cold winter months kick in, Christianshavns Bådudlejning & Café transforms into one of the cosiest Christmas spots in town. Surrounded by Christmas tree stalls and twinkling lights and music, the outdoor surroundings of the floating Christmas house bring a delightful and Christmassy feel to the place. When entering, you will be struck immediately by lit candles and glittering decorations by the warm fire, and the scents and aromas of Christmas fill the room. They serve anything from gløgg and æbleskiver to traditional Christmas servings adding a festive atmosphere that most certainly won't fail but to get you in the Christmas spirit this year.
Other related press material