Caffeinated Copenhagen - the home of Scandi style coffee
In the land of good food and wine, coffee completes the gastronomic trinity in Copenhagen.
To understand the Copenhagen coffee scene, you must know a thing or two about the Scandinavian coffee culture as a whole. First off, it's all about filter coffee. Second, more often than not, most Scandinavian countries (Denmark, Finland, Sweden, Norway and Iceland) are to be found on the top 5 of world's most coffee consuming countries per capita. In 2022 the world top ranking was: Finland, Norway, Iceland, Denmark, Netherlands and Sweden (source, coffeeabout.com). To put it short: we love our coffee here in Scandinavia.
It seems redundant by now to mention that Copenhagen is world renowned for its gastronomy. But maybe you didn't know, that along with the New Nordic Food Manifesto from 2004, which kicked the Danish and Nordic cuisine into a new era, something started happening on the Copenhagen and Scandinavian coffee scene around the same time. Just as New Nordic has become a quality stamp in modern gastronomy, so has Scandi style in the world of coffee.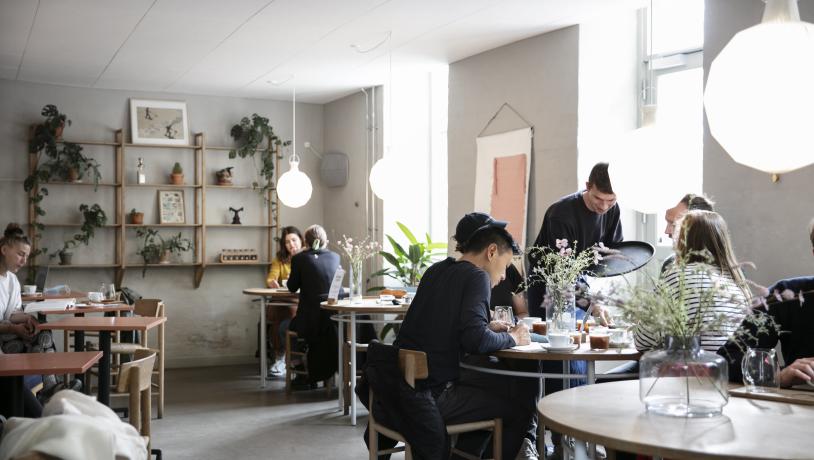 Photo:Chris Tonnesen
Scandi style coffee grew out of the third wave- and specialty coffee movement (see descriptions below), and is typically characterized by lighter roasts with a higher acidity, broader complexity of flavours and an immense focus on quality in the coffee beans. However, Scandi style coffee is not only about flavour profiles. It's just as much about the design of the café spaces, that often lean heavily on Scandinavian minimalism, and the act of being curious about what coffee can be in terms of the way it's served and consumed. Just as Copenhagen has done it with beer, natural wine and food, we decided to be open and curious in our approach to coffee, welcoming the brighter, sweeter and more funky flavours.
"The more acidic and bright flavour notes of specialty coffee fits the Danish palate well. Acidity is a big thing in Danish cuisine. [...] Copenhageners are also generally keen on embracing new food trends I think." Interview with Klaus Thomsen , co-founder of Coffe Collective
As specialty coffee has steadily grown into cafés and homes across the globe in the latter years, Copenhagen has made a name for itself on the global coffee scene. With Scandi style trailblazers like Coffee Collective, trend-setting coffee shops like Prolog, numerous Danish world champion baristas behind the bars and an array of talented coffee-expats setting up shop in the streets of Copenhagen, there's really no reason not to drop by and sample some of our city's diverse and ever sprawling coffee offerings.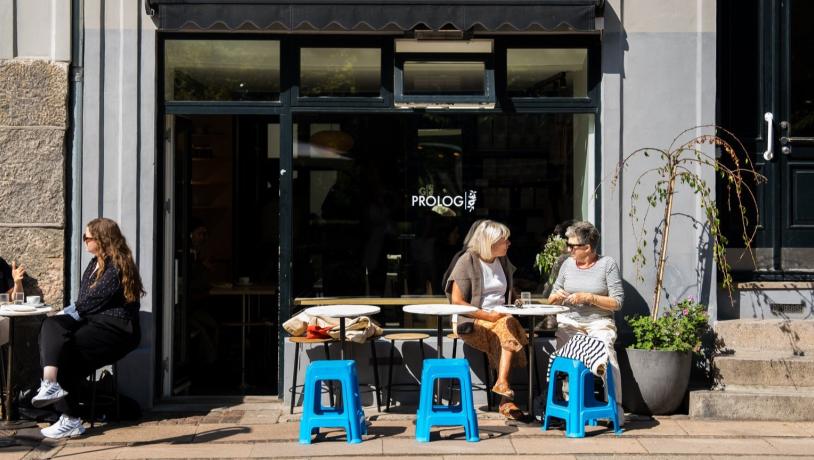 Photo:Mellanie Gandø
Facts on coffee in Copenhagen
4.1 billion cups of coffee consumed in Danish homes annually

approx. 700 cups of coffee consumed in every Danish home each year

3-4 cups of coffee are drunk per day per person

86% of men drink coffee daily and for women it's 76%

52% of Danes prefer to drink filter coffee

17% of people in Northern Jutland prefer milk in their coffees

 

in Copenhagen that number is 54%

From age 45 to 64 most Danes peak in their daily coffee consumption

In 2022 Copenhagen was the fourth most coffee-consuming country in the world.

Danes love their 'aftenkaffe' (evening coffee)
Denmark have 4 world champions in coffee

 (Martin Hildebrandt 2001, Fritz Storm 2002, Troels Overdahl Poulsen 2005, Klaus Thomsen 2006)

 and 1 

Cup taster (Casper Engel Rasmussen 2008)

Coffee Collective was founded in Copenhagen in 2007

 

kickstarting the third wave coffee movement in Copenhagen

In 2022 Coffee Collective won the 'Best Sustainable Café' at the 13th annual Sprudgie Awards (the most coveted coffee award in the world).

Copenhagen has 50+ specialty coffee bars

A Danish Batch Brew Champion is crowned every year at the Coffee Fest. 

Specialty coffee is all coffee scored above 80 points on a 100 point standardized SCA (Specialty Coffee Association) score sheet by a certified quality grader (Q-grader).

Only around 10% of all coffee produced reaches specialty grade.

The term, specialty coffee, is commonly used to describe coffee beans as being high quality or

gourmet

(source: Sprudge and SCA).

The term third wave is used about coffee bars committing to only brew coffee on specialty beans scored higher than 80 points on the SCA scale.
Notable coffee roasters in Copenhagen
Read more about the Danish coffee roasters, who have contributed to turning Copenhagen into a coffee destination.
More information about Copenhagen's coffee scene
About Wonderful Copenhagen
Wonderful Copenhagen © 2023