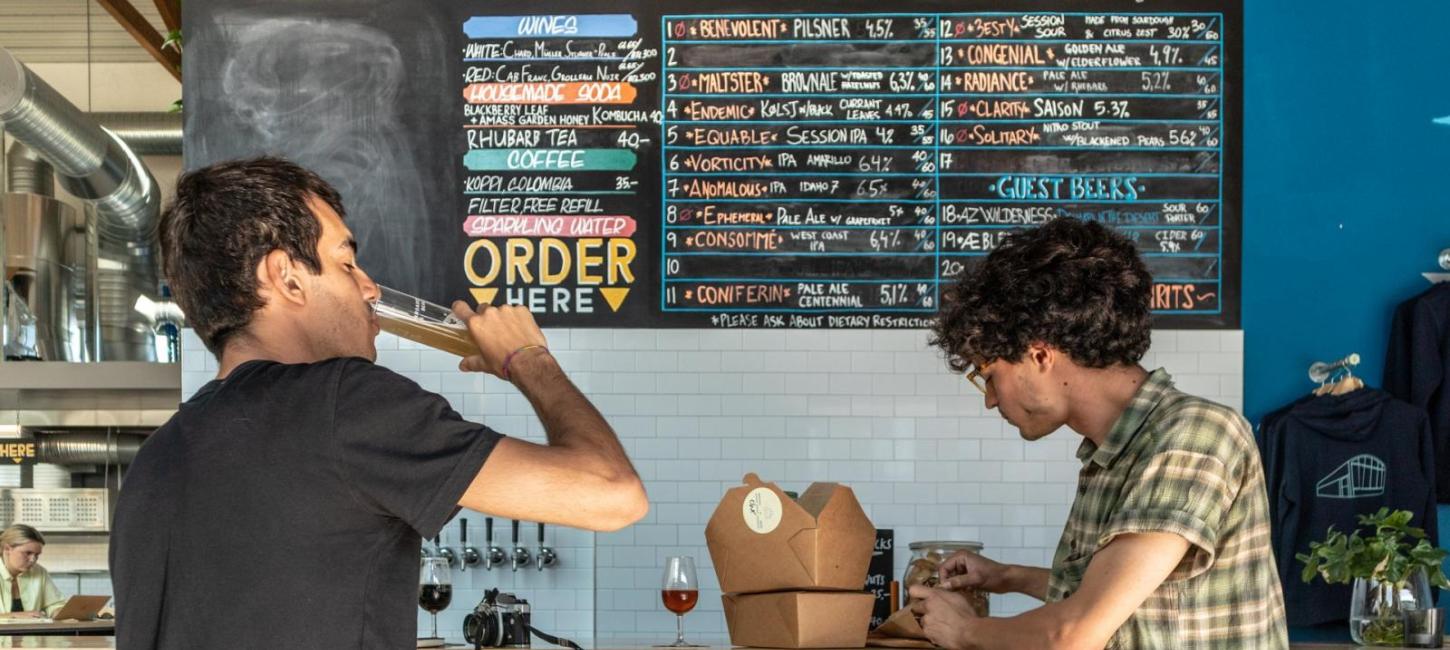 Copenhagen: Capital of craft beer
Craft beer is the coolest beverage these years, and there is no better place to discover the variety and quality of craft beer than in Copenhagen. 
Copenhagen has long been brewing some of the best beer in the world and is home to a plethora of world-renowned breweries such as Mikkeller and Carlsberg. However, the Danish capital is much more than the birthplace of big beer brands. In fact, the numerous craft beer bars, breweries, and beers in Copenhagen are all a testimony to Copenhagen's position as a capital of craft beer. Here, you can not only familiarise yourself with Danish style beers, but also let your taste buds get acquainted with flavours from around the world, brewed in Copenhagen of course. 
Copenhagen's beer lovers were the first in Europe to embrace the beer revolution and the city has gradually developed into the perhaps most interesting beer destination in Europe with an open-minded and quality-based attitude towards the fine art of brewing beer. 
Number of breweries:  
206 
Production (L/year): 
604.000.000 
Number of jobs in the beer industry:  
5.600 
Consumption per capital (L/Year): 
62 
The five biggest breweries:  
Carlsberg 

Royal Unibrew 

Harboe 

Vestfyen Bryggeri 

Thisted Bryghus 
First movers in the beer revolution 
Amager Bryghus 

Mikkeller 

Herslev Bryghus 
Nørrebro Bryghus 

Skands 

Svaneke Bryghus 

Ørbæk Bryggeri 

Indslev Bryggeri 
Wintercoat 

Bøgedal Bryghus 

Søgaards Bryghus 

Skagen Bryghus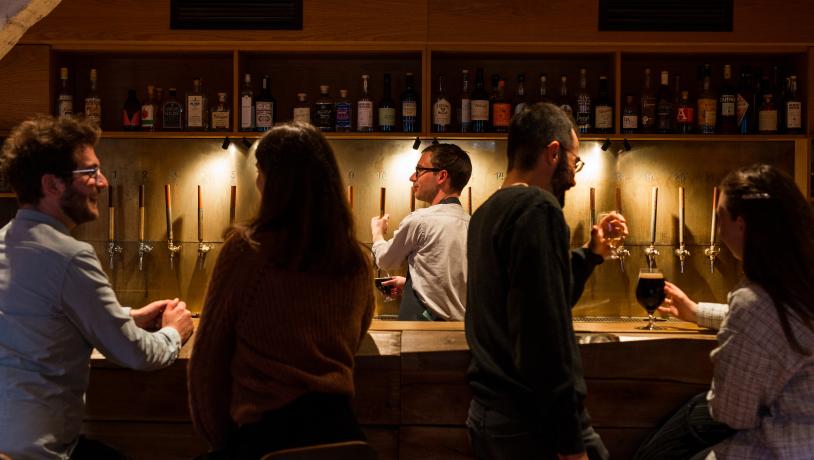 Photo:Daniel Rasmussen
Beer culture in Greater Copenhagen 
Copenhagen Beer Week 
Danish breweries gather in Copenhagen for a week and celebrate the diversity and quality of Danish beer. Lots of events, tastings, and fun. Each year in May.  
Mikkeller Running Club 
The brainchild of the beer designer and somehow guru Mikkel Borg Bjergsø, the man behind Mikkeller - and a former Danish champion in running. The first running club, combining running with beer drinking, was formed in Copenhagen in 2014. Now the Mikkeller Running Club is a world wide phenomena with chapters in numerous cities around the world.  
Mikkeller Cycling Club 
Almost as successful and impressive as the Mikkeller Running Club. Formed in Copenhagen in 2019 and already with chapters around the world.  
Waffles at 1420 
A small, charming, and unconventional event at a craft beer bar specializing in sour beers: Waffles. Classic-style Belgian waffles with whipped cream and a cup of coffee. The owner of the bar 1420 is Belgian.  
MBCC 
Mikkeller Beer Celebration Copenhagen is perhaps the most attractive craft beer festival in the world. Each year in May the Øksnehallen venue is filled with thousands of beer lovers from all over the world. The event has aura of a rock star. The tickets are sold out at record speed.  
Pub quiz 
Ølbaren, Elmegade 2, is well known for the pub quiz on Mondays, but other craft beer bars also offer Mondays with quizzes, i.e. Søernes Ølbar and Ørsted Ølbar 
Cantillon Blåbær Lambik 
Once a year, beer lovers from around the world besiege the craft beer temple Himmeriget, Åboulevard 27. In September the iconic Cantillon Blåbær Lambik is released in only 300 bottles. The beer lovers sleep outside the bar for days to be sure to get hold of one of these prestigious bottles of wild fermented ale with blueberries from the Cantillon brewery in Brussels. 
The Day of The Beer 
Every first Saturday in September is dedicated to beer. It's Øllets Dag, The Day of The Beer. The day, which is instituted by the consumer organization Danske Ølentusiaster, The Danish Beer Enthusiasts, offers several events at bars, restaurants, etc.  
Beer yoga
Beer and yoga. Why not?! Open to anybody. Every second Saturday at Nørrebro Bryghus, Ryesgade 3.  
Beer choir 
Singing and beer drinking. Not an unfamiliar combination. The choir at the brewery is singing classic Danish songs from the 80's and 90's. You are free to come and raise your voice – and glass. Every Thursday at Nørrebro Bryghus, Ryesgade 3.  
ØJ-Dag 
In Denmark we celebrate the launch of Christmas beer from Tuborg, the so-called J-Dag the first Friday in November. The day before J-Dag the beer lovers, as a protest against the big brewer Tuborg, have their own celebration of Christmas beer, the ØJ-Dag. At several craft beer bars you can enjoy some of the around 250 varieties of Danish Christmas beer. 
Taphouse Open 
Each January Taphouse, Lavendelstræde 15, a craft beer bar with 61 taps, hosts the event Taphouse Open, a competition for the home brewers. The public is invited to come and taste the home brews – and perhaps some of the beers on tap could be tempting too. 
Amerikanerdag 
The 4th of July is not only the Independence Day in USA, but also a Amerikanerdag, a celebration of American beer at Amager Bryghus, Kirstinehøj 38B. Amager Bryghus has made several collabs with the most recognized American brewers, and for the event some of the collabs are brewed again. Music, street food and a gathering of around 1000 beer loving Copenhageners.  
Mikkeller Beer Walk  - Press photos
A free 4.5 km guided walking tour lasting approx. 2-2.5 hours in Vesterbro. The guide, a local beer expert, will share stories of the hippest area of Copenhagen, of Mikkeller and of its founder, Mikkel Bjergsø. 
The Mikkeller Beer Walk is a 100% outdoor activity, free for everyone to join. Participants can buy the beer they prefer, or can follow the guide's recommendation for a more complete experience. 
Craft beer bars in Greater Copenhagen
Breweries in Greater Copenhagen
Amager Bryghus 
Kirstinehøj 38B, Amager, Copenhagen- Website 
Pioneers in the Danish beer revolution and still going very strong – just as strong as their beers. Extreme beers are at the core of the assortment, especially hoppy IPA's, but the ever curious team of brewers are exploring all kinds of beer styles at an unbelievable pace – just as long as the beer types are pushing the limits of beer. The best way to enjoy their beers: Amager Bryghus Taproom Nørreport or Amager Bryghus Taproom Bryggen.  
Braunstein 
Carlsensvej 5, Køge - Website 
Beer and whisky are the passions of the Braunstein founders and brothers Michael and Claus, who have made Braunstein beer of household name in Denmark. Easy-going beers and an award-winning production of whisky. A huge bar with beer and whisky right beside the brewery at the harbour in Køge. 
BrygBrygBryg 
Meterbuen 45, Skovlunde - Website 
BrygBrygBryg really likes to brewbrewbrew. Very productive and inventive. The small scale brewery is known for its sour beers and beers with fruit, but their dogma is anything goes – just as long as it's tasty.  
Dry & Bitter 
Borupvej 80, Gørløse - Website 
Dry & Bitter also excels in juicy and sweet beers. This brand is both for the hard-core beer nerd and the curious beer drinker. The assortment of beers is primarily about IPA, but Dry & Bitter is continuously expanding its range of beers. The latest addition: Pilsner. The excellent craft beer bar Fermentoren, Vesterbro, Copenhagen, is associated with Dry & Bitter.  
Home of Carlsberg 
Home of Carlsberg, Gamle Carlsbergvej 11, Vesterbro, Copenhagen - Website / Press photos
The father brewery to Danish beer and, probably, also to a worldwide beer audience. Home of Carlsberg offers you a great insight into the story of the third-largest brewery in the world and how modern Danish beer brewing was invented. From December 1st, 2023, Home of Carlsberg opens up to a completely new cultural attraction, which includes an interactive exhibition, a historic area with a restaurant and bar, the horse stable with the brewing horses, their spectacular bottle collection, beer tastings as well as guided tours in the old cellars. Even though the brewery of the beer has now moved out of the district, the site still has a top modern craft beer brewery called Husbryggeriet Jacobsen that provides beer to a widespread of festivals and restaurants.
Flying Couch 
Bygmestervej 6, Nørrebro, Copenhagen - Website 
IPA is at the centre of the Flying Couch, but the brewery is also talented in making sours and stouts. You can always find the beers from Flying Couch at the beer bars Ørsted Ølbar and Søernes Ølbar – the owner of the bars is a co-founder of Flying Couch.  
Gamma 
Smedeholmen 18, Herlev - Website 
The Danish undisputed masters of the most hyped beer style these days: NEIPA, New England India Pale Ale. Juicy and hop-infused beers galore is alpha and omega at Gamma. Newcomers, but with a huge talent for making thirst quenching beers. 
Herslev Bryghus 
Kattingevej 16, Herslev, Roskilde - Website 
Beer without hops! Almost unthinkable, but that's a speciality at Herslev Bryghus. Their Mark series of sour beers with no hops are legendary. Perhaps because the brewery is founded by a farmer the brand is focused on local produce and organic beers. Broad range of beers though, including IPA, pilsner, porter and an increasing interest in barrel-aged beer.  
Krenkerup Bryggeri 
Krenkerupvej 33, Sakskøbing  - Website 
The most German-style brewery in Denmark. Pilsner, bock, wheat beer and dunkel on the menu. Krenkerup Bryggeri even brews a true German a rauch bier (smoked beer). The most award-winning brewery in Denmark. Enjoy a classic German-Danish brew at their wonderful biergarten in the courtyard to the listed estate Krenkerup Gods. 
Slowburn 
Byvej 55, Hvidovre - Website 
Perhaps the youngest and trendiest brewing team in Greater Copenhagen – established by an Italian, an American and a Dane. Slowburn is the newest success to the Copenhagen beer scene. If you crave for the latest trends, look no further than Slowburn. These days Slowburn is wild about pilsner. 
Warpigs 
Flæsketorvet 25-37. Vesterbro, Copenhagen - Website / Press photos
Mikkeller is a world known and renewed brand, but the Mikkeller beers are normally made at well-established breweries around the world. However, Warpigs, in Copenhagen's Meatpacking District (Kødbyen), which Mikkeller owns together with the successful US brewery Three Floyds, is a true hotspot for the beer geeks. Always trendy styles, always high quality – and the Texan barbecue is excellent too.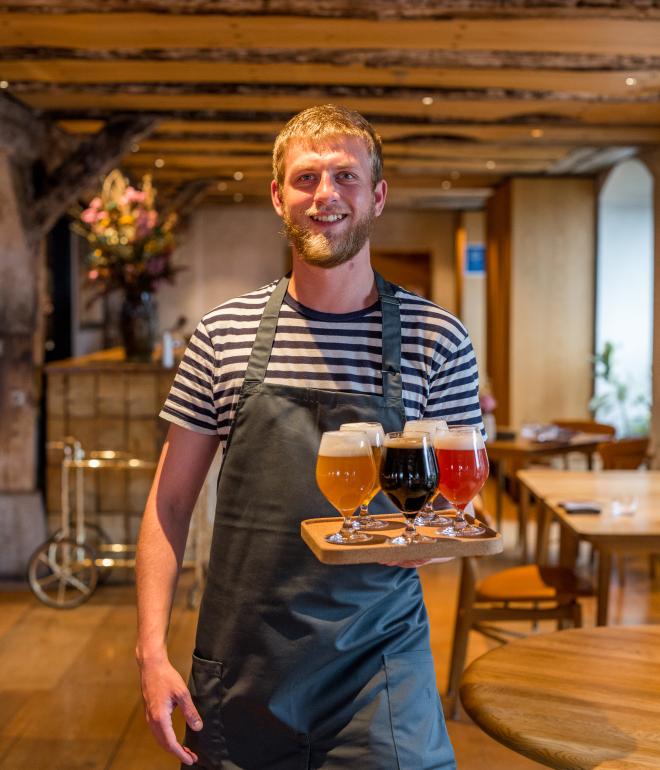 Photo: Daniel Rasmussen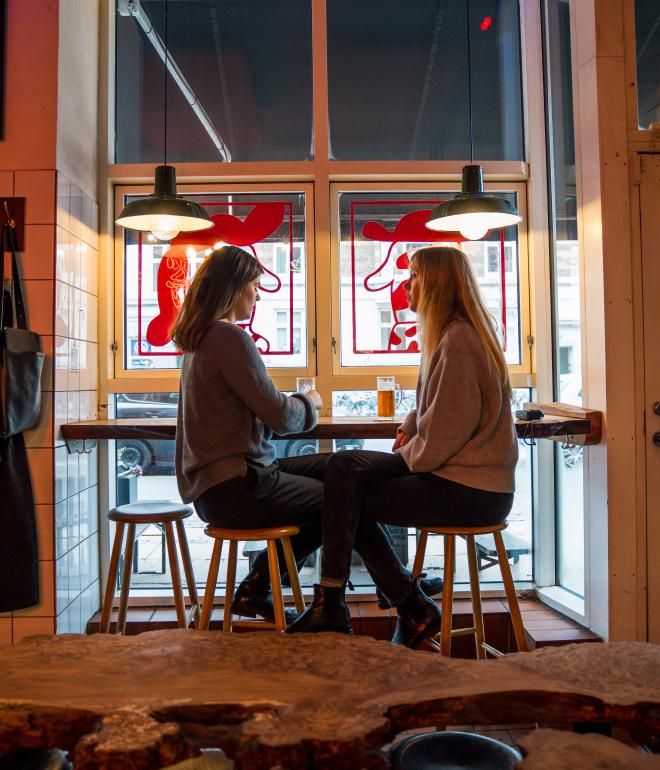 Photo: Mellanie Gandø
Food and craft beer in Copenhagen
Warpigs
Brewery and Texan barbecue style food in a former slaughterhouse in the meat packing district Kødbyen. The dinnerguests eat right next to where the meat is slow smoked and where the craft beer is brewed, so eating at Warpigs feels like an entire experience. There are always at least 22 home brewed beers on tap. The brewery has capacity to brew 250.000 liters of beer annually.
La Neta
On both Nørrebro and Vesterbro, La Neta is located. "La Neta" is Mexican Spanish slang for "the truth" and they pride themselves in serving no-nonsense food, that mostly includes authentic Mexican flavours and good atmosphere. Aside from their food, they have collaborated with Mikkeller who serve beer on tap in both restaurants. The style of the interior is a combination of classic Mikkeller décor and the classic of a taqueria.
Ramen to Bíiru
Located in six different places all around Copenhagen, Ramen to Bíiru has become a solid part of the new Asian wave. Focusing their food around the three major categories of ramen – Shio, Shoya, and Miso – there is a dish for all ages and spice levels. They have collaborated with Mikkeller, who have at least six different beers on tap in all the restaurants, who go well with a ramen dish.
Restaurant Barr
Located in Nomas old iconic building on Christianshavn, Restaurant Barr is a combination of a restaurant and bar. The focus is on traditional food from the North Sea, including the British Isles, Benelux, and Scandinavia. They have a selection of 10 beers on tap and a protracted list of bottled beers, including their own beer made in collaboration with Amager Bryghus. Barr works with independent craft breweries to create original selections that change weekly.
Pauli
Pauli opened in Sydhavnen in 2022 and won one of the most prestigious food awards in Copenhagen in 2023. Gourmet dining and home brewing from Nørrebrew are combined in a delightful experience. The team behind Pauli and Nørrebrew worked closely together before the opening of the restaurant, so that Nørrebrew would be a vital and integrated part of the restaurant and experience.
Tribeca
Located in Nordvest, Tribeca is an authentic Italian restaurant that chases the latest new. To do so, they have created a Pizza Lab where they develop the best pizzas possible. Furthermore, they have collaborated with Ugly Duck Brewery, because according to their beliefs, a special food experience is enhanced by a special thirst quencher. Tribeca and Ugly Duck work closely together to create new beers with aried flavours for any occasion.
ÅBEN
ÅBEN Brewery, Tank Bar & Restaurant is situated in the lively Meatpacking District, and here you eat and drink in between and underneath large vessels of beer while having full visibility of the kitchen and brewery. The beer is being brewed at the brewery just behind the bar, meaning that when the beer is finished, it flows directly to one of the 14 tanks hanging from the roof and into your glass. From Thursday-Saturday Åben hosts selected POP UP restaurants at their brewery. Here, local restaurants cook custom-designed menus suitable for ÅBEN's craft beers.
BRUS
BRUS is a brewpub started by the Danish microbrewery TO Øl, located in an old industrial building in the urban area of Guldbergsgade in Nørrebro. BRUS both contain a brewery on the spot, a bar, a bottle shop and a restaurant, causing the beer to travel only 20 meters from tank to glass and embracing the social experience around beer. BRUS's Foodbar serves snacks like whipped ricotta with grilled focaccia, fried Padron peppers and chicken wings and larger meals like smashed beef burgers, cauliflower burgers, fried chicken, bao buns or beef tartare.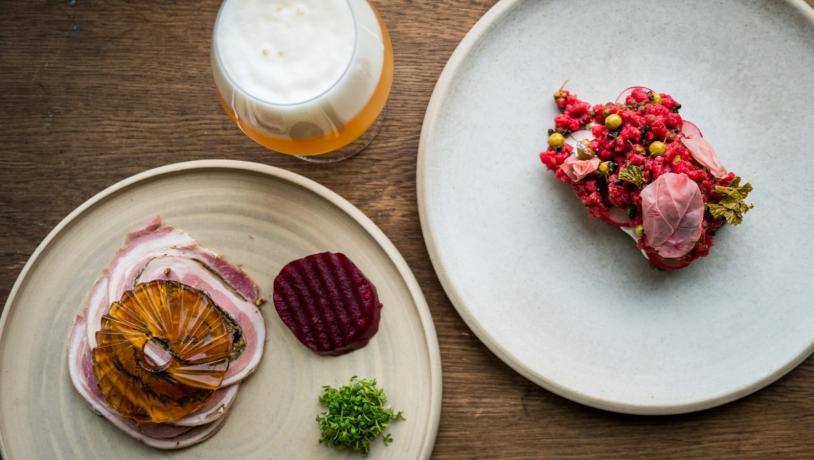 Photo:Daniel Rasmussen
In depth article
Discover what makes Copenhagen THE place to go for craft beer enthusiasts, and how the city has developed into the perhaps most interesting beer destination in Europe. 
Press Photos
Download a selection of pictures related to beer in Copenhagen. Press photos - Copenhagen: Capital of craft beer. The photographer must be credited.
Other related press material
About Wonderful Copenhagen
Wonderful Copenhagen © 2023