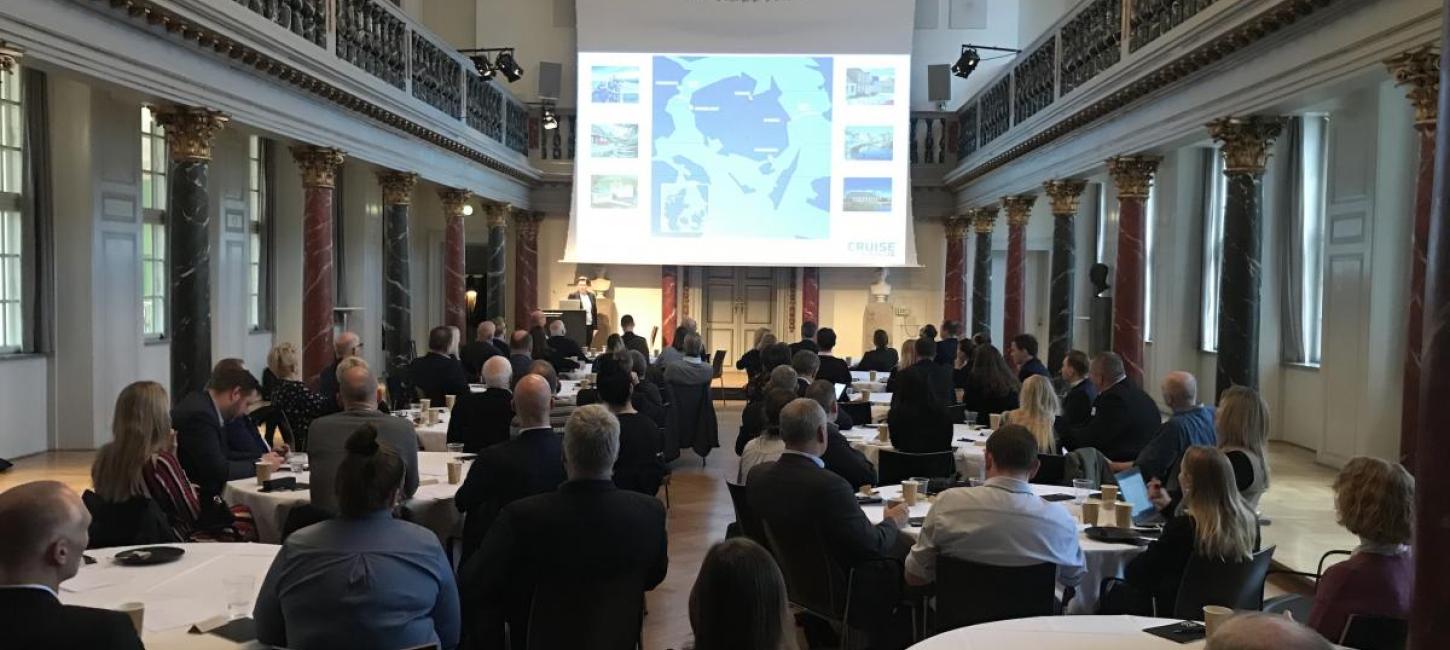 Unique partnerships lead to stronger collaboration on sustainability in the Danish cruise network
12.9.2019
The ambition to be strong on partners is working for the Danish cruise network, CruiseCopenhagen. More partners mean better collaboration on important issues like sustainability.
The B2B cruise network, CruiseCopenhagen, comprise more than 60 partners in the Danish cruise industry. At the annual CruiseCopenhagen autumn meeting on the 20th of November, two new partners who have joined the network were presented. One of the new partners is the City of Nyborg, located on the eastern coastline of the central Danish island of Funen. The other is the Danish porcelain company, Royal Copenhagen A/S, which is a great example of the diversity of partners and what makes CruiseCopenhagen especially unique.
Søren Busk, Head of Retail at Royal Copenhagen A/S, says: 
We are extremely happy to become a CruiseCopenhagen-partner. Royal Copenhagen, purveyor to her majesty the queen of Denmark, is known worldwide for our Danish heritage and craftmanship and when the cruise guests arrive at for instance the port in Copenhagen, we see a huge potential in a visit to the Royal Copenhagen store being a part of their Danish experience.
The breadth of partners and that they span so widely geographical and across branches make the network unique. By bringing the entire value chain together from ports, destinations, hotels, attractions – and now retail, CruiseCopenhagen offers cruise lines a total solution for their cruise guests.
Sandra Neffgen, Head of Shore Excursion Program at AIDA Cruises, says:
It is important for us as a cruise line to offer our guests complete solutions to make them feel exceptionally welcome. The ability of the various destinations to create strong partnerships plays an important role in this, and CruiseCopenhagen has in particular done an excellent job in this regard.
Stronger collaboration sets the course for sustainability
Not only do the strong and wide partnerships benefit the cruise lines and guests – it is also beneficial when solving and collaborating on important issues like for instance sustainability. The Cruise Lines International Association (CLIA) considers collaboration an important part of the sustainable development in the cruise industry.
Tor Sletner, Vice President Europe Governmental Affairs and Maritime Policy at CLIA, explains: 
Two of the main areas of commitment when it comes to sustainability in the cruise industry are emissions reduction and sustainable tourism. The more actors supporting these commitments the better. It goes without saying that more industries collaborate with greater effect – especially on sustainable development.
With the new partners, CruiseCopenhagen is stronger than ever. The ambition is to expand the partner circle and to attract more diverse partners in order to keep creating greater impact on important issues such as sustainability and securing sustainable development within the Danish cruise industry.
Please read more at: www.cruisecopenhagen.com
Photo caption: Two new partners were introduced at the annual CruiseCopenhagen autumn meeting: The City of Nyborg and the Danish porcelain company, Royal Copenhagen A/S.
For further information please contact Director of CruiseCopenhagen, Claus Bødker, at e-mail clb@woco.dk and telephone +45 61 20 96 74.
For press related questions, pictures etc. please contact Kathrine Barret Faurholt at CruiseCopenhagen's PR agency EHRENBERG SØRENSEN Kommunikation at e-mail kf@ehrenbergsoerensen.com and telephone +45 31 41 87 85.
About Wonderful Copenhagen
Wonderful Copenhagen © 2023