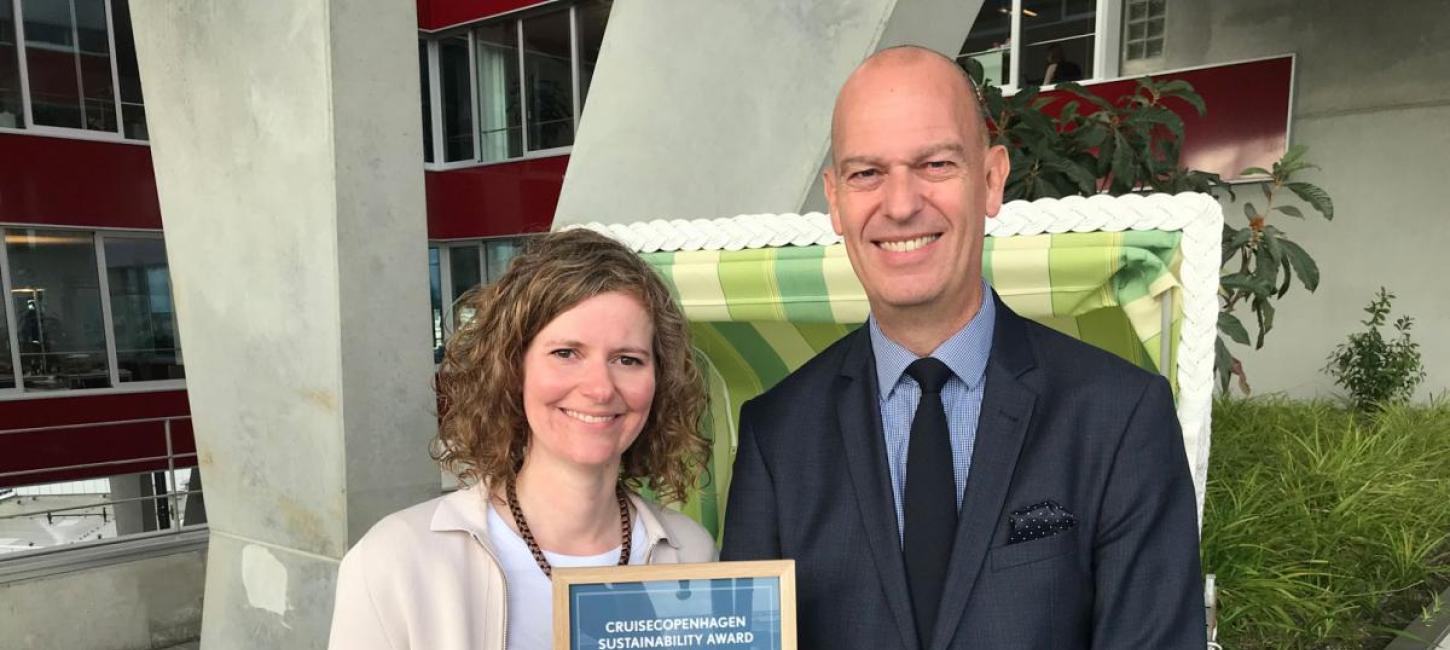 TUI Cruises wins "CruiseCopenhagen Sustainability Award 2019"
21.10.2019
With sustainability being high on the agenda for the Danish cruise industry, the annual Sustainability Award is an important nod to cruise lines working towards reducing their environmental impact.
CruiseCopenhagen is pleased to announce that TUI Cruises has won the annual CruiseCopenhagen Sustainability Award for its efforts to develop a sustainable cruise industry and for working towards reducing its environmental impact in Copenhagen.
TUI Cruises GmbH Senior Environmental Manager, Lucienne Damm, who received the award on behalf of TUI Cruises, says:
What great news for us. It is a great tribute to our environmental every-day-work on board and shoreside. We strongly believe in our "above & beyond strategy" – especially when it comes to our solid waste management and wastewater policy. We are very happy that CruiseCopenhagen acknowledges it with this prestigious prize. It is a great motivation for TUI Cruises to continue the path we have chosen,
Developed by CruiseCopenhagen's more than 60 partners, the award recognises and celebrates initiatives that contribute to a more sustainable cruise industry in Denmark.
CruiseCopenhagen Director, Claus Bødker, says:
Our vision in CruiseCopenhagen is to develop a cruise industry in Denmark that pays particular attention to the environment in all its facets – for the benefit of the industry, its guests and its hosts.
While CruiseCopenhagen partners applaud all cruise lines for their sustainability efforts, TUI Cruises was highlighted by many partners for walking the extra mile this year. Claus Bødker says: 
There is no doubt that TUI Cruises takes its responsibility seriously. With exceptional waste management and an advanced treatment system, TUI has made a great effort when it comes to port operations in Copenhagen. As far as shore excursion goes, TUI has shown excellence in offering a wide array of environmentally friendly tours with focus on spreading out its guests to areas outside of the city center,
CruiseCopenhagen Sustainability Award: The CruiseCopenhagen Sustainability Award is presented each year to a cruise line that has shown excellence in supporting a sustainable cruise industry in Denmark.
Photo Caption: Director of CruiseCopenhagen, Claus Bødker, awarded this year's sustainability prize to TUI Cruises GmbH Senior Environmental Manager, Lucienne Damm.
For further information please contact Director of CruiseCopenhagen, Claus Bødker, at e-mail clb@woco.dk and telephone +45 61 20 96 74.
For press related questions, pictures etc. please contact Fie Vedsmand at CruiseCopenhagen's PR agency EHRENBERG SØRENSEN Kommunikation at e-mail fv@ehrenbergsoerensen.com and telephone +45 28 15 88 97.