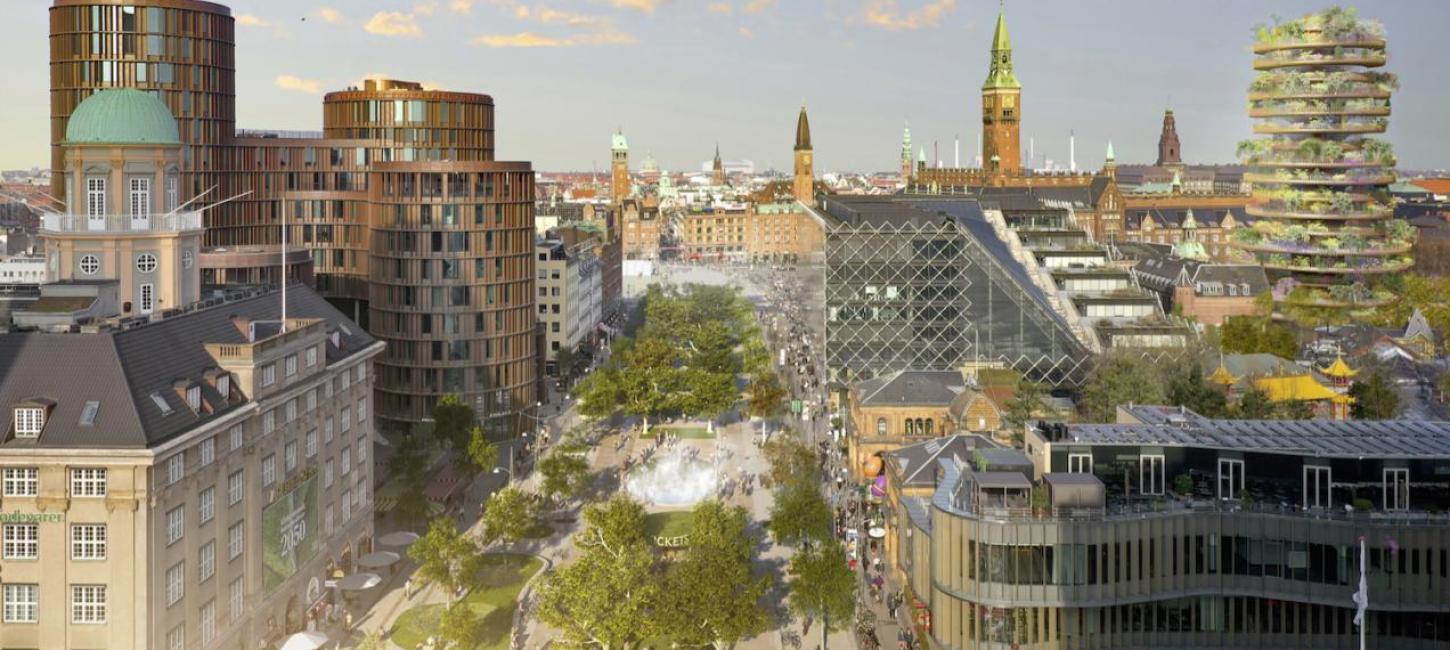 BIG - Bjarke Ingels Group designs new H.C Andersen Hotel for Tivoli in Copenhagen
12.9.2019
Two Danish top brands, BIG and Tivoli, partner for a spectacular development in Copenhagen's iconic amusement park in the centre of the Danish capital. 
The H. C. Andersen Hotel project includes an 18-storey addition to the 1893 Tivoli Castle, thereby continuing Tivoli's tradition of balancing its old-world charm with visionary architecture. For both parties, a sustainable profile is essential.
Today, at the Nimb Hotel in Tivoli, Tivoli CEO Lars Liebst and BIG Founding Partner Bjarke Ingels revealed plans for the H. C. Andersen Hotel, situated inside Tivoli Gardens amusement park and vis-à-vis Copenhagen City Hall. The project consists of refurbishing and re-purposing the 1893 Tivoli Castle, renovating the 1883 Panorama Pavilion and building a new 18-storey pagoda. The H. C. Andersen Hotel is named after Danish Fairy tale writer Hans Christian Andersen.
Bjarke Ingels explains:
Tivoli is a unique oasis of lush gardens and whimsical architecture in the center of Copenhagen. A truly cosmopolitan neighborhood in the heart of the Danish capital, Tivoli's cultural and bio-diversity is unlike any other place in Copenhagen. With a renovation of the 1893 Tivoli Castle and the addition of a new building, we have attempted to capture and accentuate the character of the existing castle, creating a new typology inspired by Tivoli's archetypical architecture. A hybrid between the garden's pagodas, pavilions and towers, our proposal builds a bridge between the city's history and present – the nearby Rundetårn and Axel Towers – as well as the city's archive of unrealized dreams. Past, present and fantasy unified in the heart of Copenhagen.
Tivoli's new pagoda, like Tivoli itself, will be covered in lush gardens and greenery. It will have a sustainable profile to the highest standard in keeping with Tivoli's tradition of buying green energy and generally generating as small an environmental footprint as possible.

Tivoli, the future and the heritage
Founded in 1843, Tivoli is a historic site as well as modern attraction and experience brand. The continued development is the key to the success of the iconic amusement park, explains CEO Lars Liebst:
Only through projects such as this can Tivoli stay relevant for future visitors. It has been proven time and time again, that depending on Tivoli's historic charm is not enough. Change is in Tivoli's DNA, it is our heritage, and Tivoli has always hired the best architects to make sure that new additions will stand the test of time, because we are building for the future.
New Urban Park
In addition to the H. C. Andersen Hotel project, Tivoli together with Gehl CEO Birgitte Bundesen Svarre presented an idea to turn busy Vesterbrogade into an urban park. Acclaimed urban design and city planners Gehl have designed a 10,400 sqm recreational space with only pedestrian and cyclist traffic in front of Tivoli and adjoining Copenhagen's City Hall Square. The urban park will serve as a buffer area for big events in City Hall Square and in Tivoli and will strengthen Copenhagen's green profile as one of the world's most liveable cities.
Next steps
Today's presentation was the first time both projects were shown in public. The next step is to make the final proposals for the projects and subject the proposals to the municipality. There will also be a period for public hearings, and it is not possible at this time to set an opening date for either project.
About BIG
BIG is a Copenhagen, New York, London and Barcelona based group of architects, designers, urbanists, landscape professionals, interior and product designers, researchers and inventors. The studio's latest projects include Lego House in Billund, Maritime Museum of Denmark, Noma restaurant in Copenhagen, Vancouver House in Canada and many more.

BIG's architecture emerges out of a careful analysis of how contemporary life constantly evolves and changes.
About Gehl
Gehl is an urban design consultancy offering expertise in the fields of urban design, architecture, and city planning. We apply a people-first approach, utilizing empirical analysis, strategic planning and human-centered design, to empower citizens, decision makers, company leaders and organizations to create a better everyday life for all people in cities around the world.
About Tivoli
Tivoli's founder Georg Carstensen was inspired by European pleasure gardens and with the Danish king's permission, opened Tivoli Gardens on 15 August 1843.
Today, Tivoli is Denmark's most popular attraction with 4.6 million visitors annually.
About one third of its visitors are tourists. The Tivoli experience includes rides and games, live music and ballet every day throughout the summer at the open-air stages, performances in several indoor venues, and spectacular scenery with flower gardens and unique architecture. The cherished traditions include The Tivoli Youth Guard marching band, the illuminations, and weekly fireworks displays.
Tivoli is Copehagen's largest dining spot with 25 restaurants, 9 cafes, 12 fast food outlets, 6 bars, 11 outlets with sweets, ice cream and cakes plus 16 outlets in Tivoli Food Hall. Many of the outlets are open all year, among them the Nimb Hotel, which was named "Hotel of The Year 2015" by Small Luxury Hotels of the World. In November 2017, Tivoli Corner opened featuring the Tivoli Food Hall, roof-top terrace, restaurants and extra rooms for the Nimb Hotel.
In 2018, Tivoli and its concessions had a turnover of DKK 1.5 billion, and Tivoli A/S achieved a profit for the year before tax of DKK 120.6 million.
About Wonderful Copenhagen
Wonderful Copenhagen © 2023