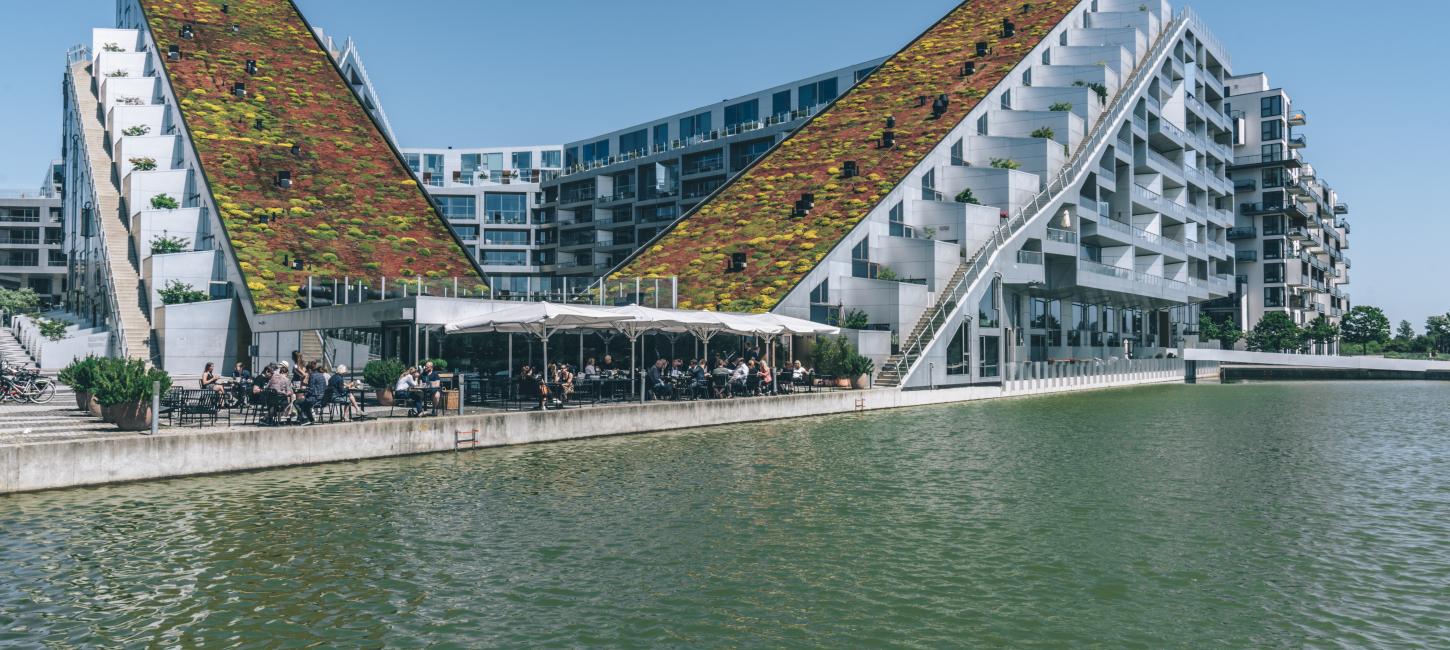 Bjarke Ingels' architecture in Copenhagen
17.6.2022
Bjarke Ingels Group (BIG) is one of the most advanced architecture studios in the world. The Copenhagen studio's projects have redefined the urban landscape of everywhere from New York to Shanghai – and in Copenhagen, of course!  
One of the leading lights in contemporary architecture, BIG has won numerous awards the world over for its creative and innovative designs and has offices in London, Shenzhen, Barcelona, and New York City. The firm follows a philosophy of 'hedonistic sustainability', a term coined by Bjarke Ingels meaning that sustainability can and should be pleasurable, in architecture and everyday life. BIG has not only made it abroad: Copenhagen and Denmark are where it all began.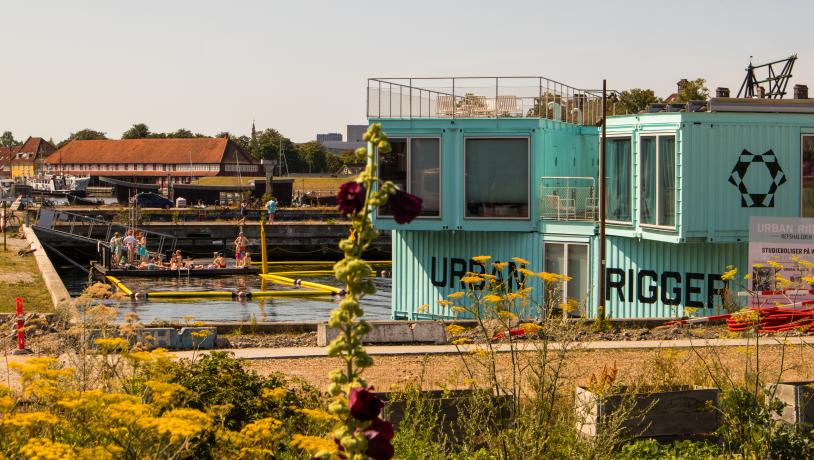 Photo:Giuseppe Liverino
Fast facts: Bjarke Ingels Group 
BIG was founded in Copenhagen in 2005. 
 
It currently employs approximately 600 people in offices in Copenhagen, New York, London, Barcelona and Shenzhen, China. 
 
​​​​​​​BIG is Google's architect of choice, building both its new North Bayshore Headquarters and London King's Cross offices.
 
Significant global buildings include: VIA 57 West, New York; Camp Nou, Barcelona; Musée Atelier Audemars Piguet, Switzerland; Kistefos, Norway. 
 
Key Danish projects outside Copenhagen include Tirpitz and Lego House. 
 
Bjarke Ingels was named one of Time Magazine's 100 Most Influential People in 2016. 
 
There are 57 completed and under construction BIG projects in the Greater Copenhagen area at the time of writing, making it the city with the most BIG projects in the world. 
Projects by Bjarke Ingels Group
Here are the key BIG projects in Copenhagen and the Greater Copenhagen area by Bjarke Ingels Group, many of which have won international acclaim for their uniqueness and holistic approach to building and/or re-building sites.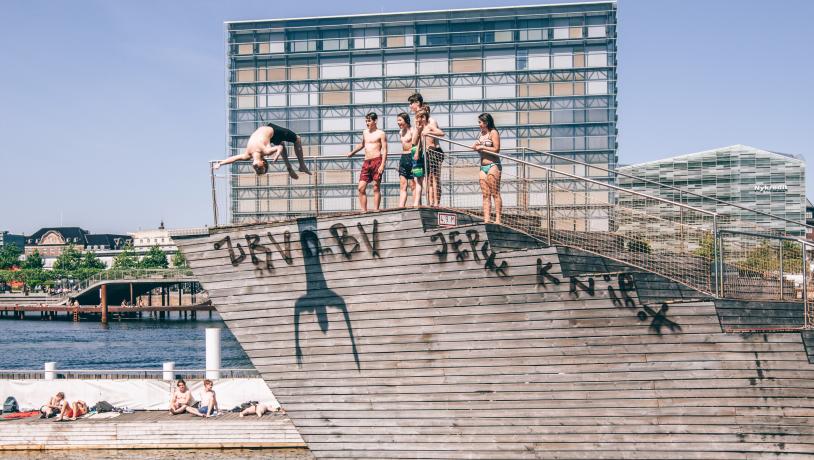 Copenhagen Harbour Bath: Islands Brygge
Built: 2003.
Awards: 2004 European Prize for Urban Public Space.

Copenhagen's harbour is unimaginable without this 1600-sqm floating swimming pool and its diving tower, designed by Bjarke Ingels in his first studio PLOT. The pool, one of six in the harbour, was made possible thanks to a generous city-wide initiative to improve water quality in the harbour over the past 25 years, and turn the industrial harbour into a hugely popular recreational space and cultural area open to both its citizens and to visitors from near and far. For more information read here.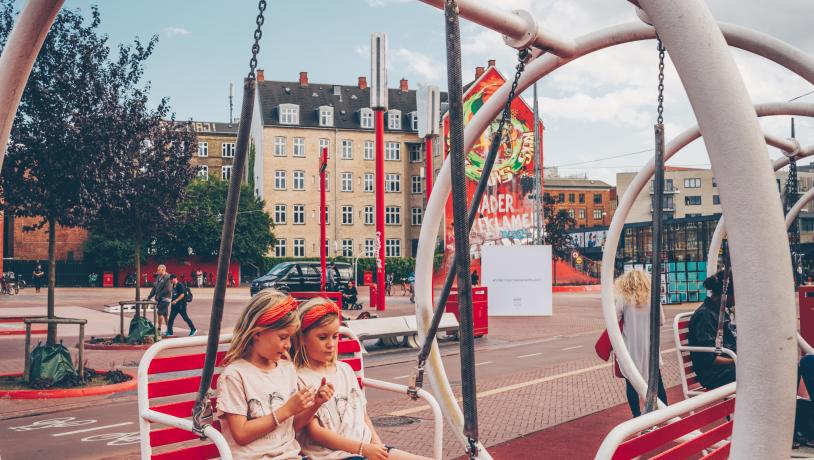 Superkilen
Built: 2012. 
Awards: Red Dot Award Product Design 2013; Best of the Best Architecture & Urban Design.
With SUPERFLEX and Topotek 1, BIG designed this multicultural town square in Nørrebro with a goal to make the neighbourhood an innovative urban space that would inspire other areas of the city. The inclusive project was created using input from over 50 different nationalities living in the area and features urban elements from all over the world, including playground items from Japan, basketball hoops from Mogadishu and a bus stop from Kazakhstan. For more information read here.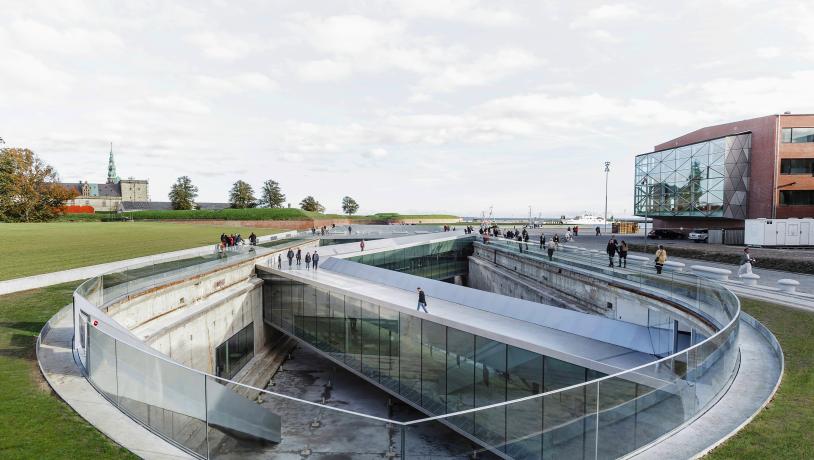 Maritime Museum Helsingør
Built: 2013.
Awards: 2015 Rum Magazine Award: Best Architecture of the Year. 
The challenge was to build a new maritime museum in Helsingør, just up the coast from Copenhagen, without obscuring the view of its UNESCO-listed castle. The solution: an underground museum in the old dry dock, built in the shape of a boat. For more information read here.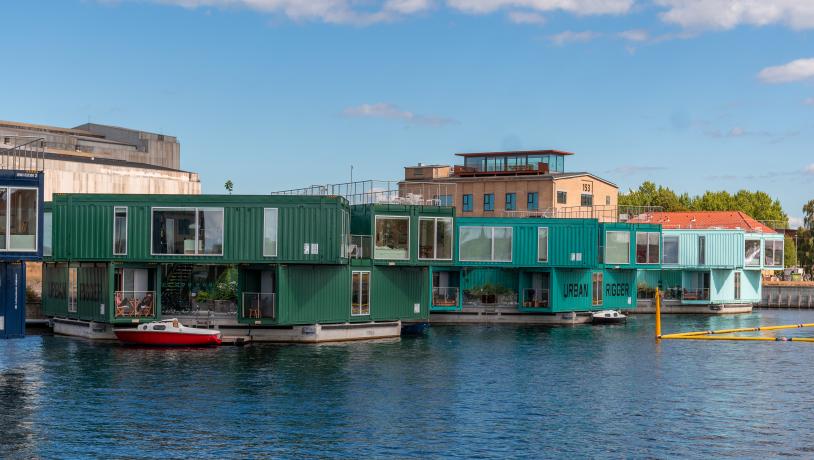 Urban Rigger
Built: 2016. 
In recent years, the number of students coming to study in Copenhagen has exploded. BIG designed this innovative housing solution made of nine repurposed containers that float in the harbour near Refshaleøen. It offers 12 studios for students with communal spaces and a direct water view; along with providing a unique place to live and study, it keeps students in the heart of the city. For more information read here.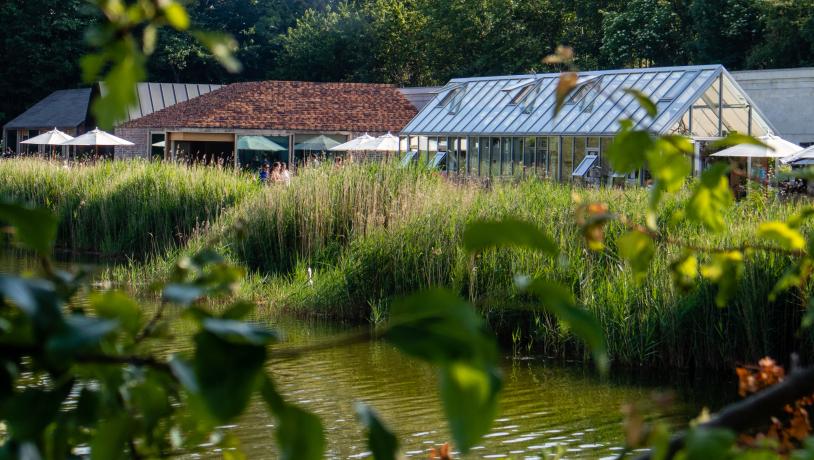 noma 2.0
Built: 2018. 
Awards: Wallpaper* Design Award 2019. 
For the reopening of noma, ranked as the world's best restaurant in 2021, chef and founder Rene Redzepi engaged BIG to create a garden village of 11 buildings, tied together by glass and wood with views of the changing Nordic gardens. It neatly reflects the restaurant's contemporary local and seasonal approach to food. For more information read here.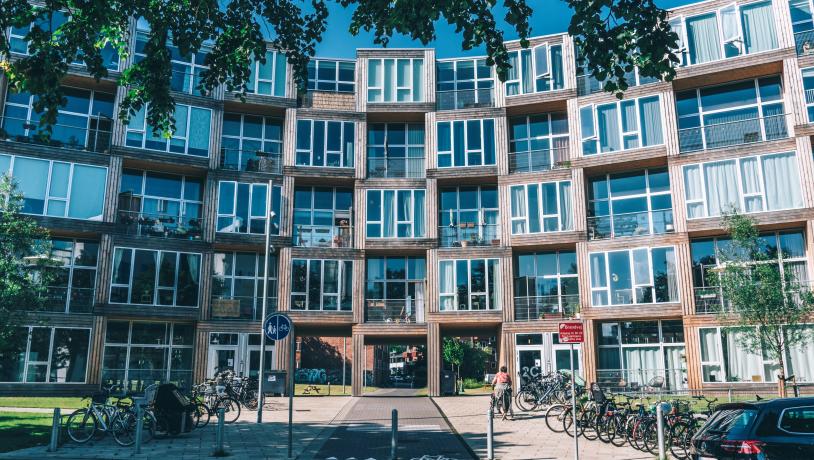 Dortheavej Residence
Built: 2018.  
Awards: World Architecture Festival Shortlist 2019.
In the multicultural northwest of Copenhagen, this building fulfils an ideal architecture for all, with 66 new homes for low-income citizens developed with high ceilings and public spaces. For more information read here.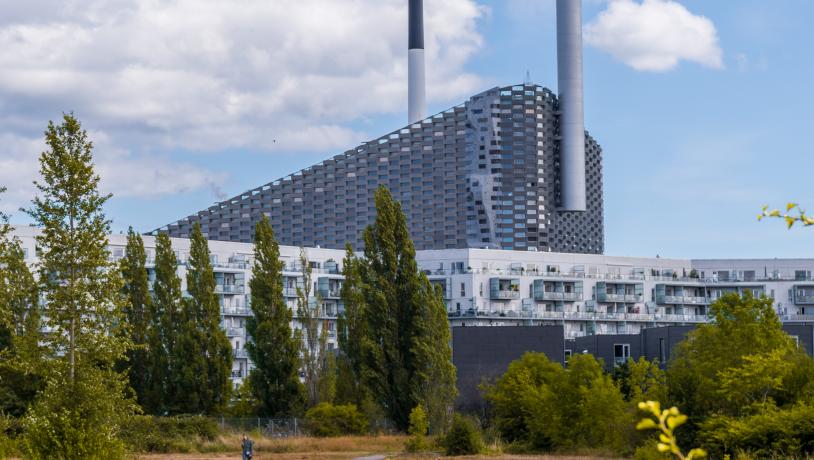 Amager Bakke / CopenHill
Built: 2019.
Awards: 2020 ArchDaily Building of the Year.
CopenHill is an urban artificial ski slope on top of a waste-to-energy plant in central Copenhagen, complete with a hiking path and the world's tallest climbing wall on its side. This revolutionary building makes a statement about how it's possible to create functional buildings that serve a core practical purpose for a city while also creating an attractive cultural space for local communities. It's part of Bjarke Ingels' vision of 'Hedonistic Sustainability' – the idea that sustainability can and should be enjoyable. For more information read here.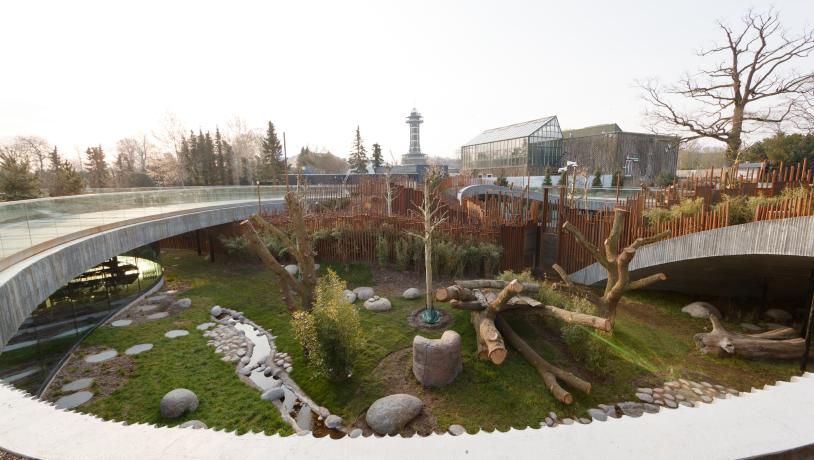 Panda House, Copenhagen Zoo
Built: 2019. 
Copenhagen Zoo needed a new panda enclosure to house its pandas, Mao Sun and Xing Er. BIG created a ying-yang construction, with a restaurant that allows you to watch the pandas at play while you eat. For more information read here.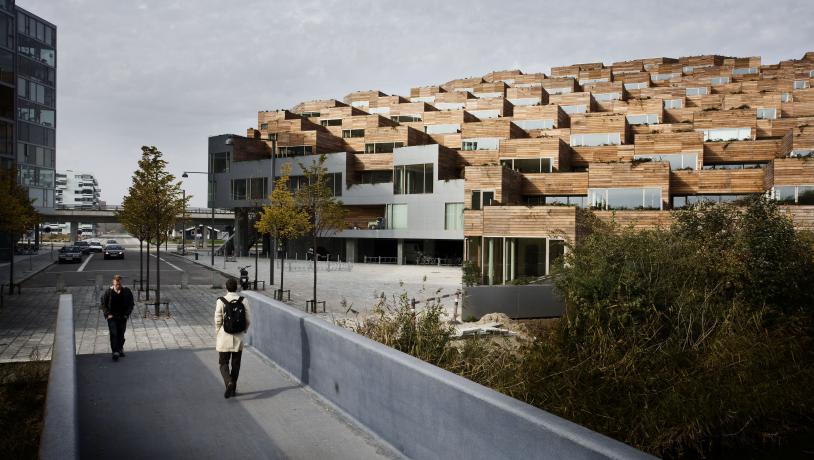 VM Mountain
Built: 2008.
Awards: World's best residential building at the World Architecture Fair.
The Mountain is a 10-storey building where the apartments at the top appear perched on the slope of a mountain. The design incorporates a car park at the bottom and a light-filled array of apartments at the top, with perforated aluminium plates on the north and west façade forming an image of Mount Everest when seen from a distance. For more information read here.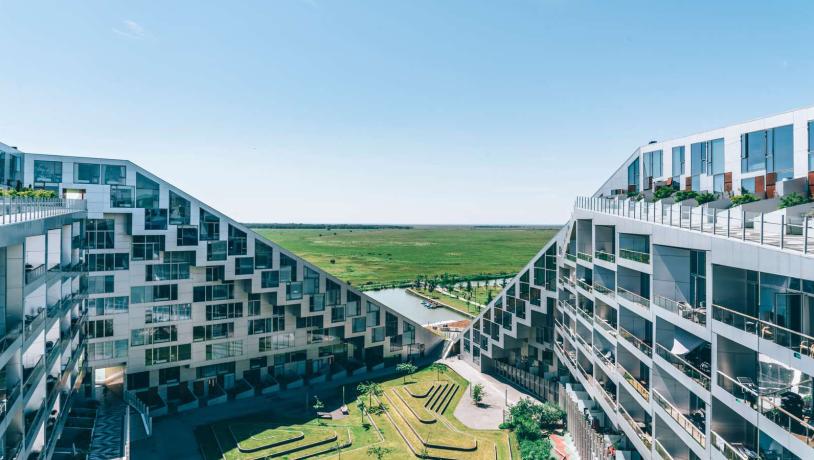 8 Tallet
Built: 2010.
Awards: Housing Building of the Year at the 2011 World Architecture Festival & the 2010 Scandinavian Green Roof Association Green Roof Award.
Built in a striking figure eight with a living roof, 8 Tallet reimagines apartment block living. It is bound together by a 1km footpath, running in a double loop at the top of the house, all designed to give children a safe space to play and walk and residents a natural place to meet. Architecture tours of 8 Tallet with residents are available on weekdays here.
VM Houses
Built: 2005.
VM Houses are inspired by Le Corbusier, and are formed like the letter V and M, with striking shard-like triangular balconies, using unique shapes that allow for daylight, privacy and views.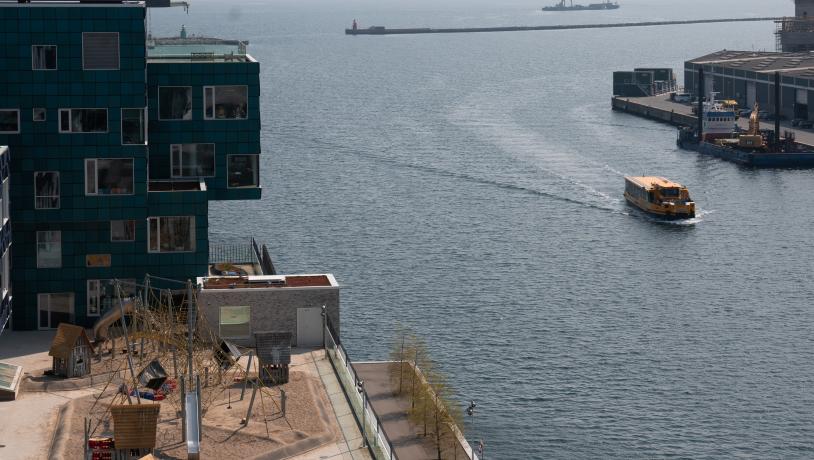 BIG HQ
Status: Under construction. 
Coming soon in the city's hottest new area for architecture, Nordhavn, BIG's new headquarters will be a landmark building for the area. Built from energy-saving concrete, it will have a green façade and will stand seven stories high. The new building is slated to open in autumn 2023 and there will be an open house for public viewing around that time. Further details will be made available closer to the time. For more information read here.
Press photos
BIG projects in Copenhagen - Press photos. The photographers must be credited. 
Other related press material