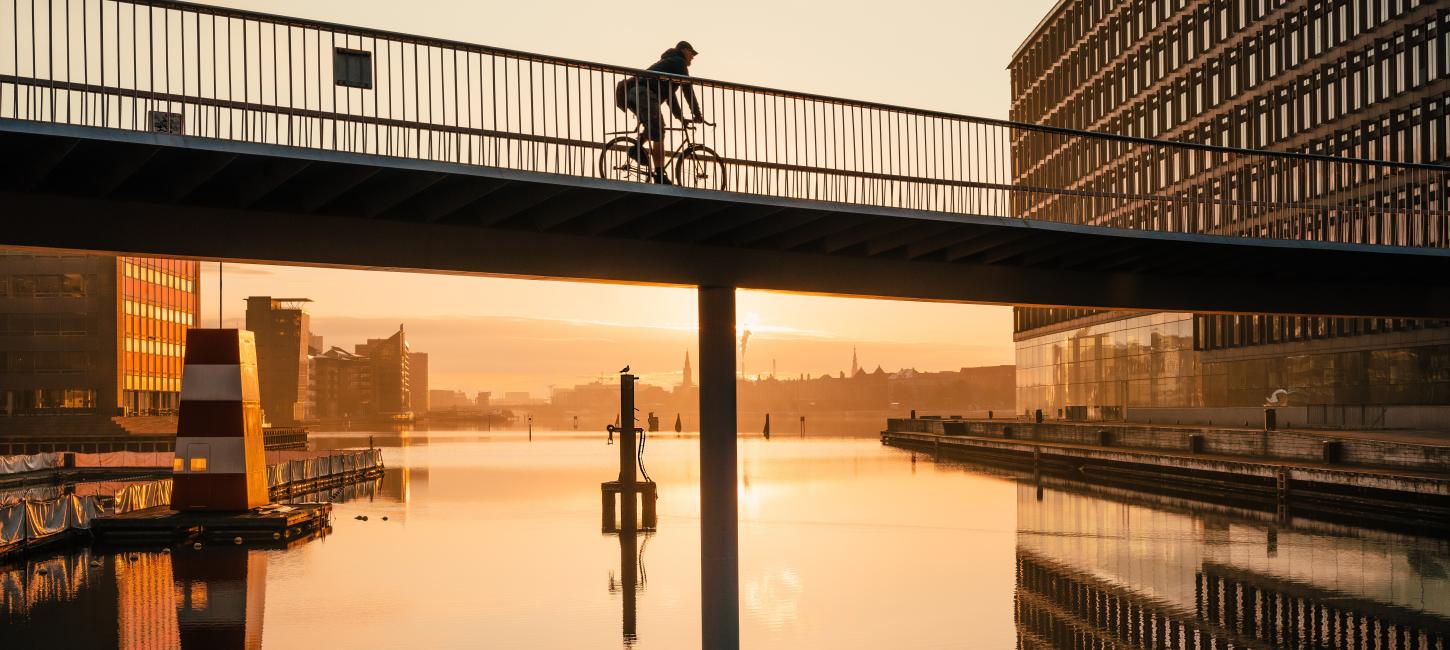 Bicycle-friendly Copenhagen
Bike bridges, cycle superhighways and many other innovative solutions make Copenhagen the world's most bicycle-friendly city. 
The Danish Minister of Transportation has announced that 2022 is going to be the "Year of the bike". On top of Copenhagen hosting the Tour de France Grand Depart 2022, this means a 10 million Euro investment in cycling infrastructure to maintain and improve Copenhagen's position as the most bicycle-friendly city in the world, a title which Copenhagen has been holding since 2015. Safety, convenience, and clever functional design are in fact key when you want to move citizens from the comfort of a car to the wind-blazing bicycle lanes. 
The one thing visitors to Copenhagen comment on the most is the many bikes. You see the fast-rolling spinners pacing into work overtaking families in cargo bikes. Kids cycle with their parents and both the young and the more mature use the bike to get around the city. Actually, half the trips to work and school in Copenhagen are done by bike and Dronning Louise's Bridge alone is crossed by 40,000 cyclists on a daily basis. This could of course sound rather chaotic but is quite the opposite.
Bicycle-friendly architecture in Copenhagen - press kit
Copenhagen ranks as the best bike city in the world due to the infrastructure, making cycling both convenient, safe and fast. In Copenhagen, you find curb-separated bicycle tracks, bike bridges across its canals, cycle superhighways, traffic lights and green waves for two-wheeled commuters, which are just a few examples of Copenhagen's way of designing a city for life, where bikes outnumber cars, where a cargo bike to take your kids to school is cooler than an SUV.   
Taking the bike is not only a choice for those bright summer days. Winter can get cold, but still, Copenhagen breaks the records when it comes to bicycle commuting every year. This is not due to the locals being genetically disposed towards cycling. It is a matter of priority. In the past years, the city has had a consistent focus on bicycle-centric urban planning, with a focus on a safe, well-connected, and user-friendly bicycle infrastructure, making cycling the best way to get around the city. Read more about Copenhagen's bike bridges here.
Facts: Bicycle-friendly Copenhagen
2022 has been announced as the "Year of the bike" by the Danish Ministry of Transportation.
Copenhagen hosted the Tour de France Grand Départ on 1 July 2022, where Yves Lampaert (Belgium) won the 1. stage of the Tour de France cycling 13,2 km in only 15 minutes and 17 seconds, claiming the leader's yellow jersey for the first time.
In 2022, Copenhagen is investing 10 million Euros in cycling infrastructure in order to maintain and improve its position as the most bicycle-friendly city in the world.
In the past 10 years, Copenhagen has invested 200 million Euros in cycling infrastructure.
Since 2015, Copenhagen has been ranked the world's top cycling city several times, the latest in 2019.
Cycling accounts for 42% of all trips to work and study in Copenhagen.
Bikes outnumber cars in central Copenhagen. 
1.46 million km were cycled per weekday in 2019 in the city.  
Copenhagen has more than 386 km of cycle tracks.  
Almost all major roads in Copenhagen have curb-separated bicycle tracks on both sides of the street. 
Dronning Louise's Bridge is one of the most heavily trafficked cycling stretches in Denmark with more than 40,000 cyclists daily. 
1 in 4 Copenhagen families with two kids own a cargo bike. 
Nine out of ten Danes own a bicycle. 
25 % of all school children in Copenhagen cycle to school. 
Tour de France in Copenhagen 2022
Tour de France Grand Depart 2022 took place on July 1 in Copenhagen.
Shooting locations and story ideas - bicycle-friendly Copenhagen
Experience first-hand what makes Copenhagen the world's most bicycle-friendly city by visiting some of the best shooting locations for cycling around town. Read more on it below.
Creative bicycle-friendly initiatives 
Copenhagen is the city where creativity unfolds when it comes to the bike, which is being reinvented to do practically everything. Discover some of the most original concepts which can be spotted around the city in the list below.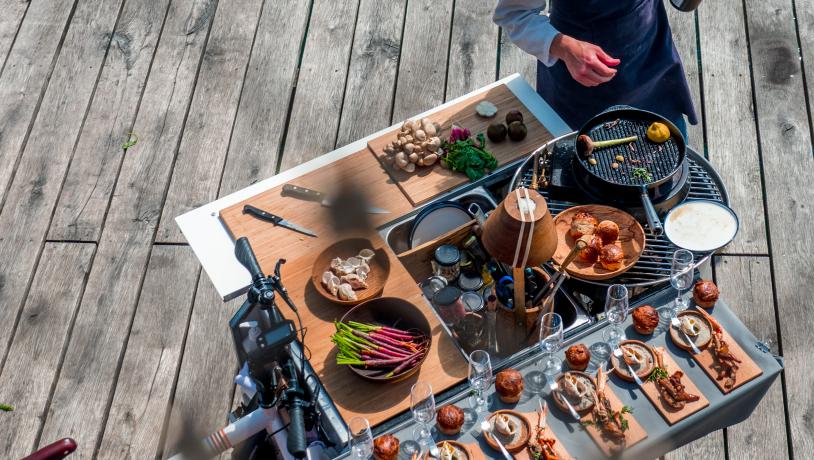 Photo:Daniel Rasmussen
Cykelkokken: The cycling chef, cooking and serving a 5-course meal with local, seasonal ingredients in his cycling kitchen.
 

Rustvogncyklen: A Copenhagen-based funeral company using a cargo bike as a funeral vehicle. 
 

Cykling uden alder: Cycling without age is on an important mission to give the elderly the right to get wind in their hair. Bicycle pilots invite seniors to nursing homes out in the rickshaw and together they get new experiences and some fresh air. See press photos of cycling without age here.
 

Recycles: A bike café where vintage bikes are stripped down and renewed from scratch with top-quality components. 
 

The bicycle library: The bicycle innovation lab is a bike culture centre that advocates bikes as an alternative to cars through a bicycle library, bike repair workshops, and bike events to develop an innovative bicycle culture.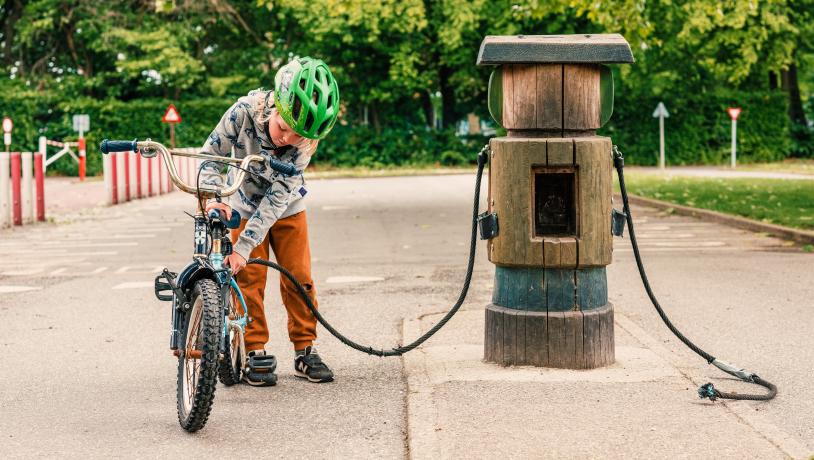 Photo:Visit Copenhagen
Cycling routes around Copenhagen
There are many cycling routes around Copenhagen and the region of Greater Copenhagen worth exploring by bike. To read more press the photo below.
More information - bicycle friendly Copenhagen
Press photos - bicycle friendly Copenhagen
Download a selection of pictures related to cycling in Copenhagen. Press photos - Cycling in Copenhagen. The photographer must be credited.
Other related press material