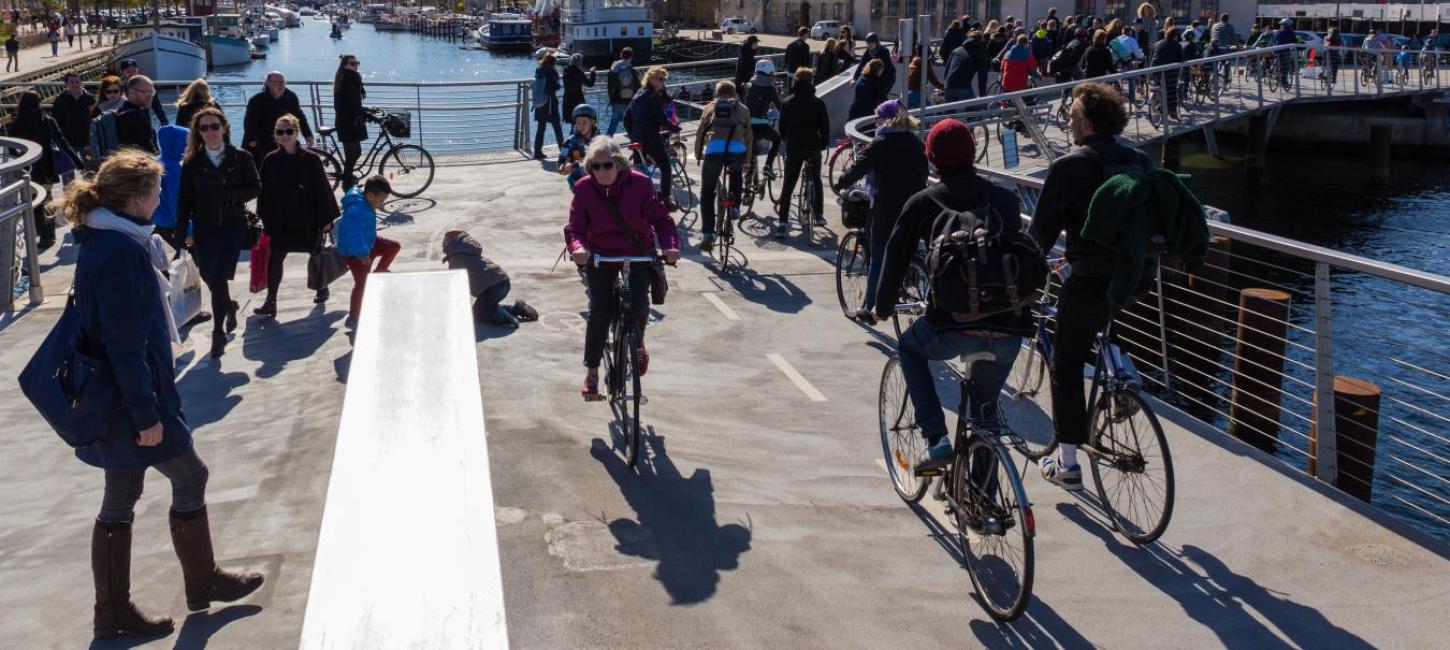 Adopting a post-pandemic shift towards a citizen-centred approach
30.7.2021
Author:
Anne Marie Barsøe (on leave of absence)
Findings from IMEX's Virtual Advocacy Discussion: Many parts of the business events industry need to embrace the citizen-centred approach now adopted by many destinations in the wake of the pandemic.
That's according to Professor Greg Clark CBE who delivered a thought-leadership session at an Virtual Advocacy Discussion hosted recently by the IMEX Group.
Adopting the citizen-first concept
Cities across the world, Clark explained, are now orientating themselves to become more citizen-centred, reclaiming road space for cyclists and pedestrians and developing multi-hub 'city centres' where facilities are within a 15-minute walk.
He argued, that it's more vital than ever for business events to align with this citizen-first concept by better serving local communities. Clark's suggestions included prioritising local suppliers in the procurement process and reflecting local priorities in event content.
IMEX's Virtual Advocacy Discussion brought together 50 people from CVBs at city and country level, convention centres and industry associations. The subject could not have been more topical: How best to communicate the value of business events to destinations and their citizens, and what are the most important steps for the business events industry to take post-pandemic?
Sharing the CVB perspective
Breakout discussions centred on the response of policy makers to the challenges faced by the business events sector. A panel discussion comprising Kit Lykketoft, Director of Convention at the Copenhagen Convention Bureau; Kadri Karu, Managing Director at the Estonian Convention Bureau and Edward Koh, Executive Director of Singapore Tourism Board, provided insights into how the pandemic has shifted perceptions of business events among citizens and policy makers. The panel discussed how citizens' concerns about lack of visitors to their cities have resonated with policy makers and how the rapid switch to digital events has shown the adaptability of the sector.
Kai Hattendorf, CEO of UFI; Geneviève Leclerc, Co-Founder and CEO of #MEET4IMPACT; Rod Cameron, Executive Director of JMIC; Martin Sirk, Owner of Sirk Serendipity and Jane Cunningham, Managing Director of Cunningham Consulting led other breakout panel discussions. These covered, among other topics, the need for industry re-invention to avoid being perceived as a segment of the visitor economy, building partnerships at local and regional level, and the importance of hard data and performance comparisons with other destinations to drive government response.
Exclusive interviews & report – more insight to follow
The IMEX Group has recorded exclusive interviews with Copenhagen, Estonia and Singapore covering their destination strategies and how best to align business events strategies with policy priorities. These full-length interviews will be shared in the coming weeks providing a deeper insight into the successful strategies that the three destinations have deployed.
Dr Edward Koh, Executive Director, Conventions, Meetings & Incentive Travel at Singapore Tourism Board, commented:
"In this challenging period, Singapore has focused its efforts to resume business events in a safe and sustainable manner. This is demonstrated through initiatives such as the Safe Business Events framework and MICE Events Industry Resilience Roadmap, which guide the MICE industry in implementing safety protocols for meeting venues and events. We will continue to work closely with our industry partners to strengthen Singapore's reputation as an ideal and trusted business events destination for all."
Kadri Karu, Managing Director of Estonian Convention Bureau, added:
"To make an impact in the world as a global industry we need to cooperate and speak with one voice. Sharing Estonian experiences and hearing the stories of other destinations was so valuable as this kind of information offers great tools to support each other's policy making efforts worldwide. The IMEX Policy Forum is such an important platform uniting our industry advocacy initiatives!" 
Kit Lykketoft, Convention Director of Copenhagen Convention Bureau, said: "We put huge efforts into bridging the harsh reality of our business events sector with the political system and into ensuring that it is aligned with the future strategy of the destination. We stress the many advantages of matching events and destinations to maximise value and underline that business events are much more than 'just' jobs and room nights, but also key players in knowledge creation as well as network and innovation economies."
"Our Copenhagen Legacy Lab initiative and our recently launched digital Copenhagen Sustainability Guide are just two examples of how we work with creating legacy and long-lasting impacts for business events and local citizens alike. We're using this new reality as a driver for new thoughts, to embrace change and expose the broader added value to society of business events – all while ensuring that the 'basic' hygiene factors like good infrastructure, IT, accessibility, health and safety, sustainability are in place," Kit Lykketoft added.
The full report from IMEX's Virtual Advocacy Discussion can be downloaded right here.
Original press release published on 30 June 2021 by the IMEX Group
Watch the IMEX interview with Copenhagen below:
Watch the first interview of three in IMEX' series about Citizen-centred destinations, and get Copenhagen's perspective on setting policy during a global pandemic; the importance of a citizen-centred approach; planned destination strategies with relevance to business events and how best to align strategies with policy priorities.
Recorded in Spring 2021, this full-length interview features Lars Ramme Nielsen, Head of Tourism and Experience Economy, Experience & Welfare at Dansk Erhverv (Danish Chamber of Commerce) and Kit Lykketoft, Director of Convention at Copenhagen Convention Bureau, interviewed by Jane Cunningham, Managing Director of Cunningham Consulting AB.