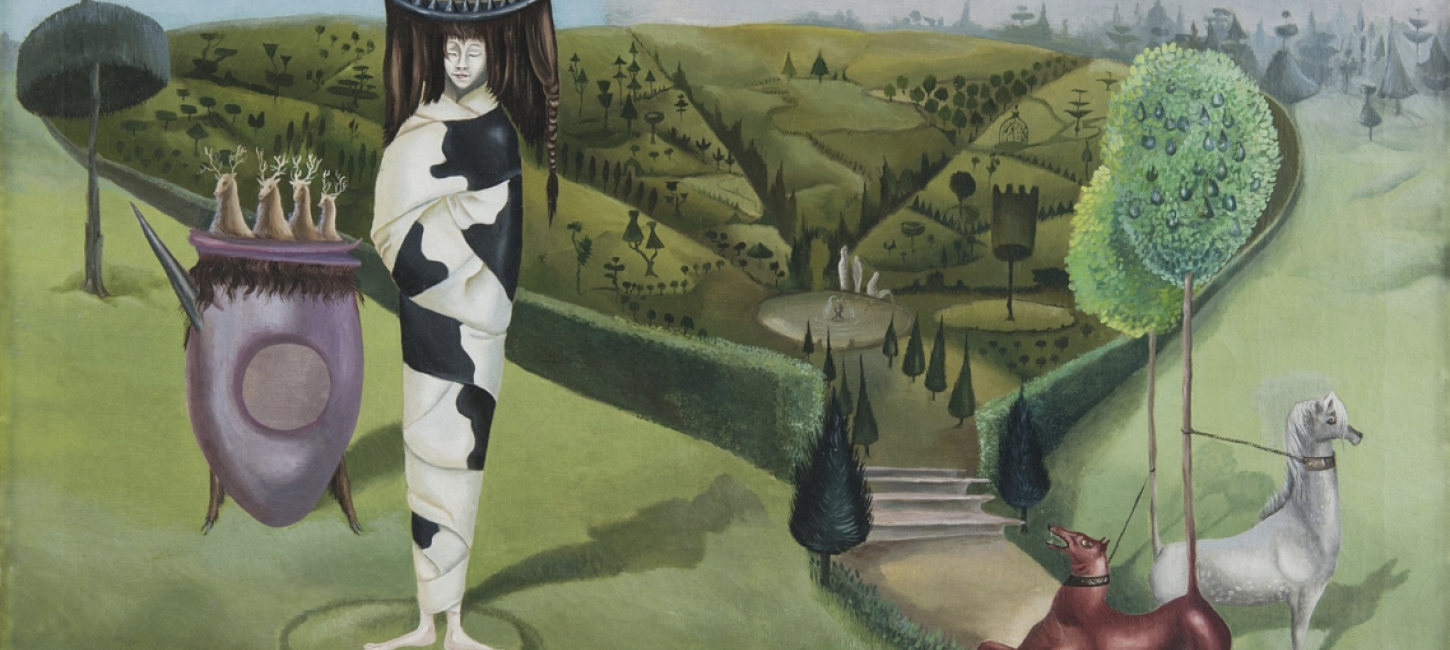 Leonora Carrington exhibition at ARKEN museum of modern art
17.9.2022
ARKEN Museum of Modern Art in Copenhagen opens the first major exhibition in Scandinavia of one of Surrealism's key figures, Leonora Carrington.
Leonora Carrington rebelled against power hierarchies and conventions with a magical universe filled with humor, witchcraft, and spirit, yet she remained an overlooked figure in art history.
Exhibition curator Sarah Fredholm who is in charge of the Leonora Carrington exhibition at ARKEN explains why the surreal artist resonates so much today:
"Leonora Carrington's artistic vision of freedom and equality is more relevant than ever in times of global warming, natural disasters, and war. In response to the crises of our time, spirituality, the occult and the forces of nature are being increasingly cultivated, for instance through astrology, tarot cards, and witchcraft. Carrington was also taken with witchcraft and spirituality, which is why she is relevant to audiences today," says Fredholm.
Photo:ARKEN
British-Mexican artist Leonora Carrington (1917-2011) grew up in a wealthy family near Lancaster in England as the daughter of an Irish mother and a father who was a textile factory owner. However, Carrington rebelled against her strict upper-class childhood and was repeatedly expelled from Catholic boarding schools.
At 20, Carrington moved to Paris to pursue a life as an artist. Here she became part of the inner circle of Surrealism and started an intense love affair with surrealist artist Max Ernst. When World War II broke out, Carrington first fled to New York, then to Mexico, where she settled. Together with Mexican artist colleagues, Carrington cultivated a shared vision of witchcraft, drive, community, and freedom.
"Carrington possessed incredible power and mystery. She remained unique, created her own version of Surrealism, and did not allow herself to be restricted by either men or the surreal movement. This is really relevant today when a lot of people feel under pressure on many fronts. As an artist, she challenges our way of seeing the world," says Sarah Fredholm, director at the ARKEN Museum.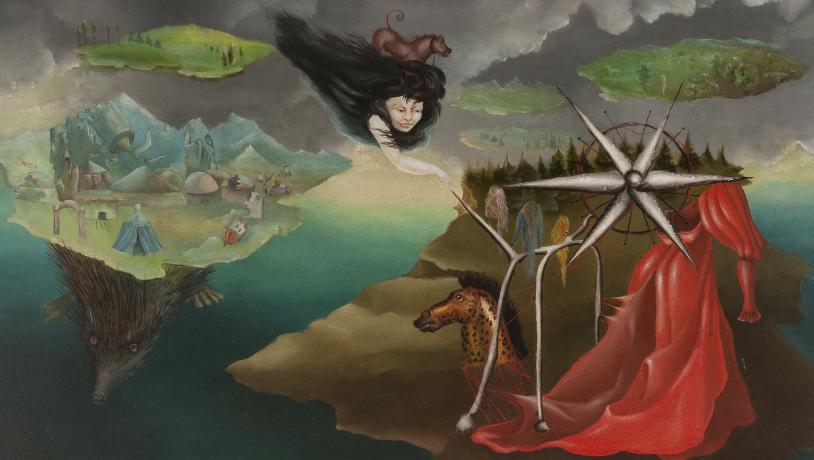 Photo:Myrna Gonzàlez Tovar
Marvelous stories of transformation
Carrington's art takes you into enchanted worlds of magical creatures undergoing transformations – powerful female figures turning into horses, and witches and old women as expressions of zest for life and resistance. Alchemy and astrology captured Carrington's heart and she even created her own tarot cards. For seven decades, she expressed herself in a range of media – painting, sculpture, drawing and tapestries, and as an author.
First major Carrington exhibition in Scandinavia
With the exhibition at ARKEN, this is the first time a Scandinavian audience will be able to experience a large retrospective exhibition that unfolds Carrington's life's work. Here, you will see key works from England, the US and Mexico, important works from private collections that have never been exhibited before, as well as photographs and letters.
Photo:Daniel Rasmussen
ARKEN
ARKEN has one of Scandinavia's finest collections of contemporary art, and its maritime-inspired architecture has won recognition at home and abroad since it opened in 1996. The museum's collection contains more than 400 works from Danish, Nordic, and international contemporary artists, primarily from the period after 1990. The museum houses, among other things one of Europe's most important collections of the British artist Damian Hirst, tapestries by Grayson Perry, and a masterpiece in sculpture by Ai WeiWei.
The museum is designed by architect Søren Robert Lund and portrays a stranded ship a few meters from the beach. The museum is located in scenic surroundings between Ishøj Harbour and the long sandy beach, so a visit to the museum is not complete without a walk along the dunes and beach.
The Leonora Carrington exhibition will be on view at ARKEN from 17 September 2022 until 15 January 2023.
The exhibition will subsequently be shown at Fundación MAPFRE in Madrid.
A Winter rich of exhibitions in Copenhagen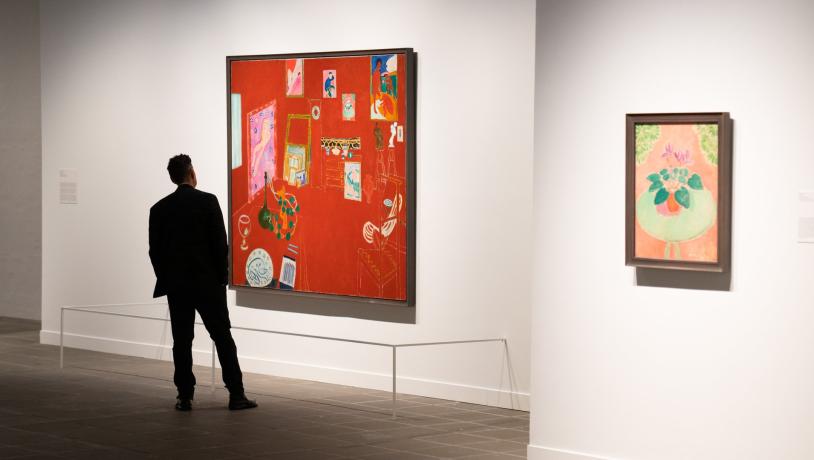 Photo:Daniel Rasmussen
Matisse: The Red Studio at SMK - the National Gallery of Denmark
Special Exhibitions /until 26th of February 2023
The National Gallery of Denmark (SMK) presents a new exhibition featuring works by French master painter Henri Matisse. Organized in collaboration with The Museum of Modern Art in New York, the exhibition reunites an iconic masterpiece, The Red Studio, with all the works of art depicted in the painting.
The picture depicts the artist's studio in the Parisian suburb of Issy-les-Moulineaux filled with his own paintings, sculptures, furniture, and decorative objects. In a radical move, the artist has saturated the painting's surface with a monochrome red covering the walls, floors, and furniture. Three of the paintings shown in the picture belong to SMK, and with this exhibition, all the works depicted are now reunited for the first time in over 100 years.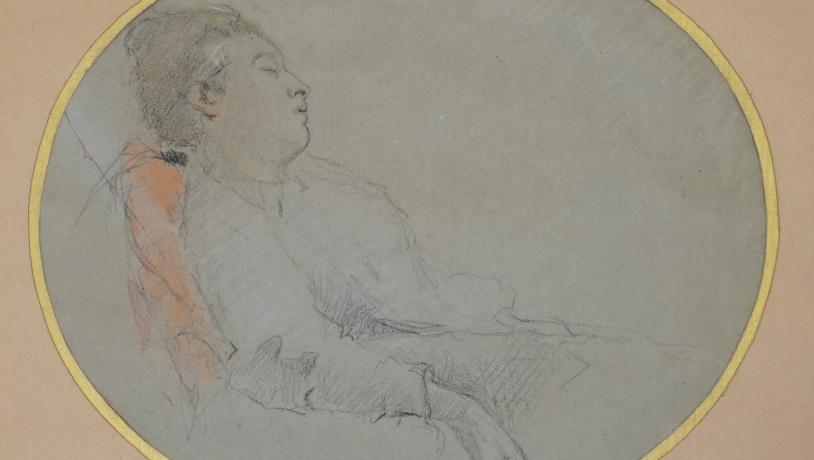 Photo:Glyptoteket
Paul Gauguin and the Danish Connection at Glyptoteket
Special Exhibitions /until 8th of January 2023
Glyptoteket presents the Small Salon displays a small thematic exhibition entitled Paul Gauguin and the Danish Connection that casts the spotlight on the French artist Paul Gauguin's residence in Copenhagen (November 1884 – May 1885). The thematic exhibition presents 13 works by Gauguin from the museum's collection and tells the story of the artist's wife, Mette Gauguin – a businesswoman with a knack for selling his work and organizing his exhibitions.
In this exhibition space, visitors can gain insight into the museum's work on French art – one of Glyptoteket's main fields of interest.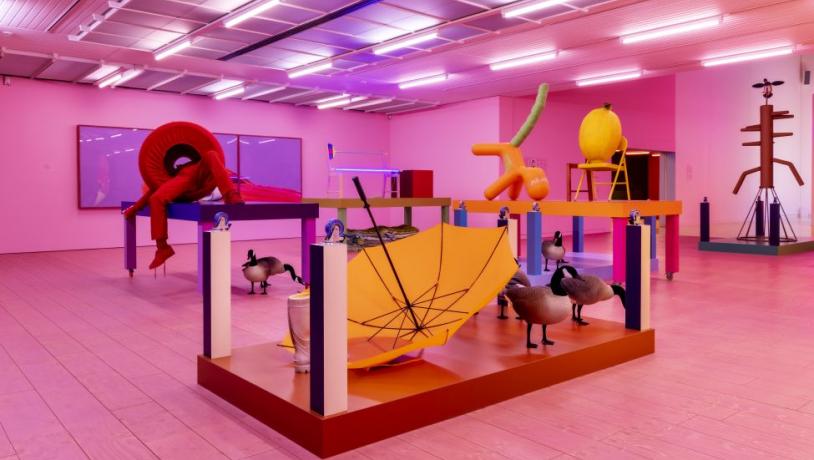 Photo:Malle Madsen
Alex Da Corte at the Louisiana Museum of Modern Art
Special exhibition /until 1st of January 2023
Louisiana Museum of Modern Art presents an overwhelming, visual experience by international art-star Alex Da Corte. This exhibition is the largest to date in Europe and the artist conquers spaces with color in the intersection between design and visual culture. A mix of both early and completely new works in a totally overpowering scenography, conceived by the artist, with specially designed floors, brightly colored walls, neon lights and characteristic scents – all in all like stepping into a parallel reality.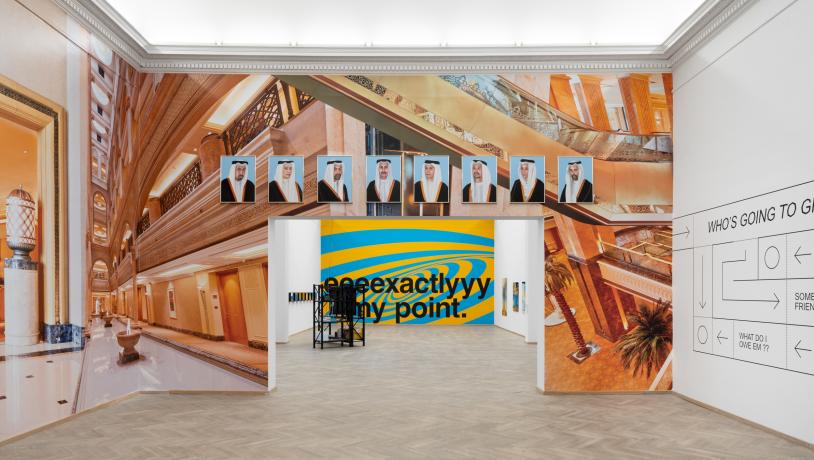 Photo:David Stjernholm
Cao Fei and Post-Capital at Kunsthal Charlottenborg
Special exhibition /until 15th of January / 19th of February 2023
Kunsthal Charlottenborg presents the exhibition Post-Capital Which brings works by twenty-one artists that variously explore the aesthetics, paradoxes, absurdities, and ethical questions posed by post-industrial and perhaps post-capital economies. The artists present works of sculpture, painting, photography, video, and performance, addressing the nature of production, consumption, and wealth. The exhibition takes as its starting point the inherent paradox within a capitalist system that is both dependent upon and threatened by technological progress.
The exhibition Post-Capital ends on the 15th of January 2023.
Kunsthal Charlottenborg presents the film installation Asia One by Chinese artist Cao Fei. The artist is known for her ambitious multimedia installations which reflect on the extensive changes and developments taking place in Chinese society today, shaping her generation. In Asia One, she portrays a China divided between past and present, between its history and a yearning for all things new. Furthermore, Cao Fei mixes social commentary, popular aesthetics, references to surrealism, and documentary elements in a distinctive artistic idiom that has resonated around the world in recent years.
The exhibition Asia One ends on the 19th of February
Other related press material