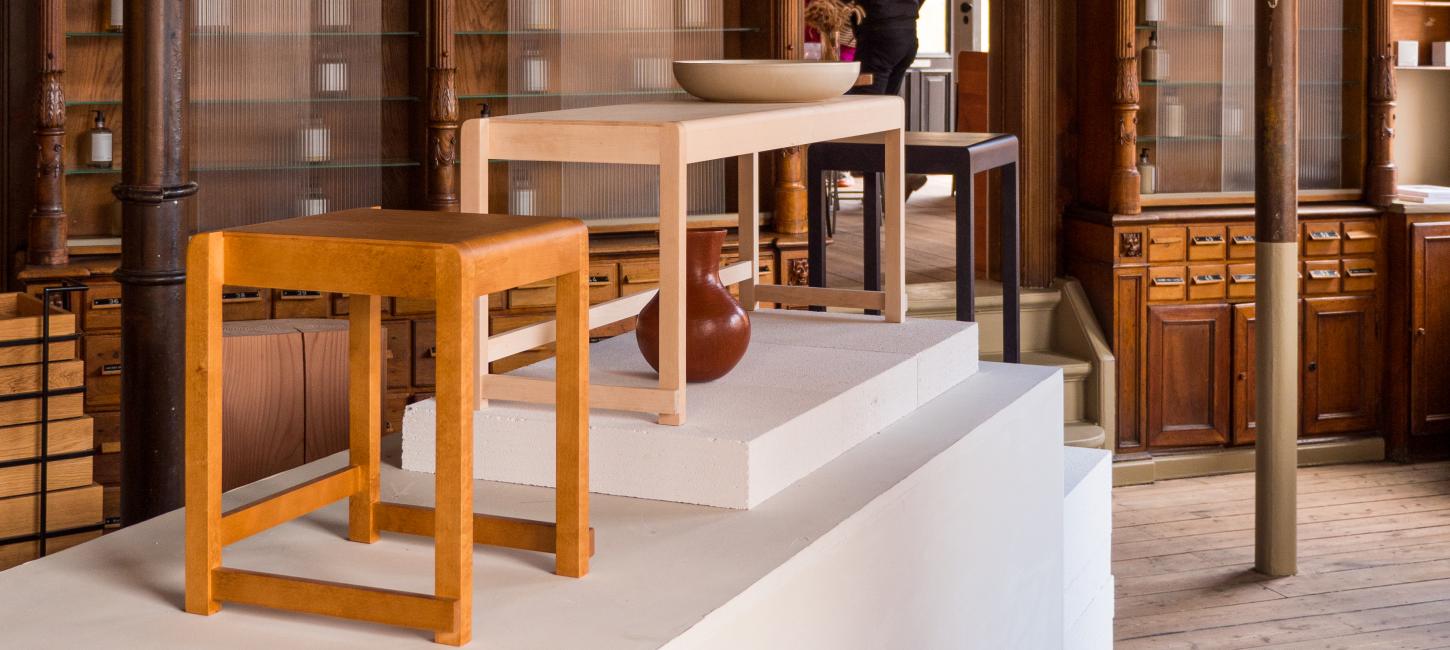 10 must-know design classics in Copenhagen
21.3.2022
You're a true design lover and off to Copenhagen to explore the Danes' legendary take on the subject. You've heard about the Danes' ability to effortlessly mix design classics from the last century with new design when decorating and now you're eager to experience it, but where to begin?
Get an overview of 10 classic design brands out of Denmark and where to spot them in Copenhagen below:

1. Carl Hansen & Søn
Established in 1908 and the world's largest manufacturer of furniture designed by iconic Danish cabinetmaker Hans J. Wegner. Wegner started to design for Carl Hansen & Søn back in 1949. The first five chairs (CH25, CH22, CH26, CH23, and CH2) were later named "The First Masterpieces". They all reflect Wegner's incomparable understanding of wood and expressive design and still today, those very same chairs are at the core of the company's business. 

Where: The entire Carl Hansen & Søn universe is on display at their flagship store in Bredgade 21-23 in Copenhagen. carlhansen.com

2. Fritz Hansen
This 150-year-old furniture and design company is a beacon of Danish mid-century design. They produce most of Arne Jacobsen's furniture, including icons such as the Egg and The Swan. But also new design pioneers are part of the exclusive collection, among them Cecilie Manz and Kasper Salto.

The company is branching out these years and just recently bought the Danish design company Skagerak, renowned for high-quality garden furniture and home accessories with a Nordic touch. Very focused and recognized for its sustainable business model, Skagerak is an obvious partner for Fritz Hansen. 

Where: Discover the Fritz Hansen universe in their flagship store in Valkendorfsgade 4 in Copenhagen. fritzhansen.com / skagerak.com

3. Montana Furniture
Born out of Fritz Hansen, Montana Furniture belongs to the classic Danish Design heritage. In 1979, after 107 years as a family-owned business, Fritz Hansen was sold and its then CEO, Peter Lassen, let go. In 1982, Peter Lassen instead founded Montana Furniture, known in many parts of the world for its flexible, modular bookcase system in a vast and inspiring colour palette. 

From his time with Fritz Hansen, Lassen had also developed a close friendship with the enfant terrible of Danish design, Verner Panton, and the two of them remained friends until Panton's death in 1998. The two families still have close ties and Montana is the producer of several of Panton's designs, among those the modular wire system, Panton Wire. In 2019, Montana relaunched the Pantonova system from 1971. The wired sofa system shot to fame when featured in the Bond movie The Spy Who Loved Me in 1977.  

Where: Explore the Montana design universe at their flagship store on Bredgade 24 in  Copenhagen. montanafurniture.com

4. Fredericia Furniture
A family-owned furniture company established in 1911, the company manufactures some of the most iconic furniture by mid-century designers, including the Spanish Chair and the Spoke-Back Sofa by Børge Mogensen, the Ox Chair by Hans J. Wegner, and the Trinidad chair collection by Nanna Ditzel. They also have a vast collection designed by current designers such as Cecilie Manz, Space Copenhagen, and GamFratesi. In 2020, Fredericia Furniture bought another of the classic Danish furniture brands, Erik Jørgensen. 
Where: A showroom open to the public is located just off the busy pedestrian street, Købmagergade. Bonus tip: From its terrace the views of historic Rundetårn are brilliant! fredericia.com

​5. ​​​​PP Møbler
A family-owned Danish joinery workshop established in 1953, PP Møbler is well-known for crafting design furniture of the highest quality. ​​They manufacture some of the most iconic furniture created by Hans J. Wegner, such as the Flag Halyard Chair and the easy chair The Papa Bear Chair. Also manufactured by PP Møbler is The Round Chai and simply dubbed 'The Chair' after it became world-famous as the chair that the two US presidential nominees, John F. Kennedy and Richard Nixon, sat in for the first-ever televised presidential debate in 1960. 
Where: The world-famous chairs can be seen at Illums Bolighus on the main pedestrian street, Strøget. PPmøbler

6. Brødrene Krüger
Brdr. Krüger was founded as a wood-turning workshop in 1886 by the two brothers Theodor and Ferdinand Krüger. Today it is the 5th generation Krüger who oversees the family business continuing a legacy of craft and heritage. More than 130 years of expertise is combined with modern techniques to create innovative designs with a timeless appeal. 
The established furniture company offers a strong collection of both iconic mid-century designs by Danish architect Hans Bølling and current designers like OeO Studio and Studio David Thulstrup. Thulstrup won international acclaim and multiple awards for the new interior of the 3-starred Michelin restaurant noma in Copenhagen with the ARV collection, which he created in close collaboration with Brdr. Krüger. 
Where: Visit the Brdr. Krüger flagship store in Bredgade. brdr-kruger.com

7. Le Klint
Known for its unique craftsmanship and classic hand-pleated lampshades, Le Klint was established in 1943 by Tage Klint, the brother of renowned Danish architect and designer, Kaare Klint. Its classic pleated lampshade is still at the core of its business and, to this day, the craftsmanship of these crossed-pleated lamp shades are unique and a handicraft that is only mastered at LE KLINT's original Pleating Studio in Odense, Denmark. One of the most famous Le Klint designs is the Lantern, designed by Kaare Klint. The lamp shot to fame in 1960 when it was featured in the movie 'Let's Make Love' in the scene where Marilyn Monroe, dressed in a light blue pleated dress to match the lampshade, sings the title song to co-actor Yves Montand. 
Where: The hand-pleated lamps can be discovered in the cosy Le Klint boutique in Store Kirkestræde 1, in the historic inner city of Copenhagen. leklint.com

8. Louis Poulsen
Founded in 1874, Louis Poulsen is a Danish lighting manufacturer born out of the Scandinavian design tradition where form follows function. The world-famous Poul Henningsen lamp designs are all manufactured by Louis Poulsen and so is the classic AJ - series by Arne Jacobsen and the Flowerpot series by Verner Panton. Also, new designers such as Øivind Slaatto and Louise Campbell are part of the vast collection. Louis Poulsen is now owned by the Italian venture capital firm, Investindustriel. They also own iconic Italian design brands such as Flos and B&B Italia. 
Where: The Louis Poulsen collection is on display at their headquarter in Kuglegården on Christianshavn, near Copenhagen's Opera House. louispoulsen.com

9. Royal Copenhagen
The Royal Danish Porcelain Factory was founded in 1775 by Queen Juliane Marie. Still today, each piece of porcelain has a mark underneath, telling its own unique story; The three waves, the royal stamp, and the painter's signature symbolize authenticity, its royal heritage, and (handmade) craftsmanship.
It takes four years to learn the craft of painting on Royal Copenhagen porcelain. And although it may be difficult for a layperson to distinguish one from another, accomplished painters always know their own work - just as they'd know their personal handwriting, as each has their own stamp, marked on the bottom of every piece of porcelain. 
Where: If you are interested in its history the porcelain, the absolute jewel of Danish porcelain, the Flora Danica service, is on display at Christiansborg Castle, Rosenborg Castle, and at Christian VII's Palace at Amalienborg. The story about Flora Danica is utterly fascinating and can also be studied in more detail at floradanica.royalcopenhagen.com and royalcopenhagen.com
Bonus tip: If you are interested in the company's more present collections, the flagship store on AmagerTorv, Strøget, is also worth a visit. Explore the much-loved MEGA Mussel tableware designed by Danish ceramist Karen Kjældgård Larsen, or the HAV series designed by design studio KiBiSi. Bonus info: In 2022, a little fairy tale piece is also available at the store; In honour of Her Majesty Queen Margrethe II's golden jubilee, Royal Copenhagen has created a Tribute Collection featuring a bonbonniere with the relief of a daisy on the lid as a loving nod to the Queen's favourite flower - and her own nickname.  

10. Frama
Launching their first collection in 2011, Frama is a newcomer and a brand, that is part of reinventing Danish design by forging a new direction and giving a new sense of warmth and sophistication to its otherwise clean lines and classic mid-century shapes. They design and produce handsomely understated products in-house or commissioned from top Nordic design talents,and their collections include lighting, accessories, furniture, ceramics, books, and even freestanding kitchens. 
Where: Frama has a beautiful store and a cafe in the center of Copenhagen, in the naval barracks district of Nyboder. framacph.com
About Wonderful Copenhagen
Wonderful Copenhagen © 2023