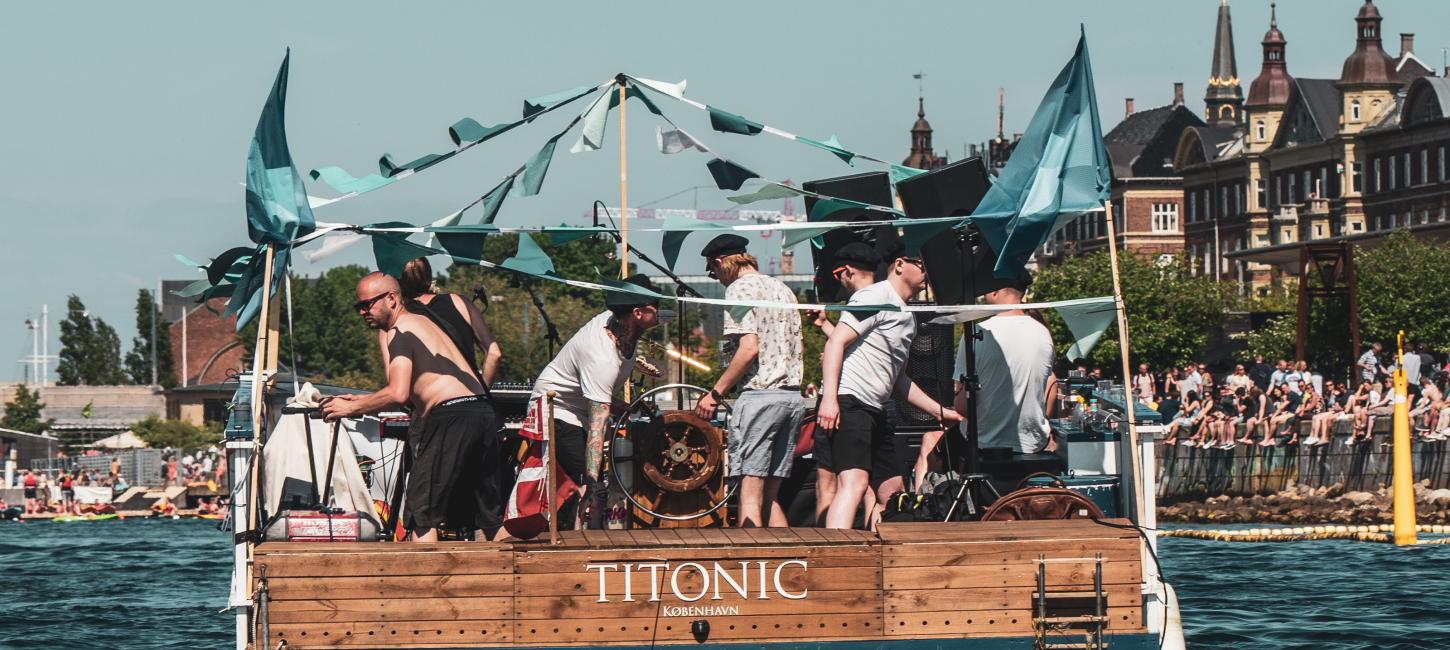 Other creative harbour initiatives
The Copenhagen canals are packed with creative and interesting initiatives. From entertaining and wellness experiences to harbour festivities and competitions, the Copenhagen canals offer a little something for everyone wanting to spend time in this part of the city.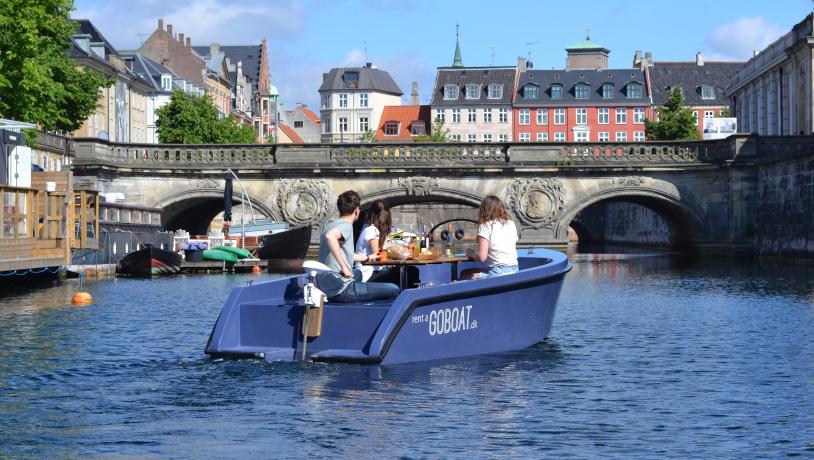 Photo:GoBoat
GoBoat: An eco-friendly and fun way to cruise Copenhagen's canals, while experiencing Copenhagen from a completely new perspective and exploring the harbour as the captain of your own ship (Press photos).
Sauna by GoBoat: It brings the hot Scandinavian tradition to the very centre of Copenhagen combining the joys of the sauna's heat with the water in a safe and aesthetic setting. Copenhagen's clean harbour allows guests to dive into the specially designed dipping zones located next to the sauna for a full winter-spa-experience (Press photos).
CopenHot: With CopenHot, you'll get a spa experience out of the ordinary. Cruise the Copenhagen canals in a spa boat or chill out in a fire-heated barrel spa at the harbour (Press photos).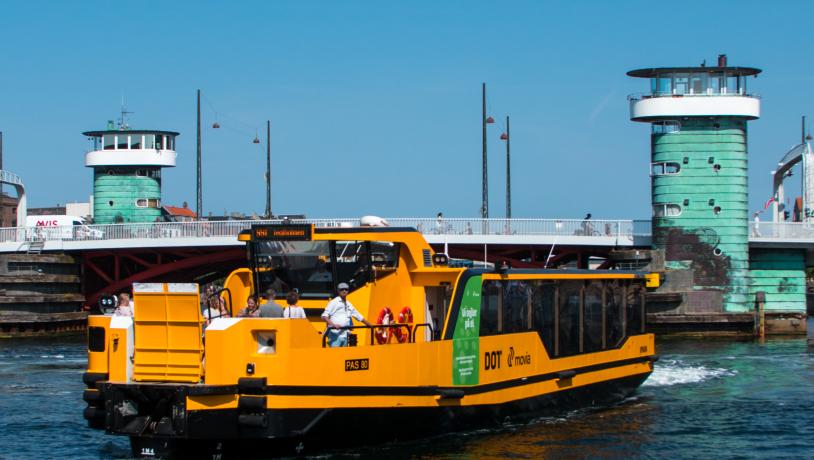 Photo:Daniel Rasmussen
Copenhagen Harbour's Waterbuses: The yellow harbour buses take you up and down the Copenhagen harbour on a regular bus ticket and run on pure electricity (Press photos). 
Copenhagen Harbour Parade: A cross-artistic floating parade of boats sailing from Sydhavn to Reffen accompanied by live music and performances every August (Press photos).
The Floating Shelter: Camp while floating on water in Copenhagen Harbour. Fall asleep to a sunset on the water in the Copenhagen canals and wake up to quacking ducks, ready for another day of exploring the Danish capital.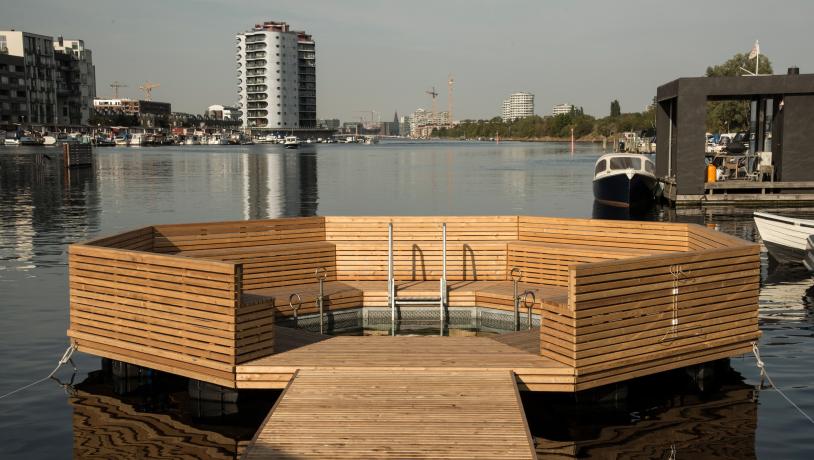 Photo:Zinna Mac-Eochaidh
Dipping zones: In Copenhagen, you are never far from a beach and during summer you can also go for a swim in the many centrally located harbour baths and dipping zones around Copenhagen. They are great for families with children wanting to swim in shallow water (Press photos). 

Kulturhavn Festival: A festival celebrating Copenhagen Harbour as a cultural, recreative part of the city. 

Biohuts: Copenhagen is home to 100 Biohuts - a world record. Biohuts are fish hotels or artificial fish nurseries, which work as a pantry, canteen, and safe haven for small fish. The Biohuts are installed approx. 20-50 centimetres below the surface of the water in locations where no one swims and where they won't get in contact with boats etc.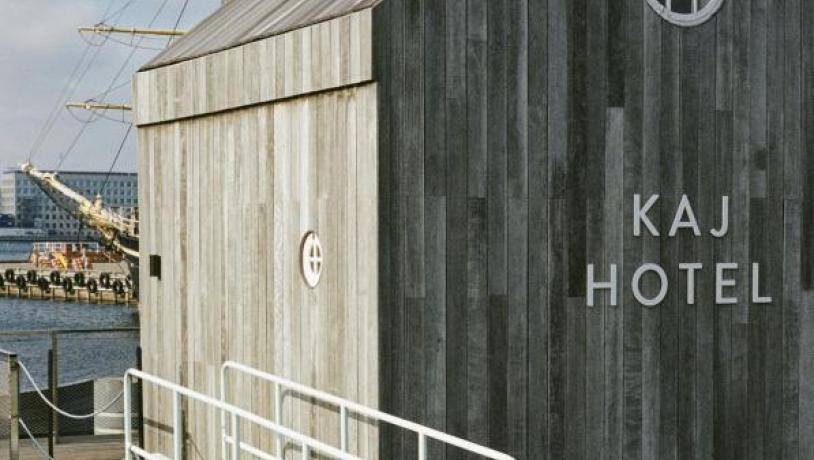 Photo:Santiago de la Vega
Kaj Hotel: Life on a houseboat built with recycled materials. It's a floating pod of Danish "hygge", as the owners put it. Located in the peaceful inner harbour of Copenhagen, and with a direct view of the historic custom house, Toldboden (Press photos).
Torpedohallen: This building from the fifties used to be a torpedo boat plant and former military shipyard. But times changed, and there was suddenly no longer a need for torpedo boats, so the raw concrete plant was transformed into light and airy luxury apartments.
Christiansborg rundt: A 2 km swimming competition taking place in Copenhagen Harbour every year, starting and finishing in the centre of Copenhagen in front of the Danish National Library. This year, it will take place from 26-27 August (Press photos).
Copenhagen harbour - Press photos
Other related press material
About Wonderful Copenhagen
Wonderful Copenhagen © 2023