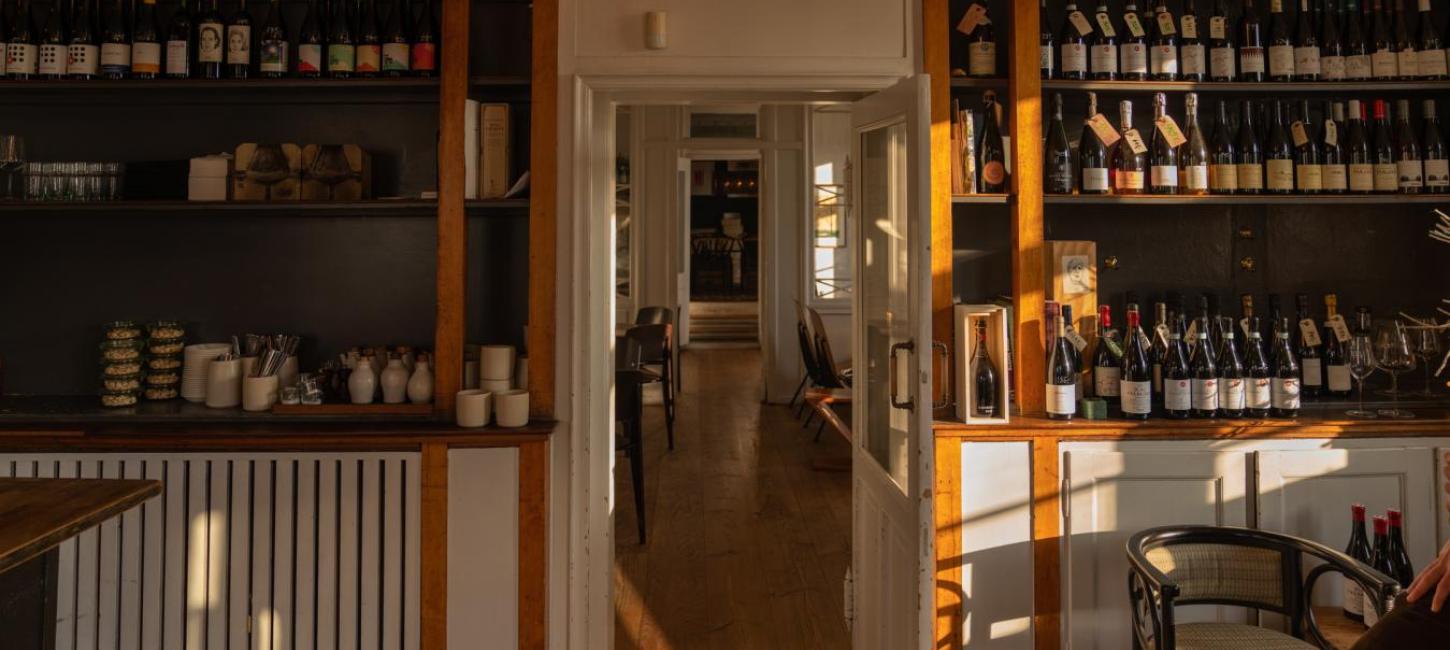 Natural wine bars by neighbourhood
Today, wherever you are in Copenhagen, you won't be far away from natural wine as it has become such a popular choice of beverage for many Copenhageners when dining out. So, without further ado, here is an extensive list of the natural wine bars in Copenhagen.
Natural wine bars - Nørrebro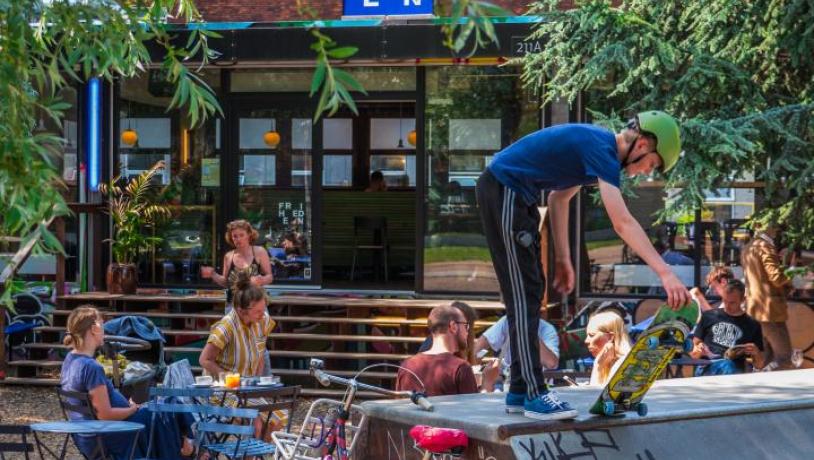 Photo:Visit Copenhagen
Friheden
Nørrebro Skatepark, Nørrebro, Copenhagen N - Website / Press photos
Down-to-earth café-cum-bar in a skatepark serves hearty, healthy breakfast and coffee in the morning and then switches to wine at around lunchtime. Here you'll find a wine fridge stocked full of goodies, including delicious bottles of natural wine.
Terroiristen
Jægersborggade 52, Nørrebro, Copenhagen N - Website
Jægersborggade's wine shop and bar is filled to the brim with excellent bottles, and knowledge, to quench all your natural wine thirsts. The focus, as the name suggests, is on terroir, and the selection includes everything from Serbian to Chilean wines.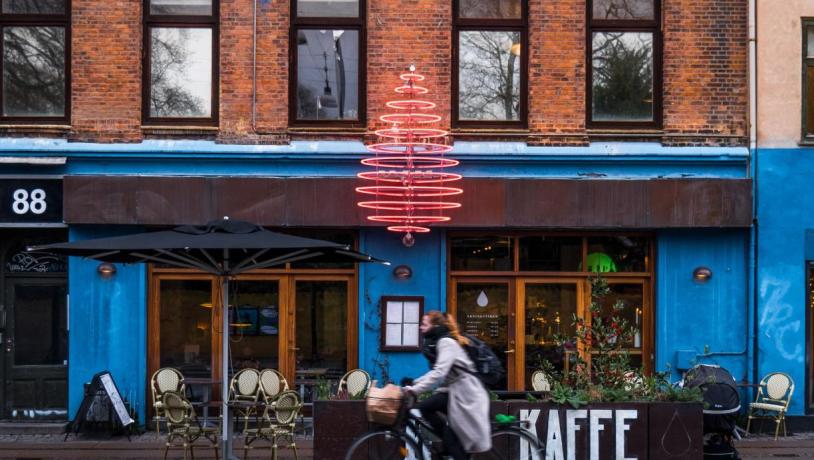 Photo:Daniel Rasmussen
Gaarden & Gaden
Nørrebrogade 88, Nørrebro, Copenhagen N - Website / Press photos
When you're cycling along Nørrebrogade at night and you spot that glowing red droplet, it's calling you! Gaarden & Gaden is a bistro, café, bar, and sometimes a party location with an excellent collection of natural wines selected by the owner, Thomas.
Rødder & Vin
Ravnsborggade 10, Nørrebro, Copenhagen N - Website
Solfinn has taken Nørrebro by storm with his natural wine antics. His shop is legendary for its pop-ups and he's always finding new and exciting bottles to smash open (not literally, don't worry) on the tasting table. It's a bit like entering the living room of a friend who's really into natural wine, and generous with it! He has also opened a sister "hole-in-the-wall" bar next door.
Sabotøren
Fensmarkgade 27, Nørrebro, Copenhagen N - Website
Tucked into residential Nørrebro, Sabotøren feels like a hidden gem, but it has established itself pretty firmly in Copenhagen by now. Their by-glass menu is small, and you'll find it scribbled onto ceramic tiles on the wall. Bottles are also available "to go" at takeout prices.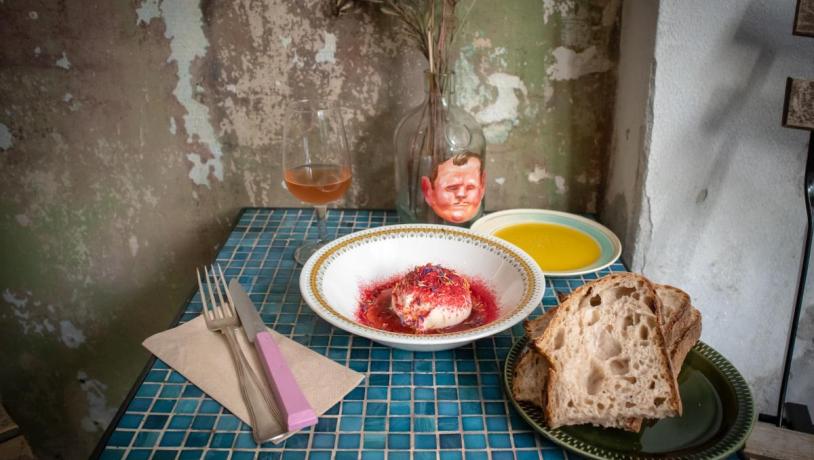 Photo:Giuseppe Liverino, @tourbillondelavie
Pompette
Møllegade 3, Nørrebro, Copenhagen N - Website  / Press photos
Opened by Martin and Jesper, Pompette is another trailblazer in bringing natural wine to the people, by lowering the price. A glass costs only 50 kr., and your choices are red, white, orange, rosé or bubbles. Bottles are available to go or to drink in with a 100 kr. corkage charge. Bar snacks are also decently priced, and excellent to accompany the wonderful selection of wines available.
Veranda
Griffenfeldsgade 17, Nørrebro, Copenhagen N - Website
The Nørrebro wine shop, deli, and bar serve simple snacks, natural wine, beer, and delicious drinks based on exceptional ingredients. They ensure that everything on the site is hand-harvested, organic or biodynamic. You will not find most of their products anywhere else. Retrieved from family businesses and made in limited batches where there is a minimum to no additives.
Yellow
Kapelvej 1, Nørrebro, Copenhagen N - Website
Yellow is a true neighbourhood gem with good eats and great drinks at its core. They have a changing selection of natural wine, locally crafted beers, high-quality spirits and great vibes. On weekends they have DJs dropping by to boost the mood and get the dancing started.
Vinhanen
Baggesensgade 13, Nørrebro, Copenhagen N - Website
They don't like to brag about it, but a lot of the wine flowing from Vinhanen's taps is natural wine. Vinhanen's wine is served straight from the tank, into the glass. Removing the bottling part of the process keeps the wine nice and affordable. Bottles can also be filled up, taken home, drunk, and returned, in keeping with Denmark's Pant system for bottle recycling.
Natural wine bars - Østerbro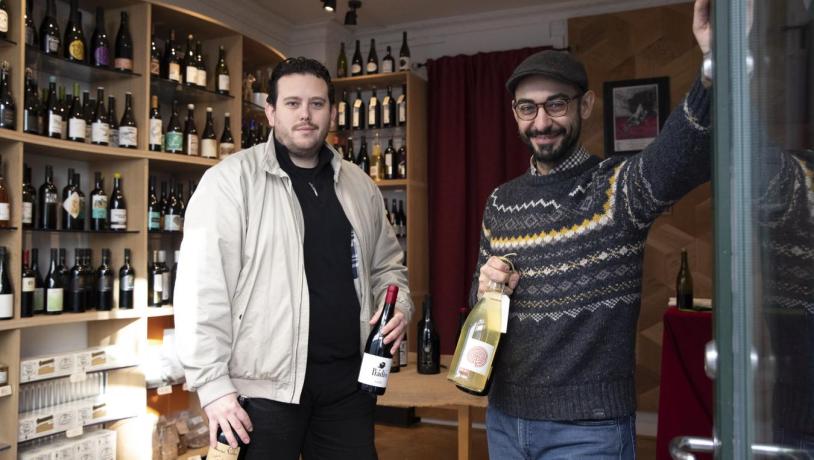 Photo:Roots
ROOTS
Østerbrogade 19, Østerbro, Copenhagen Ø - Website
The newly opened ROOTS on Østerbro is an exciting new player in the Copenhagen wine and food scene, which has already made its mark in the city with ButikBars located in both Nørrebro and Sydhavn. The three shops express different personalities powered by the same great products containing a wide selection of artisan wines and food imported from a large range of countries. The common thread is a passion for quality, tradition, and sustainability, making it the perfect place to drop by for a glass of wine, or their famous AperoTastings accompanied by an Italian aperitivo - or just buy some great food to take home.
Paris 90 – Det franske vinkort
Classensgade 25, Østerbro, Copenhagen Ø - Website
Danish oysters, French truffles and a great selection of French natural wines are some of the products produced exclusively from this shop at affordable prices. Paris 90 and its owner, Victor, brings life and enthusiasm for natural products through this hidden gem in Østerbro's Rosenvænget neighbourhood.
Natural wine bars - Vesterbro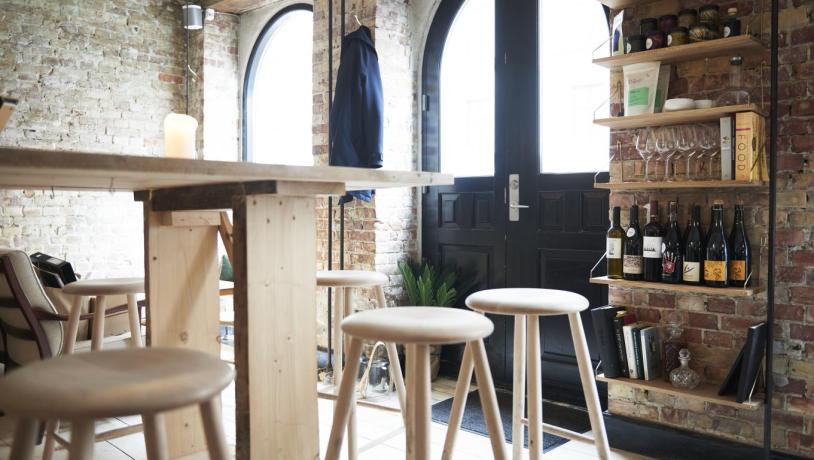 Photo:Ancestrale Vinbar
Ancestrale
Oehlenschlægersgade 12, Vesterbro, Copenhagen V - Website / Press photos
Bar with living room vibes serving all kinds of natural wines - from the funky to the conventional-tasting, there's something for everyone. Small dishes, snacks and niche board games are also available.
Café Dyrehaven
Sønder Boulevard 72, Vesterbro, Copenhagen V - Website
Café Dyrehaven is a modern 'bodega'. Inside, the old pub atmosphere is maintained with a mix of modern and youthful vibes. Outside, the seating area is a hotspot in the sunshine. They have natural wines, local craft beers, drinks and everything an old pub would have.
Natural wine bars - Frederiksberg
Photo:Simon Bang
Rouge Oysters
Gammel Kongevej 43, Frederiksberg - Website / Press photos
A tiny, almost hole in the wall, wine and oyster bar. It's connected to the famous fish and seafood restaurant Fiskebaren next door. Therefore, you can be sure that the oysters they serve are top quality and their wines on glass are as affordable as it gets. They also have an extensive wine list, including delicious and often funky bottles.  
Cork Vinbar
Henrik Steffens vej 2, Frederiksberg - Website
A Frederiksberg watering hole for friends and wine lovers. Their wines cover both traditional, modern, and more "funky" styles. The common denominator, however, is that they are all made by winemakers, who themselves have gotten dirt under their nails in the process.
Natural wine bars - Historic City Centre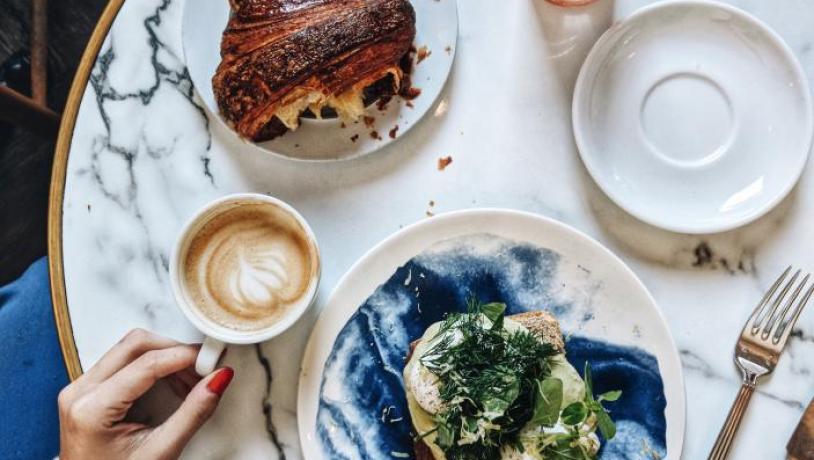 Photo:Andrea Nuñez @andreannu
Apollo Bar
Nyhavn 2, City centre, Copenhagen K - Website / Press photos
Facing the courtyard at Charlottenborg Art Gallery and as a neighbour to colourful Nyhavn, you will find Apollo Bar. It's mostly a bar with wine, beer, snacks and small dishes served during the week. From Thursday to Saturday, however, the vibe changes, and it turns more into a vibrant restaurant.
Bar'Vin
Skindergade 3, City centre, Copenhagen K - Website
A gem nestled in the city centre, Bar'Vin's rustic food is as tasty as its mostly natural wine menu. Go for the four-course tasting menu or order small dishes à la carte. It's definitely worth a try!
Bar Poldo
Lille Kongensgade 6, City centre, Copenhagen K - Website
A wine bar and eatery in the heart of Copenhagen focusing on the simple pleasures in life. They serve natural wine hand-picked from independent farmers, accompanied by honest, delicious dishes that change depending on the season to enrich the dishes with freshly grown, seasonal based ingredients.
Bibendum
Nansensgade 45, City centre, Copenhagen K - Website
A wine bar and casual eatery with "wine nerdery" at the centre of everything it does. Eat dinner, join a wine tasting event or sit at the bar and down a glass or two of their wonderful selection of wines.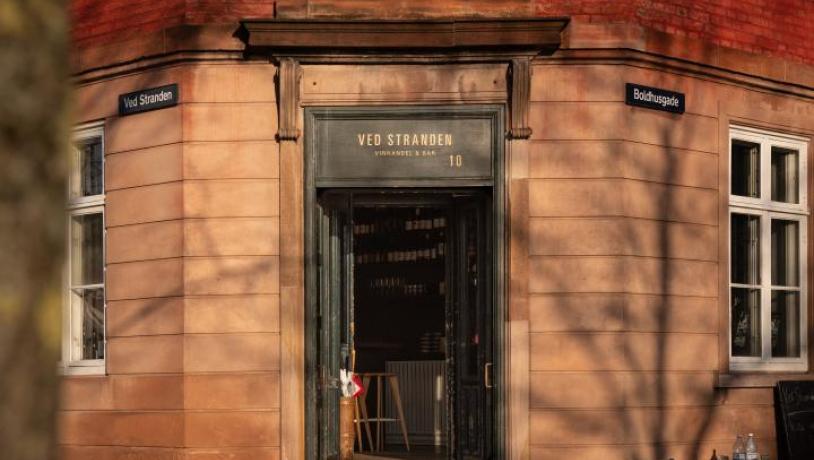 Photo:Daniel Rasmussen
Ved Stranden 10
Ved Stranden 10, City centre, Copenhagen K - Website / Press photos
A wine bar famous for its beautiful thin glasses and Austrian wines. Cosy on the inside, plenty of canal-side seating on the outside. There's no set menu - simply describe what you feel like drinking and keep tasting until you find just the right wine for you. (Psst. Every Monday they serve "staff food" for the public, at a cost of 100 kr. a plate, from 6 pm until sold out).
Den Vandrette
Havnegade 53A, City centre, Copenhagen K - Website
Rosforth & Rosforth's sister bar, serving wines imported by the legendary sommelier. French, Georgian, Chilean - you name it. They have wines from every corner of the world. Since opening, it has evolved into an eatery and restaurant with excellent small dishes. In the summer, it expands onto the harbour front with a breezy outside wining and dining area.
Lille Blå
Esplanaden 3, City centre, Copenhagen K - Website
Lille Blå Vinbar, the colourful new natural wine bar from Sebastian Rind Nellemann and Christian Nedergaard, the team behind the wine bar Ved Stranden 10, the restaurant Admiralgade 26, and Österreich Vin (their wine import company and bottle shop).
Natural wine bars - Amager
Toto Vin & Spisebar
Amagerbrogade 145, Amager - Website
A much-needed cosy wine bar and eatery for the Amager area, from the guys behind Salon 39. There's natural and not-so-natural wine on the menu.
Pirlo
Strandlodsvej 42 A, Amager - Website
Located on Amager in Copenhagen, Pirlo is an Italian wine bar with housemade pasta from the same owners as Toto Vin & Spisebar.
Natural wine bars - Sydhavnen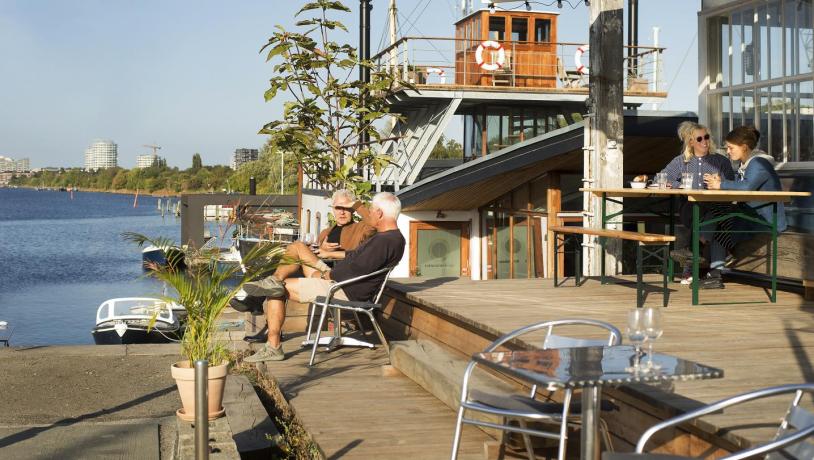 Photo:Maria Sattrup
Café Slusen
Ved Slusen 34, Sydhavnen, Copenhagen SV - Website / Press photos
A waterside café and wine bar worth the trip out to Sydhavnen (if you're not already there). Undoubtedly, Slusen has the largest selection of posh canned fish in the city, and a glass of wine will set you back as little as 45 kr.
Other releated press material
About Wonderful Copenhagen
Wonderful Copenhagen © 2023