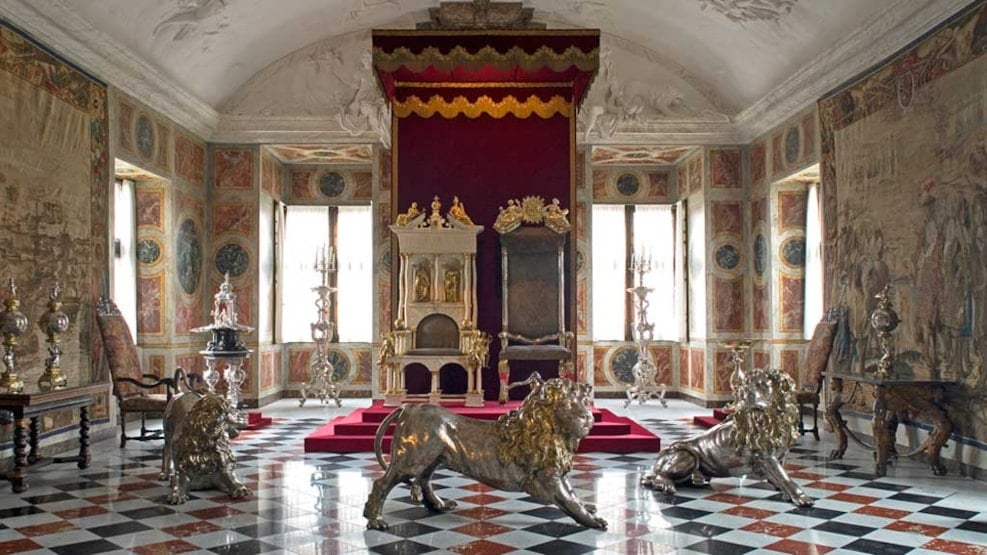 Rosenborg Castle The Royal Danish Collections
A royal hermitage set in the King's Garden in the heart of Copenhagen, Rosenborg Castle features 400 years of splendor, royal art treasures and the Crown Jewels and Royal Regalia.
Among the main attractions is the Great Hall with the coronation thrones and three life-size silver lions standing guard. The king's coronation throne is made of narwhale tusk, while the queen's is of silver. Tapestries on the walls commemorate battles between Denmark and Sweden. Rosenborg also houses an exquisite collection of Flora Danica.
The invaluable crowns of the Danish royals and the crown jewels are kept in underground vaults. The crown jewels primarily consist of four garnitures: a brilliant set, a ruby/pearl set, a rose-cut diamond set and an emerald set – the emeralds being among the world's finest.
Accessibility at Rosenborg Castle:
Unfortunately, the castle is not built for wheelchairs. However, it is possible to visit the ground floor and the basement. Stairs lead to both levels, and it is therefore required that the wheelchair user is accompanied by a helper, who can lift him/her up and down the stairs. The helper is allowed free admission. If you are interested in a wheelchair accessible attraction, please check out our guide for accessible attractions here.