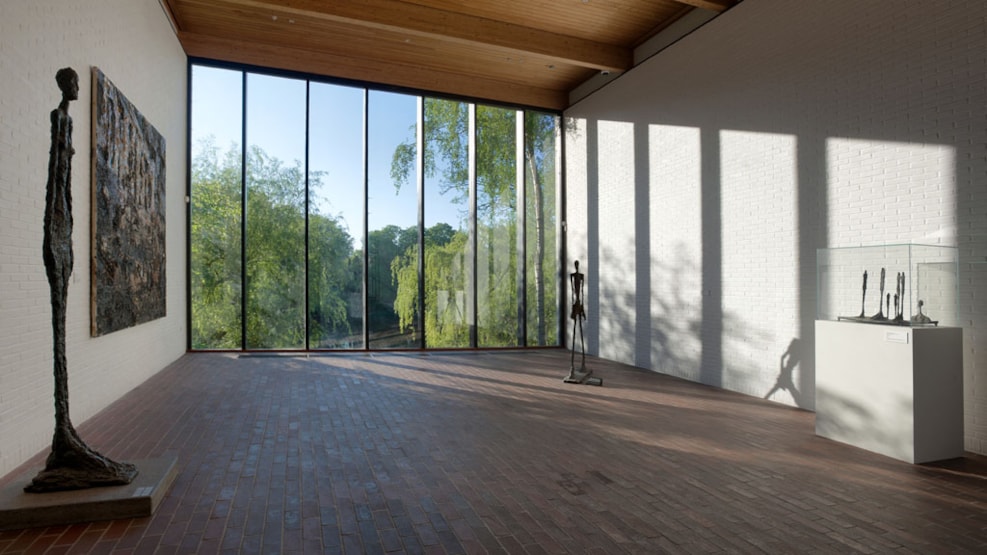 Louisiana Museum of Modern Art - world-class art by the sea
The Louisiana Museum of Modern Art is a leading international art museum and an absolute top attraction in Denmark. Art, nature and architecture combine in a total experience that attracts guests from all over the world year-round.
A unique setting
Louisiana Museum of Modern Art is located in Humlebæk, North Sealand, in a beautiful old park offering magnificent panoramic views of the Sound. The museum buildings lend themselves beautifully to the park, which is landscaped with open lawns, shady woods, a view terrace and a gorge down to the beach. The park provides a magnificent setting for Louisiana's large sculpture collection.
Find the easiest way to art in Humlebæk.
With the help of Plan your journey, you can find the easiest and fastest way to get to Louisiana by public transport.
Twentieth-century Modern Art.
Louisiana's collection of modern art dates from 1945 to the present day. It is one of Scandinavia's largest collections and contains more than 4,000 artworks within virtually all genres, emphasising painting and sculpture. The collection is far too extensive to be displayed, but selected works are continuously on view in new dynamic contexts. Permanent highlights include the Giacometti Hall, the Jorn Room and the Kusama Installation. 
Classics and shooting international stars.
In addition to the permanent collection, the Louisiana Museum of Modern Art features 6 - 10 major exhibitions annually. Here, the classics of modern art, as well as contemporary international artists and architects, are presented. In connection with the exhibitions, the museum publishes art catalogues in the form of Louisiana Revy and special catalogues. 
Sculptures in interaction with nature.
The sculpture park is a major feature of any visit to the Louisiana Museum of Modern Art, no matter the time of year. The museum's parkland location facing the Sound and the landscaped parkland provide optimal conditions for a varied and exciting exhibition of the collection's approx. 60 sculptures.
 A vibrant cultural centre for children and adults alike.
With its relaxed atmosphere, the museum also offers a vibrant and dedicated cultural centre with a rich programme of activities and events for children and adults alike. The Children's Wing is a universe dedicated to children, where skilled art intermediaries are responsible for child-friendly activities that relate to the current exhibitions. Adults can participate in guided tours, lectures, concerts, films, workshops, and literature festivals.
Take a break at the Louisiana Café.
When it's time for a break, the Louisiana Café offers hot and cold drinks, sweet treats or a lunch or evening meal—homemade dishes using prime seasonal produce.
Shop Scandinavian design in the Louisiana Store.
In the museum's sizeable two-level store, you will find a large and inspiring selection of new and classic items emphasising Danish and Scandinavian design. Interior, clothing, books, posters, graphics, toys and more. 
Finding your way.
The Louisiana Museum of Modern Art, Gl. Strandvej 13, 3050 Humlebæk
Public transport with DOT - Your Public Transport
If there are no more parking spaces in Louisiana's parking lot, it is possible to park in the large parking lot just north of Gammel Humlebæk Kro, Humlebæk Strandvej 2A - there is a 400 m walk to Louisiana from there. You can also park at Gl. Strandvej or Krogerupvej.
About Wonderful Copenhagen
Wonderful Copenhagen © 2023