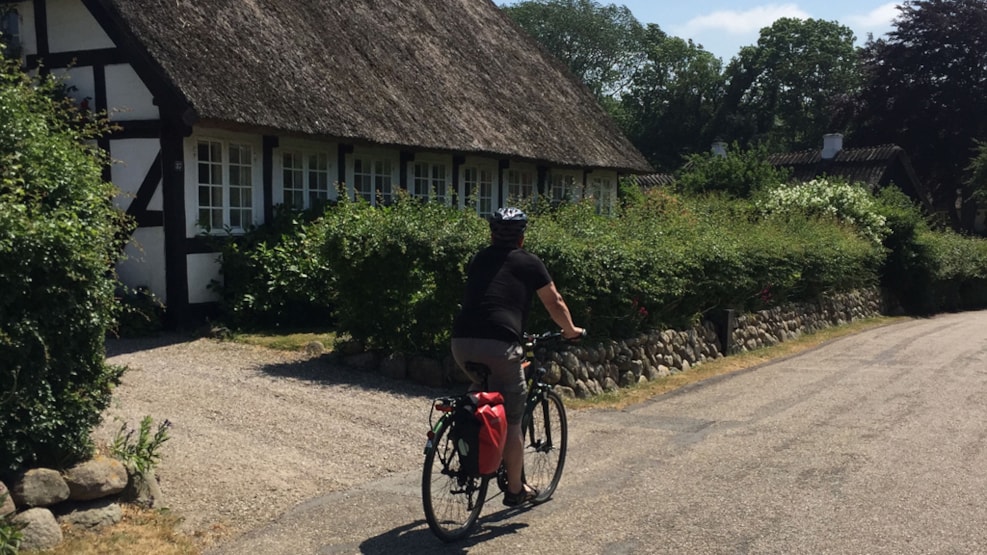 BikingPeople
Cycling is a great way to explore Denmark
Exploring Denmark by bike is a truly authentic experience that you will never forget. This holiday form is one of the best ways to get around and feel the Danish bike culture first hand. A perfect vacation form for couples, families, singles, and groups of friends.
BikingPeople takes care of the practical stuff so you can fully enjoy your cycling holiday. Services include booking of 3-4* hotels/B&Bs, luggage transfer between accommodations, a route map, route description/GPS, and recommended highlights and eateries along the routes as well as a 24h hotline in case of questions or problems.
Quality Touring Bikes and E-bikes can be rented for the tour and will be delivered to your accommodation.
On BikingPeople's organised bike tours you will have the opportunity to explore the beautiful and changeable landscapes of Denmark. Here you will find lively coasts, romantic forests, fairy tale towns, the beautiful Baltic Sea coast with white sandy beaches, small quiet villages, and undisturbed natural areas rich in flora and fauna.
The landscape of Denmark is mostly flat with occasional hills, and the highest point is only 170.89 ft above sea level.
Tours go to the eastern part of Jutland with its moraine landscape, gorges, and deep fjords as well as flat beach areas; the fairy tale island of Fyn where H.C. Andersen was born, and where there is rich opportunity to explore the south Fyn archipelago with stunning views and charming villages; the island of Møn which is known for its broad selection of small local producers of apples, chocolate, and ice cream. The island of Møn and the nearby island of Nyord has been declared the first Nordic Dark Sky Park and Community and offers stunning star gazing.
Tours also go to the island of Zealand with rich opportunity to cycle along the spectacular coastline of the Danish riviera, visit historic castles and towns as well as experience Copenhagen - world-famous for its bike culture.
In Copenhagen, you will find exciting architecture, lots of green spaces, a cosy harbor area with harbor pools, Michelin star restaurants, and many interesting attractions and cultural events as well as several beaches in the greater Copenhagen area. 
About Wonderful Copenhagen
Wonderful Copenhagen © 2023