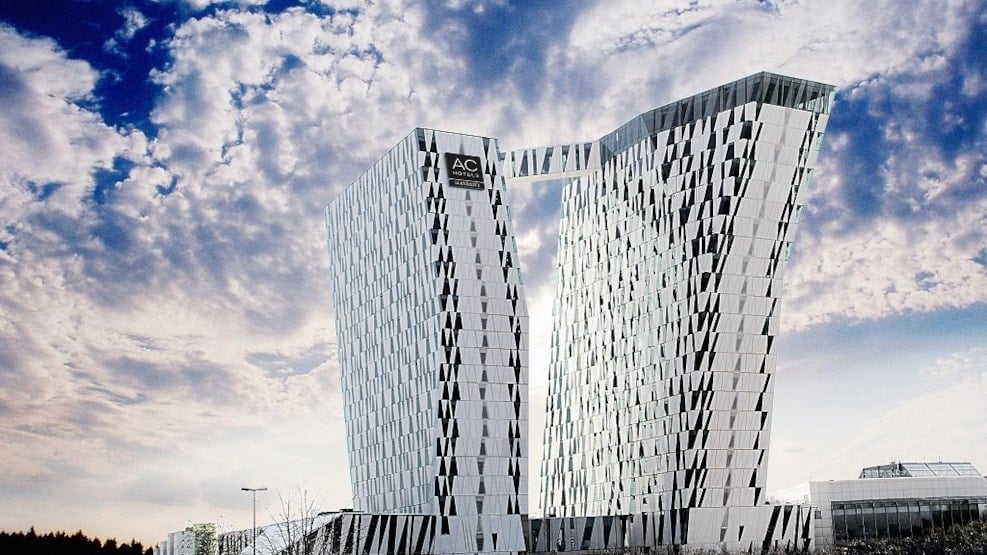 AC Hotel Bella Sky Copenhagen
The landmark building of AC Hotel Bella Sky Copenhagen with stunning architecture, incredible city views, and contemporary Danish design provides the perfect backdrop for a vibrant and classy Copenhagen visit.
Take full advantage of a unique location close to the airport, downtown Copenhagen, Scandinavia's largest shopping centre and the Royal Golf Club just next to the hotel.
Individually designed rooms
Enjoy stylish rooms decorated with original design furniture, floor-to-ceiling windows with lots of daylight and incredible views over the city and surrounding nature. The hotel is one of Scandinavia's largest, with 811 inviting rooms.
Nordic cuisine and rooftop cocktail bar
Restaurant BASALT on the 1st floor offers a no-nonsense approach to local Nordic cuisine by creating everything around an open fire. You can also unwind in our vibrant AC Lounge with a drink or a bite.
On the 23rd floor, you will find the cocktail bar SUKAIBA Copenhagen with impressive panoramic views of Copenhagen and outstanding bar experiences.
Cruise terminal shuttle
The hotel offers a shuttle bus between the hotel and the cruise ship terminals.
Accessibility at AC Hotel Bella Sky Copenhagen
AC Hotel Bella Sky Copenhagen has seven rooms accessible to wheelchair users. These rooms have a 32-inch wide opening. All restaurants and bars located at the hotel are accessible by wheelchair users. For further accessibility information, please call the general manager of the hotel.
About Wonderful Copenhagen
Wonderful Copenhagen © 2023