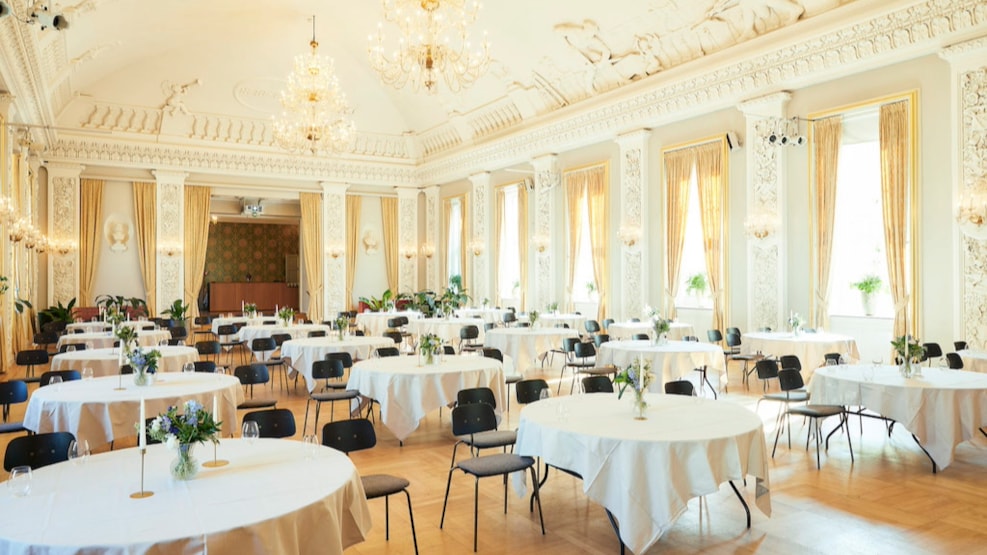 Green Experience
Moltke's Palace
Moltke's Palace is one of Copenhagen's most unique and best-preserved historical venues. Here, past, and present meet in extraordinary surroundings.
Historical framework
Moltke's Palace is a hidden gem located in the heart of Copenhagen. The mansion was built in 1702 and has since been extended in both 1878 and 1932. The historic setting has previously been a stately residence for nobles, counts, wealthy merchants, a widow queen, a prime minister, and other finer bourgeoisie.
The mansion has been carefully restored respecting it's iconic details. In addition to historical artefacts, the interior is characterized by Danish Design, which makes the experience as a guest contemporary in the historical setting. A visit to Moltke's Palace is a visual experience you won't soon forget.
'Store Festsal' is the palace's largest room, which was built in 1930. 'Store Festsal' is a breathtaking ballroom with high ceilings, large chandeliers and beautiful daylight with a view to the Marble Church. In classical style, the room is decorated with plaster stucco by the sculptors Thomas Hansen and Edvard Eriksen – the latter is also the creator of The Little Mermaid on Langelinie.
'Gyldne Sal' is the palace's second largest room – a unique and characterful room. 'Gyldne Sal' was transformed in 2007, when the room was decorated with sculptor Bjørn Nørgaard's colorful murals about the history of the craft. Moltke's Palace also consists of several smaller salons, each with its own unique look.
Green Key
Moltke's Palace is environmentally certified by Green Key. We have implemented a number of sustainability initiatives with a focus on the environment and climate. As Green Key certified, our guests can be sure that Moltke's Palace meets several requirements for, among other things, ecology, eco-labelled products, waste management, food waste, etc.
Extraordinary experience
Today, Moltke's Palace is open for conferences, meetings, dinners, and parties. The mansion's flexible premises have space for both smaller groups such as private dining for 8 people and larger events for up to 700 guests.
Our kitchen team makes an extra effort to deliver modern gastronomy of the highest quality. For your company event, you will experience modern menus with exclusive flavors that are based on the traditions of good craftmanship and professional pride.
Your visit to Moltke's Palace will offer a complete experience. Right from your arrival at the palace to the high-gastronomic meals you can enjoy during the event and the exceptional level of service that our experiences staff ensures you.
About Wonderful Copenhagen
Wonderful Copenhagen © 2023