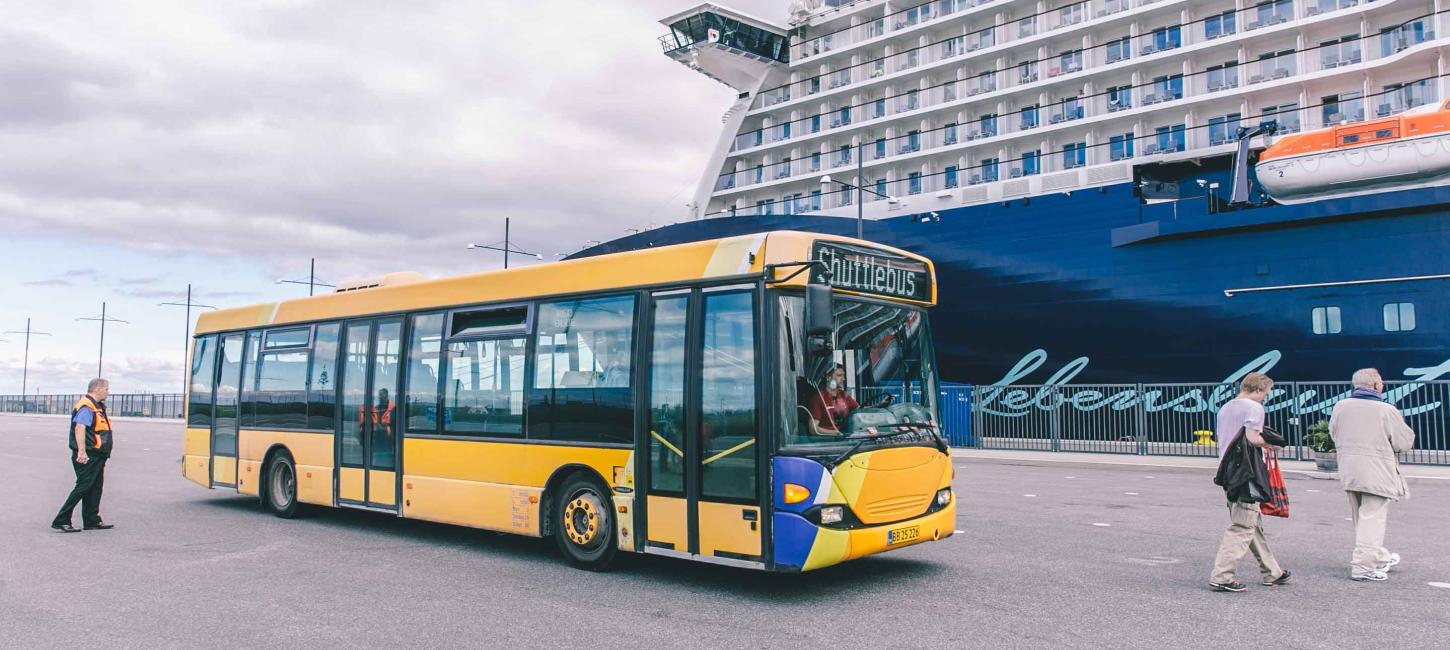 Free electric shuttle buses between Ocean Quay and the metro for cruise guests in Copenhagen
27.4.2022
In 2022, Copenhagen Malmö Port (CMP) will offer free electric cruise shuttles in Copenhagen. The shuttle will run between the three terminals at Ocean Quay and the metro station Orientkaj on all turnaround days.
This year, it will be even easier for cruise guests to choose a more sustainable way of exploring the city of Copenhagen. In 2022, CMP will offer free shuttle buses on all turnaround days. The shuttle bus will be powered by electricity and will run between the three cruise terminals at Ocean Quay and the metro station Orientkaj. From Orientkaj, cruise guests can take the Copenhagen Metro to the city centre or connect to buses, trains or other metro lines going to Copenhagen Airport or the various neighbourhoods of Copenhagen. The initiative aims to encourage cruise guests to choose public transport while visiting Copenhagen. According to CMP and CruiseCopenhagen, this will have a positive impact on the cruise tourism in the city.
With the direct connection between the cruise quay and the metro, we want to promote green transportation and hope to give the cruise guests confidence to explore Copenhagen more freely and independently, says Henrik Ahlqvist, Sales Director Cruise at Copenhagen Malmö Port.
CruiseCopenhagen supports CMP's initiative as it is a great way to make the city more accessible to the cruise guests. The easy access to the metro will make it easier for the cruise guests to explore all the diverse neighbourhoods in Copenhagen, which goes hand in hand with CruiseCopenhagen's work with dispersing the guests in the city to avoid crowding in the city centre, says Claus Bødker, Director of CruiseCopenhagen.
Please read more at: www.cruisecopenhagen.com and www.cmport.com
Photo Caption: Cruise shuttle at Ocean Quay. Photo credit: CruiseCopenhagen.
For further information please contact Director of CruiseCopenhagen, Claus Bødker, at e-mail clb@woco.dk and telephone +45 61 20 96 74 or Sales Director Cruise at Copenhagen Malmö Port Henrik Ahlqvist, at email henrik.ahlqvist@cmport.com and telephone +46 70 601 40 85
For press related questions, pictures etc. please contact Pernille Myrthue at CruiseCopenhagen's PR agency EHRENBERG SØRENSEN Kommunikation at e-mail pm@ehrenbergsoerensen.com and telephone +45 31 27 33 11.